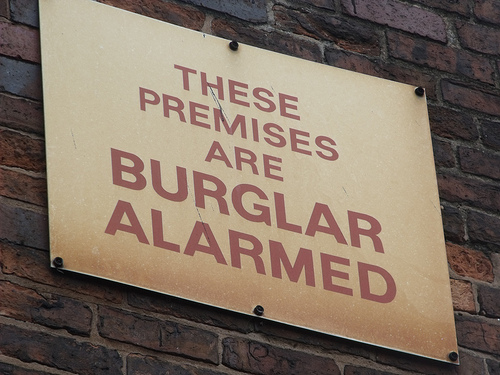 In this day and age, security is a major concern for a lot of people. Unfortunately, the days of leaving your home unlocked without worry are behind us. Burglars and other intruders are a very real concern for your tenants. A deadbolt lock on the exterior doors may help with peace of mind, but it could be that you're thinking about investing in a home security system for your real estate investment property.
Naturally, there will be some cost involved and, at times, the thought of security for a property takes the backseat to security in your own homes. We know that part of property management, however, is making sure that your tenants are safe. There are practical ways to achieve that, from installing more exterior lights to keeping trees and shrubs trimmed down, especially near windows, if not removing them altogether from your rental properties.
That may not be enough, however, to put you or yours renters at ease.
Is it time to invest in a home security system?
The Pros of a Home Security System
Peace of Mind
Having a security system will make you and your tenants feel more at ease. While some burglars aren't deterred by a security system, many are. Even if they attempt to break in, you'll know that they won't go unnoticed — by you, your tenants or the authorities. The essential function of the security system decreases the chances of theft, period. That's always a plus.
The Lease Covers the Cost
A security system in an amenity that can boost the value of your property. Whatever costs it incurs from installation or in monthly charges can largely be made up by working it into your lease structure. In almost every scenario, a tenant will be happy to pay a few more dollars a month to have a working and active alarm system.
Higher Quality Tenants
The extra security measures you take, as we mentioned, will boost your property value and thus, increase the quality of the type of tenant you'll attract. As landlords, we are all looking for the highest quality tenant possible from a stability and financial outlook. Tenants that value their families' safety and their possessions will be attracted to a property that has a security system as opposed to one that does not.
Additional Useful Features
For extra fees, security systems can cover far more than attempted robberies. They can detect carbon monoxide, monitor heat and smoke, and even alert you of burst pipes. Such additions will cost more, but you may find it worth the cost. Plus, they come with yard signs and window signs, which may not seem like a huge feature...but, the reality is that this a HUGE deterrent that prevents would-be burglars from considering your property in the first place.
The Cons of a Home Security System
False Alarms
False alarms happen. Your tenant may simply forget the deactivate the alarm before stepping outside (which will set it off) or they may forget the pass code. In the case of a false alarm, the police will still show up on your property and may even make you pay a fee. This could happen if there was a burglar that left no evidence of forced entry.
Cost and Installation
Wired systems mean installation can be a pain. They're stable and reliable, but the installation means running wires through walls, which could cause damage to your property. Wireless systems are an option with increasing effectiveness, but they often cost more. There also may be hidden installation and activation fees.
When looking for a company to handle your home security, be sure to do your research. Never allow a door-to-door security salesman to install anything on your property. In recent years and in many states these home security scams have cropped up. Even if the system works, they're often poorly installed not worth the cost.
False Sense of Security
There are still burglars that know how to get in and out of a property regardless of an alarm system. They aren't all deterred by security systems. It can be tempting to let your guard down when you have a home security system on your rental properties, but doing so can be dangerous.
Human Error
Your tenant needs to care about actually activating the security system. If they don't set it at night or when they leave the property, it's useless — wasting time and money.
Do you have a security system for you winter property? Tell us in the comments.
----------
Would you like more information on our company and process?
----------
We would love to send you our newest articles directly to your email!
Just register below and we will send you our articles...