Most everyone who has met the staff at Memphis Invest or at least heard our story, knows that we are a pretty tight group centered around the Clothier family and our friends. Some of the staff have worked for Kent Sr. over 20 years and some of the staff even played on youth sport teams for both Kent Sr. and Chris. Needless to say, being this close and having a penchant for enjoying our time together....
Can lead to some pretty funny escapades! Case in Point...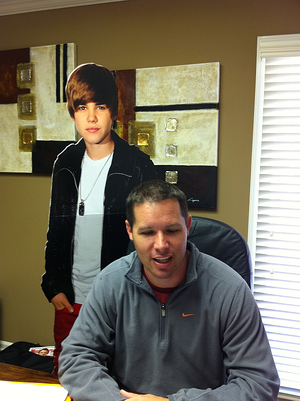 Don't ever mention that you like a Justin Beiber song in front of the rest of the team unless you want a personal visit from the young crooner himself! Here are Justin and I as he makes a personal visit to my office to see how we run our operation. He was very impressed by the way. I returned from lunch to find him hanging out in my office and jamming to his latest hit blaring away on my computer.
Now, don't get me wrong, I have nothing against Justin Beiber or his music (in the future, I'll just keep that to myself). But, his music doesn't exactly appeal to my age group and thinking one tune is catchy should never constitute a life-size replica, should it?
Oh well, we have a lot of fun over here at Memphis Invest and these kind of practical jokes help to keep us on or toes and enjoying ourselves. As long as that's the case, I can promise you we'll keep doing a good job for our investors!
Make it a great week!
Chris