I ran across this posting a while back and thought it was a fantastic posting. It sums up exactly what www.MemphisInvest.com has been trying to show to its clients and potential clients. Investors contact us because they are ready to invest in Memphis Real estate. They want to buy discounted properties in Memphis, but are finding more and more creative stumbling blocks to keep them from getting started.
As has always been out motto, the Clothier family simply pushes forward and will not allow anything to slow us down. As owners of MemphisInvest.com, we try to instill that same mentality into our clients. This Agent in North Carolina does a superb job of summing up what all investors should be hearing right now. In order for it to be a buyer's market, you have to get in the game and BUY!
Great post -
Via SarahGray Lamm ~REALTOR Broker~ 60K Hours of NC Real Estate Experience~ (Allen Tate Realtors Chapel Hill, NC):
My little sister called me the other day and in an excited voice declared, "I think I might need to look at houses…It's a GREAT time to buy a house right now, you know!"
After the pregnant pause ensued (the one where my condescending big sister brain struggled with my professional Realtor brain) I finally said, "No? Really? What makes you think that?"
"Well. I have a friend who just got a fantastic deal on a house and I think it might be time for me to think about looking!"
Ok, so which part of what I have been saying for months now did she miss? Apparently, the same part that A LOT of buyers are missing…that would be the part that sounds just like Charlie Brown's teacher talking whenever somebody you aren't listening to tells you something: Wah, wah, wah, wah…
It's been on TV; it's been on the radio; it's been in print and on the web…where hasn't it been if you're a professional Realtor and tuned in to everything real estate ever since they first uttered the words U.S. HOUSING CRISIS!
But here's the thing… if you are just another economic-shell shocked human being wondering what happened while you were busy enjoying the last twenty years of your life, it may well BE the first time you are realizing it!
Its human nature to think that, as long as your world doesn't seem to be terribly different, then all those problems THE MEDIA is describing must be happening to other people! After all, if you hadn't really saved that much for retirement, you might not notice that 401Ks everywhere have become 201Ks. If you're just getting started thinking about long term career goals, job loss statistics are probably lost on you. And if your friends and family don't have to sell their houses any time soon, you may not have heard that the prices sellers are getting for their homes are easily 10 to 20 to (gulp) 50% less (depending on where you are) than last year's sellers got for their homes. Just as this past presidential election cycle was the longest in recorded history, so too, it seems to many of us, is the recovery from the housing crisis. But if you don't vote…or don't want to buy a house…who cares? It's only a Buyer's market if you actually BUY!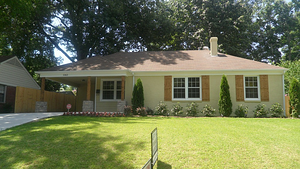 So what do Realtors have to do to get buyers to see that this is serious business? The government is anteing up $8000 in tax credit to get some of you moving. In fact FHA is getting ready to let you use that $8000 as part of your down payment…without having to wait until after closing!
Combine that with unbelievable, never before seen, never again to be seen in this lifetime, interest rates (which, by the way, are just as fantastic for those of you who don't qualify for the tax credit) and you guys should be fighting to get on my schedule to look at homes! I mean full on, no holds barred, hair pulling, fighting!
Buying a home is not a spectator sport! It is a major and serious step toward achieving the American Dream. You've heard of that haven't you? That's when you get a pretty little piece of dirt with a cozy little roof over your head to come home to after a hard day at work! A place to call your very own and nobody (well except f or the HOA, and, of course, your Realtor when it's time to sell) can tell you what to do there! It's a place where you can paint the walls any color you want, invite friends over whenever you feel like it or get a puppy!
So, little brothers and sisters, I'm here for you! I promise to show you opportunities you won't believe are available! I promise to walk you through the process every step of the way and answer ALL your questions and teach you really COOL stuff about home ownership! I'm telling you there is a SALE, a REALLY BIG SALE on real estate right now and you shouldn't miss it!
I mean seriously, when it's all said and done, when did your big sister ever really steer you wrong? Don't answer that….