It is amazing how many opportunities there are for Memphis real estate investors looking for high-quality, discount priced properties for investment in Memphis. Our company has assisted investors from 19 different states and 2 countries with building very profitable portfolios of investment properties in Memphis.
The key for investors, especially those with full time jobs or who are located out-of-state, is that the properties all are purchased well below CURRENT value and each should produce a positive cash flow after accounting for PITI, property management and vacancy/maintenance.
This is a classic example of a single-family investment property in Memphis:
Memphis Investment Property
2999 Dothan, Memphis, TN 38118
Location: Fox Meadows
This is a lovely home in the historic Fox Meadows area of Memphis. This brick three bedroom, two bath home is located on a great street, just down the street from the local school. Most of the homes on this street are very well maintained, allowing for a nice environment for a family looking to have a nice home. With large bedrooms, hardwood floors, a nice fenced-in backyard, a garage, and a separate dining room, this home would be a great property for an investor looking for a long-term hold with cash flow and potential appreciation.
Repairs to include interior paint, refinishing existing hardwood floors, kitchen remodeling, servicing of all systems, landscape work, and replace rotten wood on exterior.
Due to perpetually changing market conditions, estimated values can vary due to external factors such as lender requirements, appraiser used, and length of time to refinance after purchase. Estimated values indicated are from time of posting.
Information
Contact Information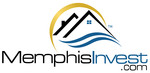 MemphisInvest.com
1-877-773-9998
Pricing
Price: $49,900
Estimated Rent: $795-$895
Estimated Cash Flow: $200-$300
Annual Taxes: $1,495.45
Zillow: $90,000
Previous Sale: $84,000
Tax Assessed: $82,900
Cash on Cash Return: 10.41%
Rehab: $11,000
Estimated ARV: $80,000
Property Location
Links