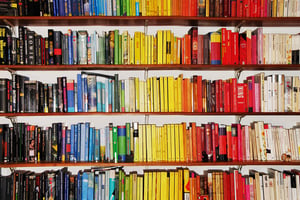 What's on your bookshelf?
You have to expand your reading list if you want to expand your success!
Having been an entrepreneur for so many years has given me many more benefits than I first imagined. A lot of my personal growth as a business owner and leader has come from my experiences through the years and the people I have met. I learned early on in my working life that modeling my actions after highly successful people was a great way to develop my leadership skills.
But, I also owe much of my success and growth to the personal commitment to always be seeking new ways of doing and thinking. The best resource I have found for doing this is reading. I devour as many books and articles on every subject that relates to success and strategy that I can get and I pay close attention to what others who are having success are reading. For me, it's the same technique of modeling that I used early in my career, only in this case, I model what others are using to grow and develop my own growth and development.
I had the pleasure of meeting several highly successful people over the past few months as I have traveled the country speaking about investing in real estate. From California to Massachusetts to Florida, I have had the opportunity to speak to huge crowds and sit in Mastermind meetings with some of the brightest minds in creative real estate investing. Many of those who I have had the pleasure of meeting are having tremendous success in investment real estate. During the course of our meetings and talks, my eyes were opened to some fantastic, inspirational business books like "Crush it" by Vaynerchuk, "TheAlchemist" by Coehlo, "The Go-Giver" by Burg & Mann just to name a few. I have already purchased and begun reading each along with several other titles. They are fantastic!
I came back to Tennessee and decided to share the list of books that are in my library, including my new additions, and challenge each reader to expand their outlook and achieve great success! I am a firm believer in sharing not only my time, but more importantly my experience and knowledge and this list of books has helped to propel my business to new heights.
I created a list of the BEST business books I have ever read as well as the most inspirational "make-it-happen" books that make up my business library.....and I want to share that list with you! If you are interested in the full list of titles that are must-have additions to your business library, email me at Kentsr@memphisinvest.com and I will forward you a complete list!
Best Regards,
Kent