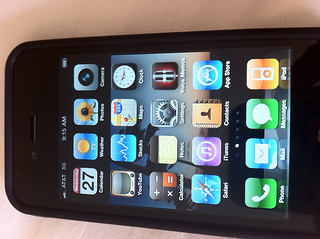 In case you've been asleep for the entirety of the smartphone era thus far, here's a news flash: There's an app for everything now. If you can think of it, there's probably an app for it; if not, there's probably one (or more likely 50) in development for it somewhere. Heck, even if you haven't thought of it, there's probably an app for it. (If you don't believe us, check out Ghost Radar. It's an app that supposedly gives you everything you need to measure paranormal activity.) Here at Memphis Invest, we released our first real estate investing App about 2 years ago and are already working on two new Apps. One will be just for our clients and the other will be for any real estate investor out there that finds it useful. We certainly are not going into the App business, but we definitely see it as a way to continue to put distance between ourselves and other companies. Plus there seems to be an App wave going on!
The real estate investing business is certainly not immune to the app-happy phenomenon. There are gobs of apps for various facets of the real estate industry. Your favorite Memphis investment company is here to recommend a few apps for investing that you may find helpful in your quest to become the most efficient, productive real estate investor possible. Maybe you can even download Ghost Radar for those properties suspected of being haunted.
1. Dictionary of Real Estate Terms
This is an iPhone-specific app ($3.99) that's exactly what it sounds like. It's a dictionary with over 3,000 real estate terms. Whether you're new to the industry or just need a handy refresher in real estate terminology, you may want to consider downloading this one. In all honesty, there is not a week that goes by where I don't hear something I've never heard before in real estate. Now granted, most of it comes from listening to podcasts or reading blogs of some not so savvy real estate investors....but hey, I still think it would come in handy to know what they are talking about when they are talking wrong, right!
2. Property Evaluator
Any app that can take the headache out of some of the numbers crunching is worth taking a look at. Property Evaluator is a free iPhone app with a number of features anyone investing in real estate would find attractive. (Like many apps, if you want full functionality for the app, you'll have to pay for it. This one also has premium and pro versions.) With the ability to view a map of the property and a built-in mortgage calculator, the free version is nothing to sneeze at. The ability to email a performance projection as a PDF file and the ability to create property portfolios are just a couple of the many additional features you can get with the paid versions of the app.
3. Real Alert
Although this app isn't one that's specific to real estate, it's one that can come in quite handy for those in the industry. It's a personal safety app that has several features to help you feel safer when you find yourself in unfamiliar surroundings (while investigating a property for possible investment, for instance). It gives quick-tap access to 911 and an alarm to scare away a would-be attacker. Among other features, it also locates the nearest hospital using your GPS location and lets you record "creep data" about a suspicious person. Available for iPhone and Android devices, Real Alert is $1.99.
Do you have other recommendations for apps for investing? Please share them in the comments!