White Board Real Estate Investing Plans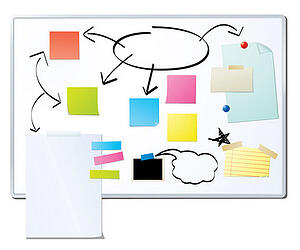 Whenever we speak to real estate investors around the country, always sharing the story of our great city Memphis, Tennessee and more importantly what is happening with our real estate investing company, we tell investors that there is no White Board hanging on a wall with a business plan outlining the path to where we are today. It would make a great story if that were the case, but the reality is that we made some very good decisions early on and put ourselves in position to take advantage of opportunities when they presented themselves. Recognizing those opportunities and taking advantage of them has been the hard part. When you mix good decisions with the right opportunities and a little luck, you get a small, family-owned company that has grown from a handful of employees to a Inc. 500/5000 fastest growing company employing almost 40 employees, nearly 300 vendor employees, managing 1,600 plus investment properties with a value approaching $150 Million for over 600 real estate investors! And there is more to come...
Dotting "I's" and Crossing "T's"
We have always considered ourselves as business men first and real estate investors second. With such rapid growth over the past two years, like any good business owners would do, we have been on a constant search to surround ourselves with excellent people who can help guide our growth. In addition to simply looking for great talent and even better advice, we have also had to adopt new rules and the guidelines of a large and growing company by developing HR best practices, vacation policies, travel schedules, new computer systems, a more diverse roster of partner companies from closing attorneys to insurance providers, along with letting go of contractors who simply could not keep up to our standards.

We have also committed our company and staff to sharing data publicly so that interested real estate investors along with our current clients can track and compare our data with their results. Data such as property management numbers graphed and reported monthly, sales numbers reported quarterly and beginning during the 4th quarter of 2012, renovation permits reported monthly. The permits was a big issue to us as our contractors pulled over 400 permits on properties in 2012. Of course, not every property needs a permit and not every action taken on a property has to be permitted. None the less, we have begun reporting the numbers of permits that contractors are pulling monthly on properties we are renovating and managing. None of this is required and certainly not necessary to conduct business. We do it as a way of providing transparency for our clients, interested investors and unfortunately, because sometimes we have to do it to set the record straight!

With all of the changes that the company has undergone in 2012, we thought now would be a perfect time to look back at those changes, report some final numbers and take a look at where we expect to go in 2013. Be sure to let us know what you think at the bottom of the article!
New Faces & A New City
We will remember 2012 for several reasons, but mainly because it wore us out! Very quietly in the fourth quarter of 2011 we began exploring opening a second office in another city. Dallas, Texas was a natural fit for us since it is where we had lived for so many years and we had family and business ties to the area. We opened an office in Dallas during the Spring of 2012 and opened Dallas Invest, GP and had a fantastic year. We were able to complete 55 transactions, open our property management company, hire three full time employees, host two small tours of our properties to help us work out the kinks in the new city and over-all finish with what we felt had been as smooth a process as possible. We have been repeatedly asked about the website DallasInvest.com and all I can say is it is coming, but not until the time is right for rapid growth in Texas and we are not quite ready yet. We still have some work to do to ensure that the investment process and the customer service experience are the highest level possible.

John Gardner was our first hire in Dallas and he was soon followed by Shane Bagwill and Kelly Holden. The three really work together as a team although John works in acquisitions, Shane in property renovation and Kelly is the first hire for Premier Property Management Group of Texas. They have spearheaded our growth in Dallas and have been awesome! We are looking to double the number of transactions in 2013 and begin assisting our investors with their other property management needs in the Dallas/Ft. Worth area.
In Memphis, the growth has been even more incredible with 13 new hires. New to the team in Memphis are Brittany Meecham, Andrew Newman, Michelle Carmicheal and Brea Shaeffer at Premier Property Management of Memphis. In the renovation department we have Eric Hobbs, Michael Scarleski and Justin Hill. At Memphis Invest we have Jay Hinrichs, a family friend who we have known since he was in grade school and lived across the street, Deborah Sills and Christine Pittelli joining us in day-to-day operations as well as Deidre Stubblefield working in our contracts department, Kathy Sawyer working as an assistant in accounting and Drew Dawkins who started our IT department this year.
That is a total of 16 new team members in 2012...you can see why we have been crossing all the "I's" and dotting all of the "T's"! It has been an incredible year of growth and we have parted ways with a couple of team members as well as several vendors. In our drive for excellence, we realized we could not be halfway excellent and neither could any staff or vendors. Trying to make all the right hires as we grow our company has been a challenge especially when you have such a unique culture like ours. To look back today and see how well everyone works together helps me to realize how special that accomplishment has been.
New Procedures, Contracts & Attorneys
In mid 2012, as the volume began to really pick up, we began to plan and implement new procedures as well as seek help in other areas that were being forced to grow too. We began working with additional closing attorneys both in Memphis and Dallas and today have 6 different law firms between the cities that handle our volume. We also began a review of our contracts with the new firms, with the intent of clearly defining what we feel are best practices for a company like ours. The end result is a contract that more clearly states the exact transaction and all of the ancillary services that can be utilized, but that are not required. Five clarifying statements in the contract are:
This is a private transaction for a single piece of real estate. There is no club to join.
An investor is free to choose their own closing attorney and title company. There is no requirement that an investor close with a particular attorney.
The investor does not have to use Premier Property Management for any management services and if they do choose to use Premier Property Management, they are aware that there is common ownership of that company with Memphis Invest, GP.
An investor always has the right to request an inspection at their own cost before closing on the purchase of a property.
The investor is aware that every property undergoes an extensive renovation and that a full Scope of Work will be completed on every property and provided to the investor upon completion detailing the before renovation condition with pictures and the after renovation condition with pictures.
While each of these issues is clearly addressed during the buying process, we felt that it was best to address them in the contract as well as an added level of transparency and an abundance of caution for the investor. We have also made two other small changes internally concerning each property that we purchase. Beginning in August, we started holding onto properties until after the deed from our purchase had been recorded at the country registrars' office before we would advertise them either on our site or to interested investors and clients. While this again was done out of an abundance of caution, we realized that it would allow for a very clear chain of actions to be documented where we purchase, obtain a filed deed and then begin renovation work while we market the property to investors. Does it matter? Not really, but when you are doing the volume we are doing in a year, it never hurts to look for every way possible to improve the company and processes.

We have also begun listing properties that we purchase and sell on the local MLS along with before pictures the day we purchase the property and after pictures the day we complete the renovation. We also attach a complete Scope of Work to each listing detailing all the work done and any corresponding permits. Again, this is certainly not required, but it allows for a very transparent process for all to see exactly what was spent purchasing the property, renovating the property and the final sales price with any concessions we may make to a purchaser. Of course, our acquisition and holding costs are not listed, but it still gives a pretty clear picture of the entire process and the work completed to renovate a property and, hopefully, revitalize a neighborhood. Every property is a start and this is one more way for that process to be documented.
From 452 Transactions To...
We were a little surprised ourselves to learn we had completed 452 transactions in 2013. We follow a very simple motto of "if we improve our company every day, our clients will demand we get bigger". As we write this review of 2012, we are managing the investment portfolios of 607 real estate investors in both Memphis and Dallas. A recent survey showed that a large number of those investors would like to purchase additional investment properties for their portfolios in 2013 and many have plans to purchase multiple properties. In 2012, 61% of all sales went to existing clients which speaks volumes about the level of satisfaction our clients have with their investment decision. If those same numbers hold true this year, we could be looking at completing well over 500 investment property purchase, renovation and rental placements. As you will see from the graph below, it has been an incredible year and we are already gearing up for 2013 and keeping a close eye on any improvements we need to make as we go along!

We are very thankful for the opportunity to serve our clients and look forward to a prosperous and happy 2013 for everyone. Don't forget, We would love to hear your comments below!
(These numbers reflect data as of 12/20/2012 in Memphis only)