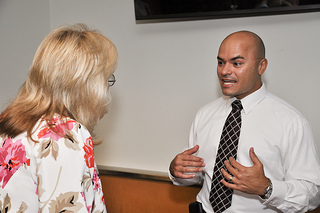 Starting a small business -- or growing the one you already own -- can be a daunting task. The small business owner must wear many different hats, and he or she must do so with resources that are often in short supply. Memphis Invest has been blessed to come through the last few years of massive growth as an extremely strong company and we wanted to write an article showing other Memphis business owners a few organizations where they can get help and guidance. Being honored last year as one of Inc. Magazines 500/5000 Fastest Growing Companies was huge for us and we'd love to see more Memphis small businesses on the list!
The good news is that there is help for those looking to grow their small business and make it successful. Memphis has a spirit of helping each other and it almost seems ingrained in the leadership of the city and its business people to help others find success. Supporting and helping other businesses is a great way to help your own company succeed and MemphisInvest.com is a great example of that. We work with and support nearly 100 other small businesses here in Memphis. While we are able to support real estate related service businesses with consistent work and some entrepreneurial set up and advice, there are numerous small business organizations out there that can help you make your Memphis small business everything it can be. That support can come from planning , consulting, growing and even help with funding sources. We at Memphis Invest just simply wanted to share three of them.
1. Memphis SCORE
What if you had access to a team of experienced businesspeople who have been through what you're going through? What if you could tap the wisdom and advice of people who have been through the trenches of building and maintaining a business? With SCORE (Service Corps of Retired Executives), you can do just that. According to its website, "...SCORE Memphis offers free and confidential counseling to start up businesses and existing small businesses that seek advice." SCORE, a resource partner of the Small Business Administration, provides counseling services, business plan preparation, webinars, and live business workshops with the goal of giving those seeking to start or grow their small businesses the tools they need to succeed. This is a great resource for entrepreneurs and there are people with real estate and real estate related services experience in the group.
2. TSBDC (Tennessee Small Business Development Centers)
The TSBDC is a network of professional business consultants that can provide both start-ups and existing businesses with counseling in accounting, marketing, employee relations, operations, and many other areas. Though it sometimes charges a small fee to attend its workshops and seminars, all of TSBDC's consulting sessions are provided free of charge. I have not attended a session myself but have heard very good things about the programs and the fact that they offer consultation free of charge is a huge bonus. Many small businesses, regardless of their field, face the same challenges and issues. Having the ability to get a consultation on some of the issues you are facing is a great way to build your business and at a minimum maybe reduce the amount of time it takes you to reach profitability and shorten the learning curve.
3. City of Memphis Renaissance Business Center
According to its website, the City of Memphis Renaissance Business Center "...provides entrepreneurs and small businesses in Memphis with training, one-on-one counseling and information to assist in their success." Of particular note is its ability to help small businesses obtain the capital they need. The RBC has special loan programs for minority-owned businesses, women-owned businesses, and small businesses that are having trouble qualifying for loans.
These are just three Memphis area small business assistance organizations, but Memphis has a spirit of helping others and there are many, many other organizations out there. I've recently written about the entrepreneurial spirit in this city and it is alive and well. Real estate investors may not always appreciate all of wheels and gears that work behind the scenes to make a great investment city continue to be a great investment. But, there are many many ways that each small business works in the background to make an investment property profitable and a good, strong investment.
Do you know of other small business organizations that can help your business shine? Please tell us about them in the comments!
Image credit: U.S. Army Corps of Engineers Los Angeles District (Public Affairs)