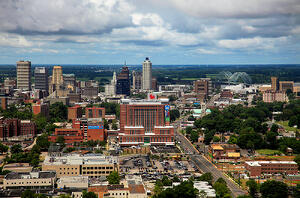 Memphis Invest, GP and related company Premier Property Management Group released 2013 First Quarter Results on Sunday April 21st and a positive trend for the real estate investment company and their clients continues. Demand for investment property and opportunity continue to remain strong in both Memphis and Dallas and portfolio performance as well as client satisfaction remain high. Sales at Memphis Invest, GP grew year over year 110% and tracked even compared to the 4th quarter of 2012. As demand from existing clients continues to pick up, we expect to see growth throughout the year.
Positive Trends For Investment Real Estate Continue
"This has been a very strong quarter for each of our companies from buying and selling to renovating and managing both in Memphis and Dallas and we are on pace for another year of strong growth in 2013", according to Kent Clothier, Sr.


Memphis Invest, GP, which reports the numbers for each of the companies, has seen investment property sales in Memphis and Dallas grow steadily each quarter going back to 2011. Two factors that lead to the steady growth are numbers of clients served and their continued participation in the market. Premier Property Management is managing portfolios for 692 investors as of April 1. Those investors were very active in the market during the 1st quarter as 64% of closed sales transactions went to existing clients. Those two number show that investors continue to have a high level of satisfaction with their existing portfolios and the performance not only of the properties, but also of the management of the portfolio.

"This is a great guage for the success of our property management company and my team. We are trying to perform at a very high level both in terms of the way the properties perform for clients and in the way we provide customer service and if those two factors remain high, then our clients will continue to trust our company and build their portfolios" says Nate Gray, Director of Premier Property Management.
No Changes In Memphis Investment Plans
Memphis Invest, GP sees no changes in the current plan for acquiring, renovating, renting, selling and managing property in the Memphis or in the Dallas markets. Each market has unique characteristics, but both remain solid investment markets with opportunities for investors to purchase investment properties. Rents continue to strengthen in many of the neighborhoods and sub-markets of the cities where we are buying and those areas will remain as our focal points. We do continue to explore other cities and have two cities on a short list for future expansion in late 2013 early 2014. Be on the lookout for those announcements!
1st Quarter Numbers
Sales
136 Properties Closed (investors purchased)
87 Properties Closed by existing investors
94 Investors purchased properties
49 New Investors
42 Properties Purchased - Cash
40 Properties Purchased - Self Directed IRA
33 Properties Purchased - Traditional Financing Programs
21 Properties Purchased - Private Finance Programs
Renovation Numbers
$17,699 - Average Renovation Dollars Spent Per Job
$12.63 - Average Renovation Cost Per Square Foot
21.6 - Average Number of Days To Complete a Renovation
191 Permits Pulled By Renovation Vendors
37% - Number of Properties Receiving A New Furnace
51% - Number of Properties Receiving A New A/C Unit
50% - Number of Properties Receiving A New Roof
41% - Number of Properties Receiving A New Water Heater
*Every home renovated does not require permits and not all work listed above requires permits. Permits pulled by vendors where required.
Property Management
1634 Properties Under Management For Clients
62 Properties Vacant and Available For Rent
3.79% Vacancy Rate
The tenants that occupy these investment properties are, in essence, our second client and their satisfaction is the most important factor in length of stay, reduced vacancy, reduced maintenance and an increasing number of lease renewals each month. Here are numbers reflecting satisfaction among tenants:

31 Months - Average Length of Stay
48.4% - Lease Renewals Each Month
Rent rates also continue to inch higher as properties are presented in better condition and tenants are demanding higher quality service. One out of every two Premier properties rented in 2013 rented higher than the average rental rate for that zip-code at Premier Property Management.
Speaking of rental rates...
Of the 136 properties sold in the 1st quarter, 131 of those properties were rented during the first quarter. Many of our investors place properties under contract before the work is completed on the property so they rely heavily on the data that we provide. On some occasions, investors are closing properties before they are rented, which means our data has to be accurate. Here are the rental numbers for the 1st quarter:
131 of 136 properties sold were rented during the 1st quarter
127 properties or - 96.95% - were rented WITHIN the stated rental range
4 properties or - 3.05% - were rented ABOVE the stated rental range
0 properties were rented BELOW the stated rental range
We also studied the 925 properties sold the three previous years to see where their rental rates were today compared to the stated rental range from Memphis Invest when they purchased their property. Consistent return on investment and reliable data are two MAIN reasons that investors continue to work with Memphis Invest and Premier Property Management.
925 Properties Rented
833 Properties or - 90.05% - are rented WITHIN the stated rental range
78 Properties or - 8.43% - are rented ABOVE stated rental range
14 Properties or - 1.51% - are rented BELOW stated rental range
The whole process of locating, renovating, renting and managing an investment property is sometimes seen as an intricate dance between a lot of moving parts. Our job is to keep each of those parts moving when and where they are supposed to be moving and to help each part work together. We have multiple departments in multiple cities and I can honestly yet humbly say, if this were a dance, we would be pretty good at it! I want to congratulate each of our employees and especially the department leaders who did an excellent job during the 1st quarter.
We are looking for an even stronger 2nd quarter!