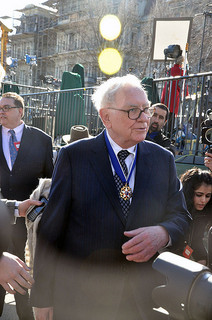 Sometimes we all need a little bit of motivation. Football players watch Rudy, runners listen to the theme music from Chariots of Fire, and artists stroll the halls of the Louvre to draw inspiration from the masters. Whatever your occupation or field of interest, it's important to stay motivated. The right motivation can keep us from becoming stagnant, which is vital, for stagnation leads to mediocrity.
With that in mind, Memphis Invest is here with three motivational real estate quotes to keep you in the right frame of mind for success.
1. "Look at market fluctuations as your friend rather than your enemy; profit from folly rather than participate in it." - Warren Buffett
When somebody with a track record like Warren Buffett has tells us how to spend our money, we listen. Whether the market is up or down, there are always opportunities to be had for the shrewd investor. When things aren't going well and others are prone to panic, keep your head about you. Make your real estate investment decisions base on a sound long-term strategy, as opposed to short-term fluctuations in the industry.
2. "If you think hiring a professional is expensive, wait till you hire an amateur." -Red Adair
For many, this is sound advice when deliberating on which contractor to use and which landscaper to hire. But I'm not talking about those services. I'm talking about when you BUY your property in the first place! The real estate investment business has a few mud holes in it where you can find opportunities and plenty of mud rollers to sell them. As a rule, you get what you pay for! And if you are paying to do business with people that roll in the mud...you are going to get dirty. Go for the professional. Even if you are interested in other cities, there are some great companies in almost every good investment city and there are plenty of amateurs as well. So, pay for quality work and work with great companies! It will be worth it in the long run.
3. "Landlords grow rich in their sleep." - John Stuart Mill
Whether you're making your 20th phone call of the day in an attempt to score your next deal on rental properties in Memphis, TN, or you're putting in some sweat equity in the yard of a property you're trying to rent, real estate investing can be hard work. It's good to remember what you're working toward: a way of life that can give you more income, more freedom, and more satisfaction. For the truly smart investor, the hardest work they do is reviewing their income statements because they chose to invest in passive real estate opportunities. No matter which way you decide to invest, just make sure you are moving toward owning property as soon as possible.
What is your favorite real estate quote? Please share it in the comments!
Interested in learning more about Memphis Real Estate Investing?