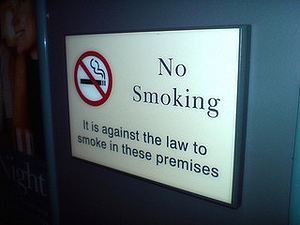 There's a reason that smoking bans have been so hotly debated, and it's clear to see if one frames the debate in a way that eliminates the smoking preference of either side. For instance:
Do you agree that people have a right to reasonable protection from the unhealthy choices of others?
Do you agree that people have a right to be free from unreasonable intrusion into their personal lives?
Many would answer "yes" to both of these questions. When they are asked in reference to smoking regulations, however, it's easy to see that answering both questions in the affirmative leads to a problem of conflicting interests.
Rental Property Smoking Policies
There has been a gradual shift in smoking policy over the years, and that shift has clearly favored nonsmokers. Cities have enacted smoking bans in bars, restaurants, and other public places, citing health risks due to secondhand smoke. In some cities, even smoking outdoors has been outlawed in common areas and around entrances to buildings.
This move toward a more smoke-free society has even begun to extend into rental real estate. Related Companies has banned smoking in all of its 40,000 rental units across America. Other landlords are taking matters into their own hands, as well, banning smoking in their rental properties, citing health concerns.
Jeffrey I. Brodski, the president of related management, cites the rights of those affected by their neighbors' smoking habits as being the impetus for the ban.
"It's not unlike somebody playing their tuba at two in the morning and compromising their neighbors' efforts to enjoy their apartments," he told the New York Times. "There's an expectation of certain behavior."
This seems to be the prevailing sentiment among those who choose to enact such bans. From their perspective, it's not a matter of micromanaging their smoking tenants' lives; it's a matter of protecting those who could potentially be affected by secondhand smoke.
There are, however, legitimate concerns from those who oppose these kinds of aggressive non-smoking policies. They question how much smoke is really seeping from their residence to those belonging to non-smokers. They also take issue with what they see as over regulation: If you can't smoke in your own residence, where can you smoke?
What are your views on smoking regulations in rental properties? And should smoking policy in rentals be managed by the individual investment property owners, or should the government step in? Please share your answers in the comments!
Want to learn more about investing in Memphis real estate?