Investing in real estate doesn't mean giving up your creative side. Successful real estate investors know when it's time to innovate and grow their businesses with a little right-brained thinking. If you sit back and think about it, real estate investing and creativity have pretty much been limited to the cable-shows and the goofy personalities they have created. Unfortunately, that is not the creativity that really allows business to grow and benefits such as increased profits and revenue to flow.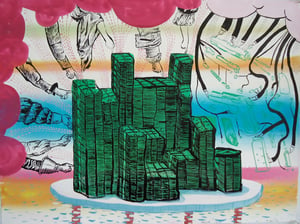 Creativity doesn't just live in clever marketing: it should have a place in your business practices, too. One of the easiest ways to be creative for the benefit of your real estate investments is how you handle rent payments.
There are three primary points to consider before changing things up:
As an investor, ensuring excellent customer service for your tenants is key to growing a positive reputation. You will never make 100% of the tenants or even applicants happy 100% of the time. However, put the effort in to hit that mark. It will make it a lot easier to ignore the few who decide a nasty online post is their best route....whether it is truthful or not!

Many renters live paycheck-to-paycheck and value flexibility in paying rent. This is a new reality and landlords as well as property management companies need to creatively figure out flexible payments.

Grace periods, though helpful to tenants, can promote bad habits. Bad habits are the last thing you want to promote in a tenant!
With these in mind, consider: how can you innovate in how tenants pay their rent and improve customer service without extending too-lenient grace periods?
Innovating to Benefit Your Positive Cash Flow & Your Tenants
Considering What Your Tenants Need
There's no doubt that real estate investors are business men and women who absolutely need to consider what's going to work best while investing in real estate. They need to put the well-being of their business at the top of the priority list.
There are always two extremes: being too business-minded in a way that tramples over other people, and being so generous and forgiving that your business suffers. Investors have to find that middle ground between balancing personal benefits while still caring about the well-being of the people they work with.
It's no surprise that a lot people live paycheck-to-paycheck. Nearly half of Americans, according to Time Magazine. Not only that, but the U.S. Bureau of Labor Statistics reports that a majority of private business pay employees that make under $20/hr weekly: even more pay biweekly.
For those struggling to save and desperately waiting for payday, a single set day to pay a month's worth of rent can cause a lot of distress and anxiety, especially while holding out for a paycheck when there's not much left after groceries, emergencies, transportation, and other expenses.
We see in popular culture often how big of a hurdle rent day can be. For most investors and managers, the traditional way to help out a struggling tenant as an act of goodwill is by extending a grace period. This is typically a few days past the rent due date where a tenant can pay late without incurring any late fees.
Extensions and grace periods, however, often come at the expense of the owner.
Why Grace Periods Don't Really Work
While grace periods are mandatory in some states, they really don't work all that well. It sends a message of "your rent is due...but not really." How does that encourage tenants to pay on time? They're not necessarily going to commit to being on time if they know there aren't consequences.
Grace periods don't do your finances any favors and can make for bad habits in the future.
When it comes to your lease agreement, don't compromise. It's in writing, so follow the agreement to the 'T' so that your tenants know that they'll be held to the same standard. It doesn't make you heartless: remember that you can always waive late fees when there are special circumstances!
So if grace periods aren't an efficient way to be more creative, flexible and accommodating, what is?
Ways to Be More Flexible...But Not Compromising
New Ways to Pay
We've mentioned some emerging technology that makes paying rent a lot more convenient for tenants: platforms like Cozy allow tenants to pay online. Plenty others out there allow for payments via smartphone. Convenience really is one of the best ways to improve customer service, so if you haven't considered stepping your systems up to take advantage of new technology, now's the time to look into it.
Restructure Payment Schedules
While new methods are a great way to improve customer service and increase chances of receiving payments on time, it arguably doesn't increase your positive cash flow. There's another way: flexible payment schedules.
This doesn't mean that tenants can pay whenever they want: it means that at the outset you let the tenant decide what payment schedule works best for their situation. Is it paying in smaller weekly or biweekly amounts rather than one sum during the month?
The idea of Payday Rent Payments has been talked about before, and it really can mutually benefit both your tenants and your positive cash flow.
For Tenants:
Easier to borrow when necessary to pay the smaller amount of a split-up rent payment.

Rent due dates coincides with payday, so no worries that there won't be enough left at the end of the month — for you or them.

Avoids their need to take out cash advances.
For Owners:
A 52-week plan over a 12-month plan ensures additional payments, and income.

A $10 processing fee per payment also adds up to extra positive cash flow.

The benefit of accommodating a tenant's situation means higher tenant satisfaction.
When you think creatively, opportunities open up to improve your business of investing in real estate.
In what other ways have you seen creativity in investing in real estate? Share your ideas in the comments.