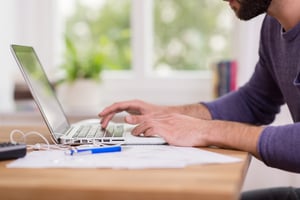 Being young isn't easy. Granted, there are a lot of perks: energy, imagination, ambition...but there's also a lack of experience that's unavoidable and looked down upon by most seasoned professionals. Unfortunately, looking down upon young real estate investors seems to be a past time for those who have been real estate investing for a while.
Young folks have a lot to offer, not only to their current generation, but to older, more seasoned investors, too. We all have to start somewhere, after all — why not start investing in real estate when we're young?
Young professionals are often looked to with skepticism: their inexperience leads to mistakes, they don't know what they're doing and they are often the first to speak like they already have it all under control! They can't possibly be serious contenders in the business can they?
And yet, they can.
Brandon Turner, one of the masterminds behind the BiggerPockets podcast, got into real estate investment in his twenties. He is one of the most respected voices in real estate investing at a still young age and has the experience and knowledge to back it up. Patrick Riddle of Must Know Investing dropped out of college to start his career in real estate investment at the ripe age of 22.
You're not too young to invest. Any new investor at any age deals with a learning curve: but young investors face unique challenges...but no obstacle is impossible to overcome.
Overcoming 5 Hurdles Young Investors Face
Hurdle #1: Your wallet is empty.
Let's be honest: If you're fresh out of college, you're probably struggling financially. Whether it's student debt or simply just the result of having a fledgling career, a lack of capital is one of the biggest excuses to not invest. It's even more daunting when you haven't begun to build good credit (often necessary for certain investments) or when student debt is hanging over your head. Still, you don't have to kill your investment chances.
There are strategies to get into investing without having to have all the cash. There's crowdfunding and private money lenders, just to name a few. You'll likely still struggle as you find your footing, but a lack of money is no reason not to invest.
Hurdle #2: You doubt yourself.
Any new venture is intimidating. We all struggle with feelings of self-doubt and fear, and it's particularly true for new investors, and particularly for young investors. But don't let fear or feelings of inadequacy stop you. We all start from square one at some point. Instead of letting doubt rule your thoughts, channel it into positive energy.
One of doubt's greatest enemies is knowledge. Find a mentor, read up, and learn, learn, learn. Listen to podcasts, read blogs, consume books, learn what it will take. Not to be self-serving or to push this blog too hard (you're already here after-all), but there are fifteen years worth of great advice and down-to-earth articles right at your fingertips for free! Start developing a business plan. Talk to people who're already successful in real estate investment. There will always be risk and there will always be doubt: the key is using both to better yourself.
Related Article: 4 Ways To Stand Out among Real Estate Investors
Hurdle #3: Others don't take you seriously.
As a young person, chances are the older crowd isn't too interested in what you have to say. They think you don't have the experience. They won't trust you to make wise decisions. They'll pass judgment on you before they even know what your plan is. It's frustrating, but there's only one way to overcome their skepticism:
Prove them wrong.
Actions speak louder than words. So work hard. Show naysayers that you're serious, willing to learn, and ready to embrace real estate investment. Be patient, too. Not everyone will be won over immediately (and you don't need to win everyone over in the first place). You've got to put in the time necessary to gain the experience and success that will earn your place at the table. So if you really want it, fight for it.
Hurdle #4: You have unrealistic expectations.
HGTV makes flipping houses look like a breeze. Don't learn how to invest from HGTV, no matter how much you enjoy watching Property Brothers. No television program provides the full picture and they do set unrealistic expectations. By the same token, beware of gurus and 'get quick rich' types. They just want your money without imparting anything of use to you.
Instead of dreaming of rolling in your new found passive income, think about your plan. Ask yourself what you really want from your investments. Study up on local laws. Do all of that boring stuff that sits at the foundation of all real estate investments. It might be dry and complicated, but it's necessary. Be prepared to work hard, be disappointed, and hit rough patches. If you expect a primrose path, you're going to be disappointed.
Related Article: 3 Ways A Millennial Mindset Affects Real Estate Investing
Hurdle #5: You don't know where to start.
Sometimes starting seems like the most complicated thing in the world. Do you start looking at properties? Lenders? The first step to investing in real estate is to start with the basics. Investigate the type of investing you're interested in. Learn how it works. See what the law says. Join networking groups, look for message boards, follow industry professionals that you can learn from. Immerse yourself in real estate investment. Once you think you know what you're doing, make a business plan. Map out both short and long-term goals.
If you feel overwhelmed, start smaller. Take everything a step at a time. Don't be afraid to ask questions, take chances, and make mistakes.
Every investor has to start somewhere — and everyone can start young!