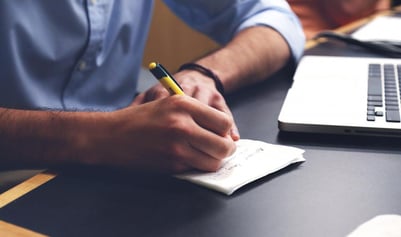 Real estate investment takes a special kind of person. We don't mean that everyone can't find success in this business—only that certain types of people are going to have an easier time at it than others based on their personalities. There are certain traits that successful real estate investors just have.
These are the qualities that make for good decisions, great reputations, and the forward momentum necessary to put your investments in a league of their own. The question is...are you that kind of investor?
5 Personality Traits Every Successful Investor Needs
1. Assertive
As an investor and property owner, or any type of real estate investor, being assertive is probably one of the most important traits you can have. Ali Boone over at Hipster Investments goes into detail as to why assertiveness matters to much in all aspects of this business. Really, it comes down to your need to be a go-getter.
Not only do you need to be able to track down deals, make connections with other professionals, and relentlessly pursue your goals, but you need to be able to course-correct when things aren't going right. If you're too willing to roll over when things aren't going the way they should, things aren't going to work out well! You have to step up and do what it takes.
That means having the assertiveness to fire bad managers and initiate difficult but necessary conversations. While you may not have to roll up your sleeves and play tough guy (or gal) all the time, you can't let things go, either. Being assertive is how to get ahead and stay ahead in the game. A submissive, meek real estate investor is going to find themselves stepped on and taken advantage of in the world of real estate investment...and that simply won't do!
2. Attentive
Attention to detail is something that some real estate investors just miss. Attentiveness is a trait all of us could probably use more of. It's the quality that pays attention—it keeps up with deadlines, it notices trends, and it sees the minute details that make all the difference in the world. The attentive investor sees what small things matter to tenants, what little changes can make or break a property's potential, and understands the value of due diligence. They understand that glossing over the nitty gritty is a sure-fire way to run into trouble!
While you can get yourself lost in the weeds, it's far, far more dangerous to let go of the wheel.
3. Courteous
We've said it time and time again: real estate investment is a people business. We rely on a lot of connections! We connect with mentors, other investors, realtors, contractors, managers, tenants, lawyers, accountants, inspectors, and more! There's a lot of relationships to form, both professional and personal. A good impression is important, but just being pleasant to be around is even better. It helps your all-important reputation is people just enjoy working with you.
Being courteous and considerate is a big part of that. Practice remembering details about the people you meet. Remember to follow up. Consciously smile and present and easy, pleasant demeanor. It goes farther than you think!
4. Analytical
What would investors be without a mind for analysis? There are a lot of numbers in this game! Real estate investors need a penchant for looking at numbers, breaking down projections, and objectively working through what plan is going to be the best for your business. Investors, more than enjoying working with numbers, need to have a mind that is clear, level-headed, and objective in analysis. If you're clouded by your desires and ambitions, it can lead you astray!
5. Planner
The last quality that will serve you well in real estate investment is simple: are you a planner? In this world, we all have goals. But it's never as simple as wanting to have this amount for retirement or that amount so you can quit your job. It's having the clarity and focus to be able to sit and plan your path to get there. Can you break down your steps? There's a broad, big picture path, and then there are the day-to-day, week-to-week steps that add up over time to the progress that gets you there. Planners are great at making progress and knowing what they need to do.
Even if you're not naturally bent to excel at some of these qualities, you can practice and improve. Ever real estate investor can grow to be better at what they do!
It's even better if you have a solid team standing behind you. Memphis Invest can help you invest in some of the best markets in the nation: bringing decades of expertise and skill with us.
To learn more about turnkey, passive real estate investment, click the button below.