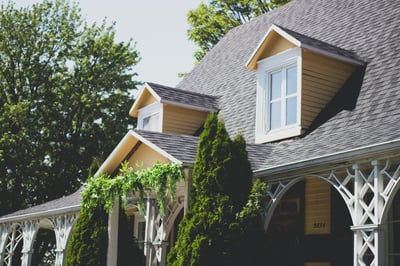 We're all feeling the effects of inflation in the U.S., but if you're looking to buy real estate or currently own real estate, you're feeling – or fearing – the impact of the central bank's primary inflation-curbing strategy.
Pushing up interest rates is a classic tactic for quelling inflation, but the real estate sector feelings those changes more readily than others. The 30-year fixed mortgage rate has spiked by 2% since December 2021, jumping from 3.11% to 5.11%. For homebuyers, depending on the size of their mortgage, that could add up to hundreds of extra dollars tacked on to their monthly payments.
It will take some time for inflation to get under control, but in the meantime, you might be concerned about the future of the housing market as a potential buyer or owner. Your biggest fears are likely one of these two, if not both:
Fear #1 – Rising interest rates will price me out of the market OR they will throw my projected profit margins out the window.
Fear #2 – The shock to the real estate market will result in a crash.
We're here to help assuage your fears. While the current market certainly presents its fair share of challenges, there are exciting opportunities ahead for real estate investors.
The Question of a Market Decline
We all know that real estate prices have been driven to great heights by unprecedented demand, low interest rates, and low inventory. Arguably unsustainable, many began to worry we were going to experience another market crash à la the Great Recession.
Thankfully, for most markets, that outcome is highly unlikely.
CoreLogic, in collaboration with Fortune, published a map of the likelihood of a home price drop in nearly 400 regional real estate markets. This is their scale:
Elevated: Over 40% chance of a price drop
High: 30–40% chance
Medium: 20–30% chance
Low: 10–20% chance
Very Low: 0–10% chance
Out of surveyed markets, only eight markets ranked in the "elevated" risk category. These were Hartford, Connecticut; Kalamazoo, Michigan; Lewiston, Maine; Mount Vernon, Washington; Muskegon, Michigan; Olympia, Washington; Salem, Oregon; and Honolulu, Hawaii.
In the high-risk category were Bend, Oregon; Lake Havasu City, Arizona; Prescott, Arizona, and Bridgeport, Connecticut.
What stands out most is that markets in the U.S. South, from Texas all the way to Florida, Georgia, and South Carolina, fall into "low" or "very low" risk categories.
Let's just look at our REI Nation markets represented in the study for an example:
Memphis, TN: Very Low
Houston, TX: Very Low
Dallas, TX: Very Low
San Antonio, TX: Very Low
Oklahoma City, OK: Very Low
Tulsa, OK: Very Low
Little Rock, AR: Very Low
Louis, MO: Low
Birmingham, AL: Very Low
Tuscaloosa, AL: Very Low
Huntsville, AL: Very Low
As you can see, according to CoreLogic, all our markets fall into the "Very Low" risk category (between 0-10% chance of a real estate price drop), with the exception of St. Louis in the "Low" risk category.
If you're investing just about anywhere in the southern U.S., you have very little to worry about in terms of property values and list prices.
Although rising interest rates will temper overvalued markets, we're unlikely to see many markets outright lose value even as balance returns.
What if Home Prices Do Decline?
Even if the chances are low, you might still be concerned. What if property prices do drop? Will you lose out on hard-won real estate value? You're only at real risk if:
You overpaid in the first place.
You plan to sell imminently.
You're not earning passive income.
By and large, property values grow. Even if there is a dip in the future, prices won't stay that way. It's not the end of the world if prices go down a bit, particularly for buyers who have been priced out of the market. Ultimately, we see the market correcting slowly in response to rising interest rates, buyer demand, and increasing inventory. Rental demand will remain high as buyers are hit with tough lending standards and affordability issues.
As an investor, the best thing you can do is protect your credit score, invest in the right markets, and make an intentional, conscious effort to maximize your equity.
Invest in stable buy-and-hold real estate markets alongside thousands of successful investors!