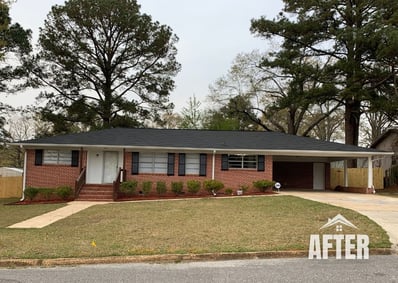 This week's Transformation Tuesday is from Tuscaloosa, Alabama.
We love showcasing our newest markets in Alabama, and are particularly proud to share this ranch-style single-family residence based in Crimson Tide country. We saw a lot of potential in this family-friendly property, as dated as it appeared in its original condition.
Our expert team of renovators and local contractors renovated this property using a budget of $44,000, starting with power washing, a neutral color palette, and new fencing for the exterior. Inside, outdated floors and surfaces were replaced with rich tones that complement the clean, white trim and cabinetry. The living areas and bedrooms now feel bright spacious, and there's no danger in using the updated bathrooms! Now, any resident would feel quite at home here!
The owner of this property is a WOW Group member who uses Premier Property Management Group to manage their REI Nation portfolio!
Welcome to Tuscaloosa! Located in west-central Alabama, just an hour from Birmingham, it's the fifth-largest city in the state with a metro population of 235,628. The city is most known as the home of the University of Alabama, the oldest and largest public university in Alabama with approximately 40,000 students enrolled. Naturally, the university is the city's largest employer with 11,403 employees. See what the home of the Crimson Tide can add to your portfolio by giving us a call today!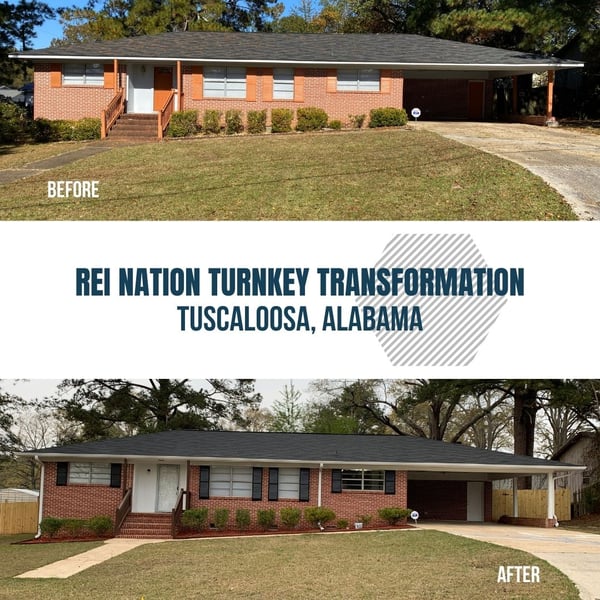 About this Transformation:
Built in 1962

1,635 sq. ft.

3 Bedrooms, 2 Bathrooms

Installed:

New Roof

New Doors

New Vinyl Flooring

New Light Fixtures

New Blinds throughout

New AC

New Water Heater

New

Furnace
Inside: Painted All Walls, Trims, Doors, Closets, Ceilings, and Cabinets

Outside: Updated Siding and Landscaping around the House

HVAC, Electrical and Plumbing Upgraded by a Licensed

Professional




Let REI Nation transform your financial future!