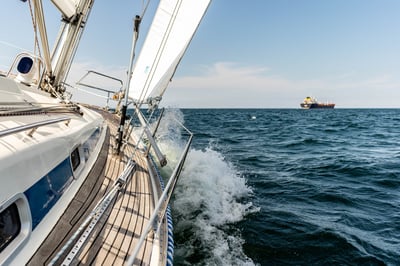 Where our wealth is concerned, we all want to have control. A lack of control can be a major stressor in our lives. Unfortunately, investors only have a say over so much.
Thankfully, certain models offer more control — more agency — than others. Turnkey real estate investors, for example, reap the benefits of expert property management, renovations, and advisors. While still passive, they can guide, time, and control their portfolio growth. Where and when to invest is in the hands of you, the owner.
Still, some factors are profoundly out of our control. We can't predict or truly influence changing laws, interest rates, economic factors, or the real estate cycle. There are just some things that we as investors can't change. These are called macroeconomic risks:
Population migration
Shifting tax laws
Local regulations
Natural disasters
At times, it can seem like real estate investors are at the mercy of the market. Really, though, this isn't the case. Investors have far more influence over their investments than they realize.
Be sure to check out: A Passive Investor's Quick Guide to Risk Management
How to Manage Big Investment Risks Beyond Your Control
While it's true — there are many things beyond your control as a real estate investor — you have more control than you think. Mitigating these macroeconomic risks starts from the ground floor and demands your diligence!
Think Long-Term
Changing your timeline can do wonders for risk management. The more time-sensitive your investment, the more risk it carries. This is because things like market timing and conditions matter a lot more if you're working within a strict time frame. We see this most in a fix and flip model, where investors rely on current market demand to make a profit. This means that investors must not only pick their markets with care, but the timing must be spot-on to maximize income.
For passive investors, market conditions are less impactful. This isn't to say that they don't matter — only that they pose a smaller risk. Buy and hold investors can bide their time. They wait out tough periods and only sell when it makes sense for their portfolio. Selling isn't the true goal, and the passive income they earn in the meantime means that they can afford to wait.
A long-term view means that you see changes, you grow accustomed to the real estate cycle, and you not only learn to outlast the unexpected, but you learn to adapt.
Diversify
Diversification has long been one of the best ways for investors to mitigate risk. Diversification isn't just about multiplying your income streams. Though this is a great incentive to diversify, the biggest benefit you'll see — even if you don't feel it at the moment — is in your risk reduction. Diversification across different properties and markets reduces the impact of unexpected problems — vacancies, resident issues, economic fluctuations, and an ever-shifting market.
Diversification means that if one property suffers for any reason, the rest of your investments sustain your passive income. Not only does diversification serve to manage macroeconomic risks, but your microeconomic risks, too. Diversification is essential for building lasting wealth through real estate investment.
Prime Partnerships
Many risks investors face come from inexperience. New investors are much more likely to fall into common pitfalls and make early mistakes than others with more experience. However, there's a way you can reduce your risk from the outset. These early risks come from a lack of knowledge, a lack of experience, and a lack of time.
The process of choosing a market, properties, financing, and management is full of risk exposure. A wrong step can mean a lot of lost income. Real estate investors avoid these risks by partnering with the right people.
REI Nation, as you know, is a turnkey real estate investment company. We have over fifteen years of experience, working through the Great Recession, and are constantly growing in the number of investors, properties, and world-class markets. From renovations teams, property management, portfolio advisors, and property acquisition, we've got the market cornered on experience.
New investors, then, can leverage this experience for their gains. REI Nation knows our markets. We have a track record of success not because we are without our flaws, but because we have spent the time to examine our performance and adjust to maximize investor success. We've already made the mistakes. We know better. And because we know better, you do, too.
Investors who partner with experienced teams, like those at REI Nation, are better able to tackle their risk — without the worry, hassle, and headache that other investors face.
Ready to invest? We're one call away.