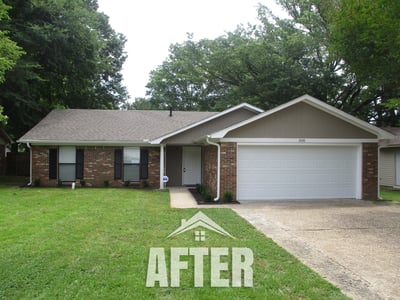 This week's Transformation Tuesday comes from Little Rock, Arkansas! This single-family home was built on the cusp of the '80s and hadn't seen many renovations since. With a lime green kitchen, sky blue toilet, and neglected walls and flooring, our expert team of contractors had quite a bit of work transforming this house into a performing asset. To see how they accomplished the job, keep on reading!
Maximizing a budget of $54,000, our team began on the exterior. In order to get this house into rent-ready conditions, we began by installing a new roof, a new fence, and repairing all of the home's rotten foundation. On the inside, we placed new vinyl plank flooring and carpet, repainted the walls a calming and neutral white, and installed other appliances to make the house truly a home, including light fixtures, a dishwasher, and much more.
At REI Nation, we extensively research the markets we choose to invest in. While Little Rock might not be an instant choice for some investors, taking a closer look at the city can shed some insights on what makes it an ideal pick. From its plethora of job opportunities steadily on the rise to its complete revitalization of its downtown sector, there is much to explore in Arkansas's state capital.
Related Article: What Does Revitalization in Little Rock, Arkansas Really Look Like?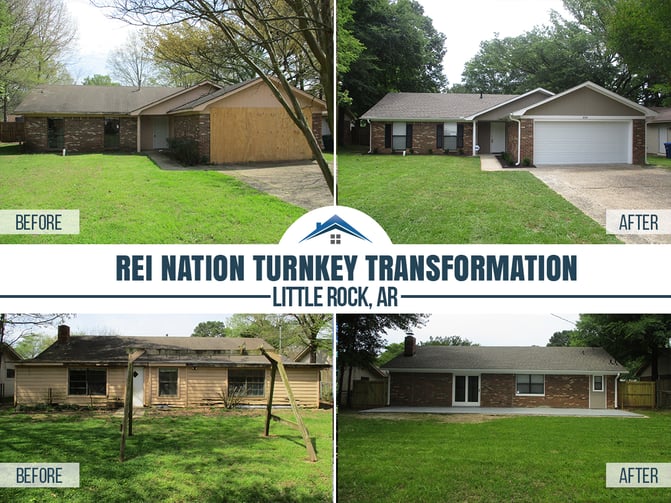 About this Transformation:
The owner of this Turnkey Transformation is located in Massachusetts; this is their second property that they have invested in and had managed by us. Here is additional info about the home:

- Built in 1979
- 1,499 sq. ft.
- Lot size of .20 acres
- 3 bedrooms, 2 bathrooms
- Installed New Roof
- Installed New AC
- Installed New Furnace
- Installed New Water Heater
- Installed New Dishwasher
- Installed New Blinds Throughout
- Installed New Light Fixtures
- Installed New Hardware on Cabinets
- Installed New Carpet
- Installed New Vinyl Plank Flooring
- Installed New Fence
- Replaced all damaged/rotten wood/trim/siding around house
- Painted all walls, trims, doors, closets, ceilings, and cabinets
- HVAC, Electrical and Plumbing inspected and repaired by a Licensed Professional


Let REI Nation transform your financial future!