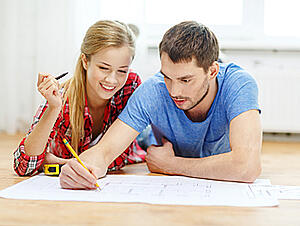 Your investment property is not your home.

There, I said it.

It's something every investor knows, but that doesn't stop some from getting tripped up when they get a vision in their minds of what they want their investment property to be.

We have to hold ourselves back at times when we are renovating properties that real estate investors will purchase from us as investments. It is easy to justify each dollar as a smart investment, but harder to make each dollar pay off in return.

It's not a bad thing to want your property to be the best possible version of itself, but focusing too hard on shaping it into your vision of perfection can end up draining your time and money faster than you can think. Before you know it, it'll take several years of renting to even begin to make up for the cost of property renovations.

There are really three categories of renovations when you boil it down to basics:

Necessary repairs
Preventative maintenance
Upgrades
Repairs maintain the current quality of the investment property and are usually enacted for the safety of the tenants rather than for the sake of property value. Preventative maintenance is an area that you can easily get caught up in over-fixing a property because the work is justified by the maintenance it prevents. But it can be costly! Such as removing large trees from the front of houses inline with the sewer clean out. The trees come down at a high price in hopes of preventing future repair and replace of the main sewer line. In the case of upgrades, you can often skip costly upgrades and simply update and refresh what you already have. It saves money with same clean, fresh and new appeal.
When it's easy to get caught up in making your property perfect, it's good to remind yourselves what you do and don't need to waste your time and money on.
Reminders about Property Renovations:
If it involves moving or changing plumbing and/or electrical work, it will get very expensive very quickly. Try to work with things as they are to save money.
Bathrooms and kitchen take priority when you wish to boost property value.
Make your upgrades comparable and relative to the value of surrounding properties. Don't upgrade unevenly within the property, either.
Clean before you replace.
Here, we're not so much concerned with property renovations that will significantly boost the property value. These are changes that your tenants will appreciate that are relatively low-cost. They'll help with general appeal to residents and prospective tenants, making it easier to obtain and retain tenants.
Three Property Renovations that are Worth It
A Fresh Coat of Paint
Ideally you should be repainting between tenants or every few years. Fresh paint can really spruce up a room. Certain colors can even made a room look larger! Here, spring for the high-quality stuff even if it's tempting to pick the cheapest stuff available at the store.
New Light Fixtures
This is a quick way to update an investment property. Install some modern lighting fixtures — it's an entirely aesthetic adjustment, but it can go a long way to making a good impression. Remember that electricians can be expensive — so try to keep your fixtures in the same place.
Small Fixtures and Deep Cleaning
Bathroom renovations, as well as kitchen renovations, are known for being worthwhile in terms of ROI but also extremely costly. Before you break the bank, try to spruce up kitchens and bathrooms with simple adjustments. Replace mirrors, towel racks, cabinet knobs, lighting and other small fixtures before you haul in granite counter tops and brand-new appliances (though you may need to replace your appliances if they're giving you a lot of trouble).
Then deep clean. Clean tiles go a long, long way, and so does re-grouting.
Before you spring for any big renovations for your investment property, do some digging to see how you can save — or if those renovations are even necessary! Your investment property doesn't need to be perfect. It's not your home. While you want it to be nice and pleasant, safe place for your tenants to live, you don't need to go hog-wild with costly upgrades.
How do you save money when renovating your investment property? Share with us in the comments.