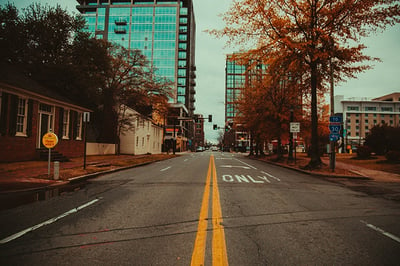 For real estate investors, opportunities are at the heart of financial success. At Memphis Invest, we're always looking to bring our investors new avenues for passive income. That doesn't reveal itself only in our curated turnkey properties but in our ever-expanding repertoire of investment markets.
From our hometown of Memphis, Tennessee to Houston and Dallas, Texas, to our latest additions of Oklahoma City, Oklahoma and now, Little Rock, Arkansas, we're always searching out the markets that will bring the best turnkey opportunities to our family of investors.
We've already written about our other latest addition to the Memphis Invest family, Oklahoma City. Now it's time to introduce you to Little Rock, Arkansas. What makes this city special? Why did we pick it as a market for turnkey investment?
This is everything you need to know about the economy and investment opportunities found in Little Rock, Arkansas.

What's Up with Little Rock, Arkansas?
Arkansas is one of those places that you may not know too much about.But don't count it out! Arkansas is home to mountain ranges, incredible landscapes, rich history, and industry.
Little Rock is the center of business, transportation, economy, and government in Arkansas. It's a major hub in the South as well. It is home and headquarters to the Clinton Foundation, Dillard's, Windstream Communications, Acxiom, Heifer International, Stephens Inc., the University of Arkansas for Medical Sciences, and Rose Law Firm. Dassault Falcon Jet and LM Wind Power also have a large presence in the city.
There is art, theatre, and a symphony. It is a city growing, thriving, and on the move!
As of the 2010 U.S. census, Little Rock's population was 193,524 while its greater metropolitan area was estimated to have a population of 724,385 in 2013 by the United States Census Bureau.
As the largest city in the state and its economic and cultural center, one would expect Little Rock to come with its fair share of economic intrigue, and it doesn't disappoint.
An Economic Overview of Little Rock
We've stressed in the past the importance of a market's economic health in its potential as an investment market. So before diving into any of the facts about Little Rock's health as a real estate market, it's important to cover some of the specific facts, trends, and statistics regarding its economy.
Notable is Little Rock's unemployment rate. At 3.30% and with a job growth rate of 2.93%, Little Rock's unemployment rate is lower than that of the national unemployment rate as of the new year, where it sat at 4.8%.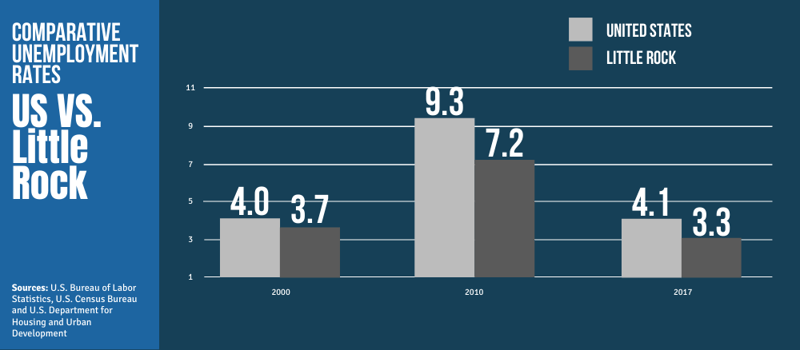 A low unemployment rate is indicative of opportunity, but it isn't telling of everything in a job market. Throughout the years, has Little Rock proven itself a stable market? What does it say about its overall trajectory? When we look a little closer, we see a clear pattern emerge: Little Rock's economic position—its industry and diversity—has created an environment that has both insulated itself from the devastation of past recessions and created a center for industry in Arkansas.
As the capital of Arkansas, it should come as no surprise that the city also serves as the state's economic, cultural, governmental, and transportation hubs. This greatly impacts the stability of the market, as many of the jobs available fall into these "essential" categories that the state as a whole relies on.
Major Players in Little Rock's Economic Health
When looking at employment statistics in Little Rock, a majority of the jobs come from local and state government. This fact is significant in that it creates job stability and volume where another industry could disappear or move to another city or state.
Looking at the top ten employers in Little Rock and the number of jobs that they provide reveals some of the major players and industries in the region and just how indispensable they are:
State Government (35,200 employees)

Local Government (26,500)

Federal Government (10,200)

The University of Arkansas for Medical Sciences (9,100)

Baptist Health (6,590)

Little Rock Air Force Base (4,500)

Arkansas Children's Hospital (4,000)

Little Rock School District (3,500)

Central Arkansas Veterans Healthcare System (2,800)

Entergy Arkansas (2,740)
In the top ten employers, we see government, healthcare, education, and energy sectors represented. Farther down on the list of major employers in Little Rock, we see other utility providers, major retailers, the University of Arkansas, and more.
Since 1994, the city has seen over $2.5 billion in economic development. Largely, this development has been attributed to an active private sector and an ambitious Chamber of Commerce.
Commercial growth has also been a driving force behind this success, as economic growth has fostered commercial and residential real estate growth. 2015 saw an explosion of new commercial real estate, including retail and industry. Shopping attractions play a large role in this success. Recent additions include the Outlets at Little Rock, Bass Pro Shops, shopping and restaurants at Shackleford Crossing, and a Dave and Buster's.
Overall, the tax incentives that the state offers to businesses and industries (both big and small) play a significant role in this economic development as well. Together, this business-friendly environment along with an aggressive Chamber of Commerce and diverse industry set a strong stage for Little Rock's economic success.
Dealing with Economic Downturns
Overall, Arkansas wrestled with the 2007-2011 housing collapse and saw a struggle on the road to recovery along with most of the nation. Because the recession did not necessarily devastate the region in the same way we saw it impact larger, more inflated markets. Some have called Arkansas' recovery from the recession sluggish, and that isn't inaccurate: however, there is some nuance to consider.
Because the downturn was less severe for Little Rock and Arkansas as a whole, it would make sense that the recovery would not swing back as harshly, either. Some would view this as a lack of growth, but others see it more as a sign of stability. This slow-and-steady growth, combined with affordability and record-low unemployment, all point to ideal investment opportunities.
The key point in so many reports about Little Rock's economic future is this: "slow, steady growth."
A Pattern of Stability
Dr. Michael Pakko is the state economic forecaster and chief economist at the Institute for Economic Advancement at the University of Arkansas at Little Rock and one thing that he notes continually about Little Rock in his observations and projections is the city's economic sustainability.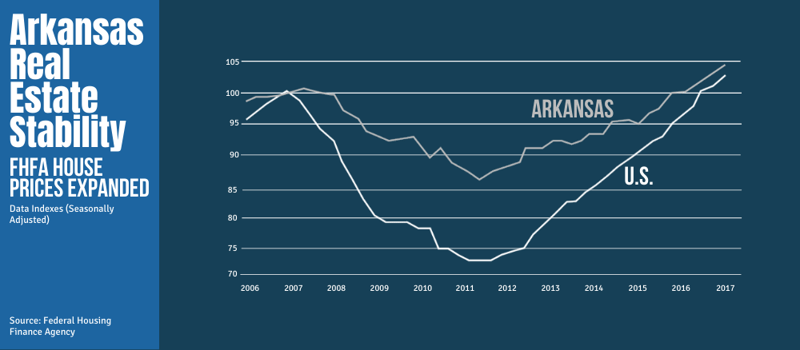 The shining note, of course, is the record-low unemployment rate, which came coupled with a rise in wages and overall consumer spending. As of 2017, there was a trend suggesting an Arkansas GDP growth rate of 2% and employment growth of 11,000 jobs.
While again, these numbers aren't anything mind-blowing, they are encouraging and, most of all, sustainable. It's that sustainability that investors particularly want in their investment markets, especially where buy-and-hold opportunities are concerned.
Real Estate and Economic Strength
The link between local economic strength and real estate investment is undeniable. For real estate investors, the economy is one of the primary factors to pay attention to. Not only should an investor note things like population growth, wages, and housing costs, but also factors like economic diversity.
In a market like Little Rock, which thrives on not only a diverse economy but an essential one (education, government, healthcare, utilities), as well as other valuable industries (technology, retail, aviation, agriculture), there is a great deal of strength. Wherein a smaller market with one or two major employers or a single industry to hold up the economy could collapse if that employer were to leave or that industry were to suffer a blow, a diverse and essential economy ensures that there will always be job opportunities and, should there be a downturn in one area, the others will be there to absorb the impact.
This means that for a real estate investor, you don't have to worry that your investment will suddenly be worthless, that you'll be without rental demand, or that the housing market will turn on you in an instant. Little Rock has been in a favorable position throughout recession and recovery, comparatively speaking, largely due to its diverse economic infrastructure.
Low costs not only for real estate but of living and doing business continue to draw in new industry, raise the per capita income, and push down unemployment.
The Industry Holding it All Together
What exactly makes Little Rock tick? We've already talked a little bit about a few of the major employers in Little Rock, but it's important to understand a little bit of the history and geography around the city and to understand the conditions of the market.
Little Rock is the largest city in what is otherwise a fairly rural and agriculturally-minded state. Since its founding, Little Rock was long the primary place of economic activity in the state. That economy was largely focused on cotton, rice, and soybeans. It wasn't until the 1960s and 70s that the Arkansas Industrial Development Corporation made a push to attract manufacturers to the state. While manufacturing is not a primary industry in Little Rock anymore (just over 8%), it still makes up over 23% of overall industry in Arkansas.
This push brought in companies large and small who employed thousands upon thousands of Arkansians. Of course, Little Rock has long been the central location for state, local, and national government employers. Services industries too, find their home in Little Rock: hospitals, banks, utilities, other medical facilities, and in turn, the technology industries that support them.
Little Rock's downtown revitalization efforts are considered among some of the most aggressive in the nation, bringing in major corporations in service, retail, transportation, and manufacturing. Its market development has doubled in the past 20 years and is projected to double again in the next 20 years.
Beyond these industries, aerospace is a vibrant and valuable contributor to the economy. Air and spacecraft are among Arkansas' largest exports and accounts for more than $1.8 billion.
Agriculture also plays a valuable role as it did in the very beginning, and Little Rock's location makes it central for trade. It serves as a distribution center for its many agricultural products and manufactured goods: metals, rice, soybeans, chemicals, textiles, paper products, timber, and, of course, aircraft.
Little Rock's Real Estate Outlook
With the economic overview of Little Rock in mind, how does it impact the city's real estate market? Little Rock real estate can be summed up in one word: affordable. While much of the nation is contending with rapidly increasing housing prices and wrestling with unaffordability both in terms of property prices and rent costs, Little Rock's restrained and sustainable pace has created an environment of affordability for homeowners, renters, and investors alike.
Little Rock for Homebuyers and Investors
As inventory is squeezed across the country and demand increases, affordability becomes more and more of an issue. Little Rock, however, has remained one of the most affordable housing markets in the nation. LendingTree, in fact, ranked Little Rock in its #1 spot overall. You can expect an average down payment of just 12% on your real estate purchases, at an average of just around $25,000.
One of the biggest obstacles for first-time homebuyers and investors alike seems to be a lack of new inventory on the market. This is an issue nationwide, both due to a lack of homeowners selling and a lack of affordable new construction.
For Little Rock's part, it might be valuable to know how single-family new construction permits have been trending in the past few years:
2008:

361 buildings,

average cost:

$236,400

2009:

329 buildings,

average cost:

$224,600

2010:

344 buildings,

average cost:

$195,600

2011:

325 buildings,

average cost:

$199,800

2012:

347 buildings,

average cost:

$227,700

2013:

356 buildings,

average cost:

$267,700

2014:

338 buildings,

average cost:

$270,500
Prior to 2008, the number of new single-family housing construction permits were significantly higher, but in the past several years, they have been relatively steady based on the available data.
According to the U.S. Department of Housing and Urban Development, there were 750 new single-family homes under construction in the Little Rock metropolitan area, which surges new construction numbers back up to level not seen before the recession.
The median sales price of all homes on the market in Little Rock as of December 2017 was $126,500 (demonstrating the divide between the average price between new construction, at least by trajectory, and the overall median sales price).
Still, this median sales price should be an encouragement to investors, particularly those who live out-of-area. If you are accustomed to a higher cost of living or higher real estate prices, this lower median cost should spell opportunity for you. This is one of the distinct advantages of investing in turnkey real estate: targeting affordable, sustainable markets and capitalizing on their best qualities to multiply your investment opportunities.
A Diverse Real Estate Landscape
As the cultural and economic hub of Arkansas, one can expect a fair share of diversity and variety within Little Rock's neighborhoods as much as in the economy. With over 1,400 properties listed on the market according to Coldwell Banker, one can expect to find a wide variety of prices and opportunities even in an inventory squeeze. Thankfully, turnkey investors don't have to rely on these listings to find their properties.
As a bit of insider information about the neighborhoods of Little Rock, it's worth noting a few of the more up-and-coming areas in the city. The Heights are one of the more family-friendly, quiet, and walkable areas of Little Rock, hosting a variety of restaurants, shops, galleries, salons, and more. It's also home to the Country Club of Little Rock. The downtown area, which has undergone a successful revitalization effort, is home to the Clinton Library and shopping. The Hillcrest neighborhood boasts walkability, restaurants, and shopping while West Little Rock is booming with growth. It's home to "mega shopping" areas and the Chenal neighborhoods.
What About Investment Opportunities?
When it comes to investing in real estate with a long-term buy and hold strategy, there are two major factors to consider in terms of your profits and success: equity and appreciation and the actual passive income earned through your monthly rent.
So what does that actually look like in terms of Little Rock real estate and what can investors reasonably expect out of the market?
While appreciation is not the biggest factor to consider in an investment market (in that an investor should not buy solely for appreciation but rather for cash flow), it is indicative of market health. Little Rock, though not experiencing the numbers of "hot" markets, is experiencing promising appreciation trends.
On average, homes purchased in Little Rock appreciated by $9,379 from 2014 to 2015. From 2012 to 2013, they appreciated by slightly less at $9,059. When we go further back, appreciation was much higher. Now we are seeing that upward trend again.
The Little Rock Rental Market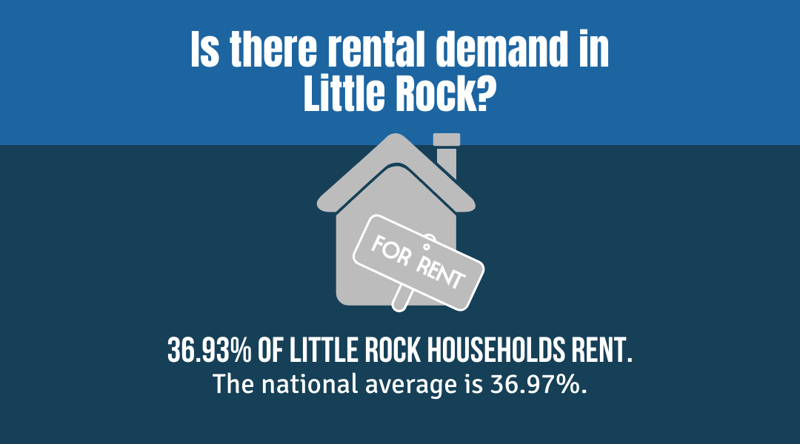 What about an investor's passive income earning potential? For that, it's invaluable to look at the actual rent cost and trends. When we consider the economic stability of the Little Rock market, it's only natural to assume that the rental market, too, would be stable. But do the numbers also reflect that economic reality in Little Rock?
Through the years, it would seem so—the average cost of rent has remained relatively steady, neither rising nor falling at any dramatic rate. For an apartment, the average rental cost sits around $827. For years, it has fluctuated in the 700-800 range, give or take.
Rent overall sits in a similar range.
According to the Census ACS survey in 2015, the median U.S. rent in 2015 was $959—the highest level recorded since rent costs had been recorded in this way in a decade. With the median home price in the U.S. landing somewhere around $200,000 in 2017 and being around $140,000 in Little Rock, the comparison for what an investor can potentially gain in this market between the cost of a property and the price of rent versus other parts of the country is fairly clear.
Rent demand in Little Rock is like that of much of the rest of the country. Despite the affordability of the market, the trend of renters is on a similar track of that of the rest of the country: growing.
We see that as of 2015, 36.93% of the households in Little Rock were renting, compared to 36.97% of overall American households and 34.83% of all Arkansian households. All of these percentages have steadily been moving up over the years and we see that Little Rock has been largely keeping pace with U.S. trends.
Why Little Rock for Turnkey Real Estate Investment?
Turnkey real estate investment is a strategy that is ideal for investors who are looking to populate their real estate investment portfolios with properties that fulfill a few specific criteria. A turnkey property should be purchased with the idea that it will be kept long-term, be sustainable, reliable, and predictable.
While a turnkey investor may not only invest in turnkey real estate, the turnkey investments they make need to be investments they can count on. That's why we've zeroed in on Little Rock, Arkansas as a real estate market for our investors.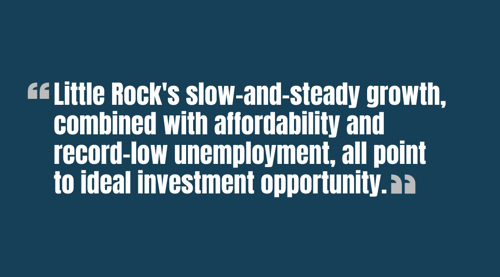 The quality of stability that it has exhibited for well over a decade and through one of the most intensive economic crises of our generation is a testament to its tenacity and strength. Where turnkey real estate is concerned, one is not necessarily looking for the glamour of "hot" markets that promise exorbitant returns. What an investor wants and needs out of their turnkey properties is reliability. Through a diverse economy and steadily growing and promising real estate market, Little Rock has poised itself as just that kind of market.
Want to learn more?
Our portfolio advisers can help you plan your next steps.
Let us invest in your success.