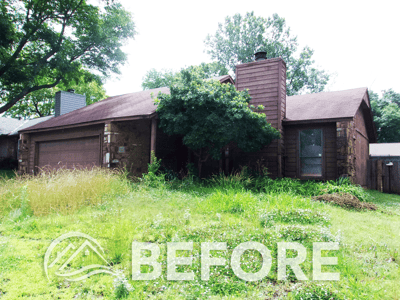 We're in Tulsa, OK for this week's Turnkey Transformation, where we have a 36-year-old home that gets quite the makeover. As you can tell from the before picture, we had a lot of landscaping to do with overgrown grass and tree removal to expose the true beauty of this home.
The garage and roof were also in desperate need of repair, both getting replaced as well as getting a new coat of paint to really enhance the overall curb-appeal. The interior of this home was stuck in different decades. Transformation of the bathrooms, kitchen and bedrooms involved touching everything from ceiling to floor. We installed new flooring and light fixtures throughout the home along with a new paint job. The before and after photos truly speak for themselves!
Tulsa is an amazing market for investors because of the affordability, steady job availability, and low crime rates. Though vacancy rates tend to be slightly higher in Tulsa compared to the national average, the renter population is seeing continuous, steady growth. The city shows great promise as an investment market for turnkey investors in all of the indicators that we look for: a balanced market with steady population growth, growth in real estate value and rental demand, a diversified and growing economic base and business sector, an involved and engaged local government, and affordability.
Related Article: Real Estate Investment Opportunities Expand to Tulsa, Oklahoma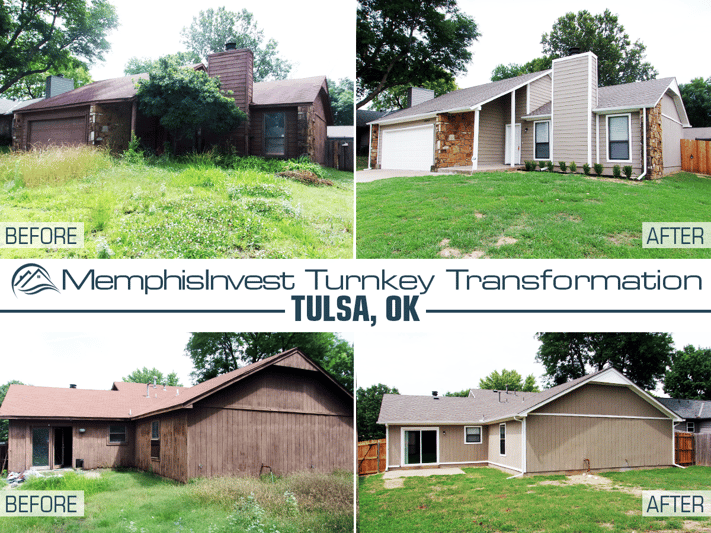 About this Transformation:
The owner of this Turnkey Transformation is from Portland and this is their fourth property with Memphis Invest. Here is some additional info. about the home:

- 3 bedrooms, 2 baths
- House was built in 1983
- 1,426 sq. ft.
- Lot size of .18 acres
- Installed New Flooring
- Installed New Roof
- Installed New Blinds
- Installed New Light Fixtures
- Repaired & painted kitchen cabinets, installed new hardware
- Installed New Vent-a-Hood
- Installed New Garage Door
- Installed New Outdoor Light Fixtures
- Repaired Mortar Around Perimeter of House
- Repaired Concrete Around Foundation
- Replaced all damaged/rotten wood/trim/siding around house
- Installed New AC Unit
- Installed New Furnace
- Installed New Water Heater
- Painted walls, trims, closets and ceilings
- HVAC, electrical and plumbing inspected and repaired by a licensed professional


Let Memphis Invest transform your financial future!