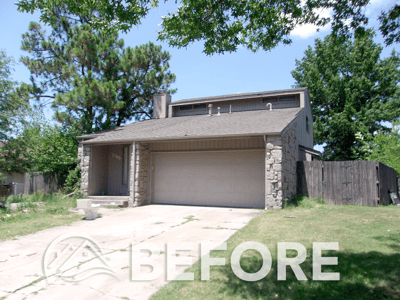 We've got another great renovation for you, coming from Tulsa, OK! With missing counters, walls and bathtubs, this property looks like it was in the middle of a renovation before we even began making repairs. Our team took dark, outdated fixtures and turned them into beautiful, modern accents that transformed this ghastly site into a renter and investor dream property.
Maximizing a budget of $57,000, our renovation team went to work completely overhauling the bathrooms and kitchen by adding countertops, repairing the cabinetry and painting the walls white to help brighten the dark spaces. They also removed a circular window straight from the 70s and replaced it with a modern square window which allows for more light into the space. A new roof and driveway help make this house stand out among the neighborhood. The enhanced curb appeal was accomplished by the updated fencing, garage door, paint and landscaping. Below we have a full list of improvements and before and after photos of the interior to show you what our team was able to accomplish in only 52 days.
For real estate investors, the state of the rental market is obviously of great importance. A comprehensive report on Tulsa's rental market comes from the U.S. Department of Housing and Urban Development released in 2016. In this report, they describe a rental market that is very balanced and steadily improving. Vacancy rates among all rental properties (both apartments and single-family units) were much improved over the last report in 2010. We can see by these numbers that, in Tulsa, the renter population is picking up steam. The number of renters is growing more quickly, and that is reflected in modern vacancy rates.
These are just some of the factors that we look at when evaluating markets, and Tulsa fits the bill. As a market, we have seen how the city has adapted in the face of adversity. Tulsa is truly turning to page in a bright chapter.
Related Article: Real Estate Investment Opportunities Expand to Tulsa, Oklahoma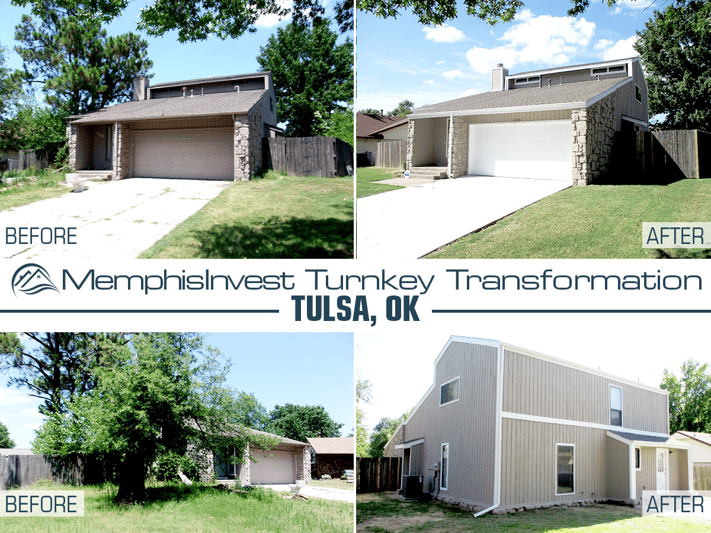 About this Transformation:
The owner of this Turnkey Transformation is located in Indiana and has closed on six properties with Memphis Invest so far. Here is some additional info about the home:

- 3 bedrooms, 2 baths
- House was Built in 1977
- 1,757 sq. ft.
- Lot size of .18 acres
- Installed New Roof
- Installed New AC Unit
- Installed New Furnace
- Installed New Carpet and Plank Flooring
- Installed New Blinds Throughout
- Installed New Hardware on Cabinets and Closet Doors
- Installed New Counter in Kitchen and Bathrooms
- New Tile Shower Surround in both Baths
- Installed New Light Fixtures
- Installed New Vent-a-Hood
- Installed New Dishwasher
- Repaired Existing Garage Door
- Poured New Driveway
- Replaced all damaged/rotten wood/trim/siding around house
- Painted all walls, trims and doors, closets, and cabinets
- HVAC, Electrical and Plumbing inspected and repaired by a Licensed Professional


Let Memphis Invest transform your financial future!