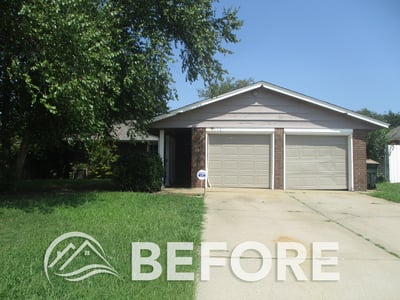 This week's Transformation Tuesday comes from Oklahoma City, Oklahoma! This house was swamped by overgrown foliage and equally lost within a jungle inside. But like every house our team selectively chooses to renovate, this one was bursting with potential. Our personal favorite asset? The gorgeous arched doorways connecting the rooms. Keep reading to see for yourself!
With old bathroom cabinets from yesteryear and an outdated rug to match, our expert team breathed new life into this home with fresh, white cabinets and new vinyl flooring. New carpet in the bedrooms and a fresh coat of paint only added in totally transforming the look and atmosphere. Lastly, to make the immaculate interiors match the outside, we took care of the overgrown hedges and turned what looked like a forgotten land into a must-have destination.
A lot of consideration goes into the cities we invest in, and Oklahoma City isn't on the map by accident. For the last two years, millennials have vied for job opportunities in mid-sized markets like OKC. Investors have since recognized that potential, owning more homes in Oklahoma City than by traditional homeowners than in 50 other major cities at 15.4%!
Related Article: How Oklahoma City Attracts Millennials With Affordability Opportunities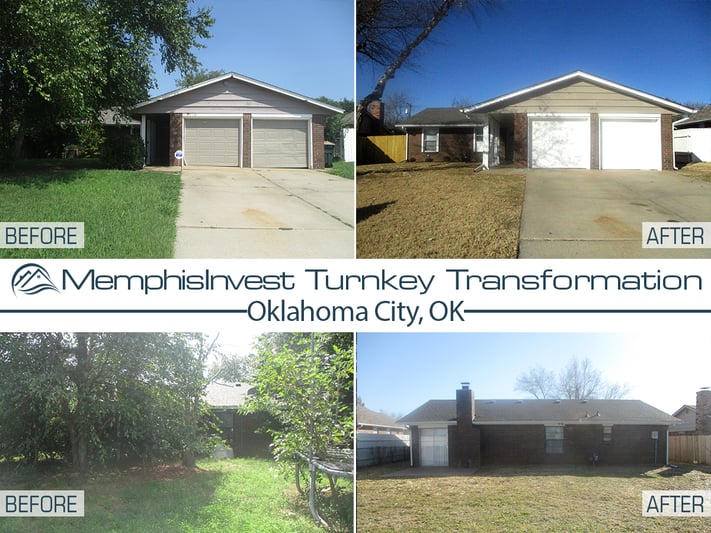 About this Transformation:
The owner of this Turnkey Transformation is located in Texas; this is their first property that they have invested in and had managed by us. Here is additional info about the home:

- Built in 1973
- 1,472 sq. ft.
- 3 bedrooms, 2 bathrooms
- Lot size of .21 acres
- Installed New AC Unit
- Installed New Furnace
- Installed New Water Heater
- Installed New Roof
- Installed New Hardware on Cabinets
- Installed New Vent-A-Hood
- Installed New Carpet in Bedrooms
- Installed New Vinyl Plank Flooring
- Installed New Blinds Throughout
- Installed New Light Fixtures
- Replaced all damaged/rotten wood/trim/siding around house
- Painted all walls, trims, doors, closets, ceilings, and cabinets
- HVAC, Electrical and Plumbing inspected and repaired by a Licensed Professional


Let Memphis Invest transform your financial future!