This week's Turnkey Transformation comes from Little Rock, Arkansas! Our team instantly saw the potential and beauty in this lot, but we knew it was going to take a lot of work to get there. From serious landscaping to purging leftover items from the previous owners, we made sure every inch of this lot was impeccable. Read on to see how this homely house was flipped to become brand new!
On the outside, we cleaned off the porch, repaired and painted, and modernized the home so that it was not only easier on the eyes, but also sturdier and safer for future owners. Inside, we decluttered each room with care and gave every feature from the cabinets to the floors a shiny, pearly makeover. By the time our crew had completed this renovation, the house was unrecognizable -- in the best way possible.
Little Rock is a prime city for real estate investors. Why? Key word: Revitalization. For the past five years, Little Rock has experienced an influx of creatives and business owners alike who are eager to transform the city into a vibrant arts district with a diverse culture being the bloodline. The beginning of the "Creative Corridor" ignited an eagerness throughout all of Little Rock to rebuild and revitalize the city, encouraging new businesses and homeowners to move in at a rapid pace.
Related Article: What Does Revitalization in Little Rock, AK Really Look Like?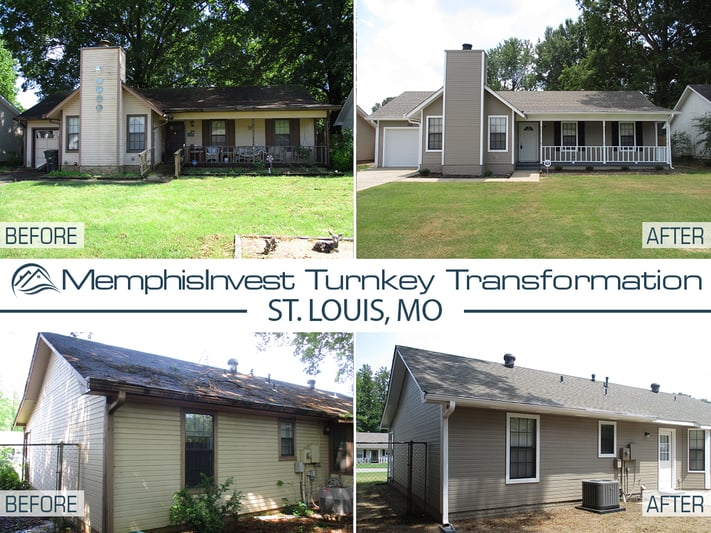 About this Transformation:
The owner of this Turnkey Transformation is located in New Jersey; this is one of their three properties that they have invested in and managed by us. Here is additional info about the home:

- Built in 1985
- 1,276 sq. ft.
- 3 bedrooms, 2 bathrooms
- Lot size of .15 acres
- Installed New AC Unit
- Installed New Furnace
- Installed New Water Heater
- Installed New Roof
- Installed New Garage Motor & Door
- Installed New Hardware on Cabinets
- Installed New Backsplash At Stove Opening
- Installed New Dishwasher
- Installed New Carpet in Bedrooms
- Installed New Vinyl Plank Flooring
- Installed New Light Fixtures
- Repaired Fence
- Replaced all damaged/rotten wood/trim/siding around house
- Painted all walls, trims and doors, closets, ceilings, and cabinets
- HVAC, Electrical and Plumbing inspected and repaired by a Licensed Professional


Let Memphis Invest transform your financial future!