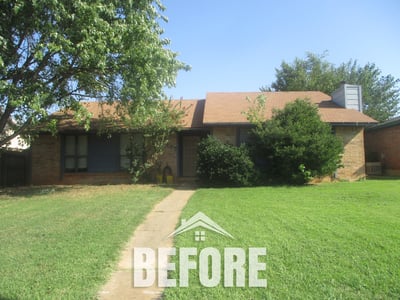 We've got another extraordinary transformation - this week from Oklahoma City, Oklahoma! Overgrown grass crept through the cracks of the front yard pathway and trash piled high in each room; from the inside out, this house was desperate for someone to rid it of its many burdens and make it a home again. Luckily for us, there's nothing that our expert team of licensed contractors can't handle. To see how we turned this space from homely to homey, check out the photos below!
Maximizing a budget of $57,000, we worked our way from the inside out getting this house into rent-ready conditions. Installing new carpet, laying new flooring, and getting rid of the bright blue and lime green walls were all essential. Outside, we landscaped the yard so that the house wasn't being hidden by tall shrubs and overgrown grass. In addition, we installed a new roof and repaired the fence in the backyard.
Never thought about investing in Oklahoma City before? Don't worry: you're not the first. The city slips under the radar for many, but it has all the reason to sound a blip. From a boom in economic expansion to the city's eagerness to compete in the big markets, there's good reason to consider this seemingly quiet town.
Related Article: How Oklahoma City Attracts Millennials with Affordability & Opportunity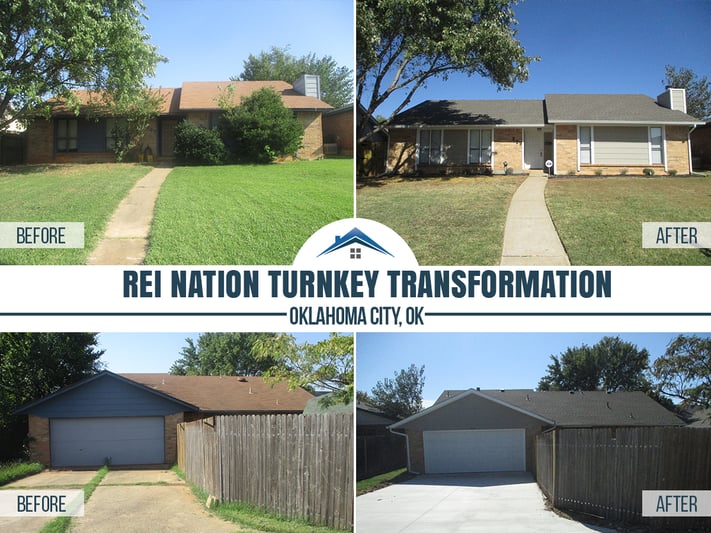 About this Transformation:
The owner of this Turnkey Transformation is located in Canada; this is their second property that they have invested in and had managed by us. Here is additional info about the home:

- Built in 1983
- 1,815 sq. ft.
- 4 bedrooms, 2 bathrooms
- Lot size of .19 acres
- Installed New AC Unit
- Installed New Furnace
- Installed New Water Heater
- Installed New Roof
- Installed New Blinds Throughout
- Installed New Light Fixtures
- Installed New Hardware on Cabinets
- Installed New Dishwasher
- Installed New Vinyl Plank Flooring Throughout
- Installed New Carpet in Bedrooms
- Replaced all damaged/rotten wood/trim/siding around house
- Painted all walls, trims, doors, closets, ceilings, and cabinets
- HVAC, Electrical and Plumbing inspected and repaired by a Licensed Professional


Let Memphis Invest transform your financial future!