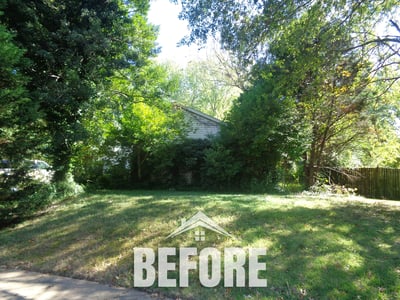 We're back with another fascinating Turnkey Transformation, this week from Memphis, Tennessee! Trees covered the yard of this home, removing any signs that there was a structure there to start with. Inside the secluded soon-to-be sanctuary, outdated countertops filled each bathroom and antiquated wallpapers burdened the interiors. To see the stunning before and after photos, keep on reading!

Maximizing a budget of $53,500, our expert team of contractors wasted no time landscaping the front and back yard. Sunlight finally pooled through the windows, where shiny white countertops and a soothing coat of paint gave the house a fresh new feel. New vinyl floors contributed to a new level of comfort for the house as well, leaving the final product a true gem for its future residents.
This is just one of our homes in the Memphis real estate market, where business stays booming. In fact, Memphis has one of the highest renter populations in the country. From ample career possibilities to a continuous influx of growth and opportunities, it's not hard to see why Memphis stays on REI Nation's radar.
Related Article: The Memphis Market Strikes the Right Chord for Real Estate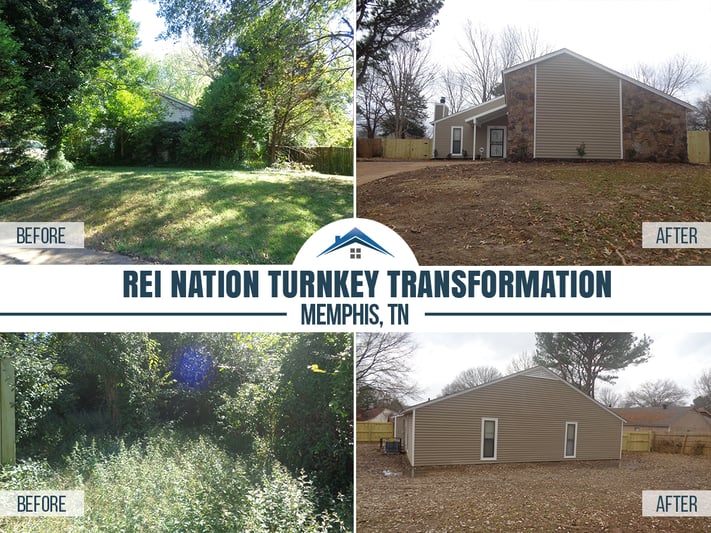 About this Transformation:
The owner of this Turnkey Transformation is located in Illinois; this is their second property that they have invested in and had managed by us. Here is additional info about the home:

- Built in 1978
- 1,320 sq. ft.
- 3 bedrooms, 2 bathrooms
- Lot size of .29 acres
- Installed New AC Unit
- Installed New Water Heater
- Installed New Roof
- Installed New Fence
- Installed New Blinds Throughout
- Installed New Light Fixtures
- Installed New Cabinets
- Installed New Hardware on Cabinets
- Installed New Vinyl Plank Flooring Throughout
- Installed New Carpet in Bedrooms
- Replaced all damaged/rotten wood/trim/siding around house
- Painted all walls, trims, doors, closets, ceilings, and cabinets
- HVAC, Electrical and Plumbing inspected and repaired by a Licensed Professional


Let Memphis Invest transform your financial future!