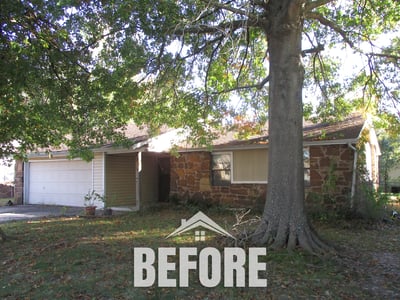 This week's Transformation Tuesday comes from Tulsa, Oklahoma! This quaint one-story home had all the potential to become a modern marvel, it just needed a little push to get there — that's when our expert team of contractors approached the scene and revamped this '80s home into the perfect spot for any single family. To see the before and after photos, keep scrolling!

Maximizing a budget of $48,000, our team transformed this home into a true beauty. On the outside, we built a new roof and took care of any rotten wood or crumbling foundation encompassing the house. Next, we got rid of the blinding yellow paint that donned the walls, and replaced the oak wooding with a fresh white look.
The quaint town of Tulsa has always been one of our markets for many reasons. Their economy has steadily been on the rise, with new businesses emerging and political leadership prioritizing its growth. A growing economy has equated to more room for employment, leaving Tulsa a great place for passive real estate investors to consider.
Related Article: Real Estate Investment Opportunities Expand to Tulsa, Oklahoma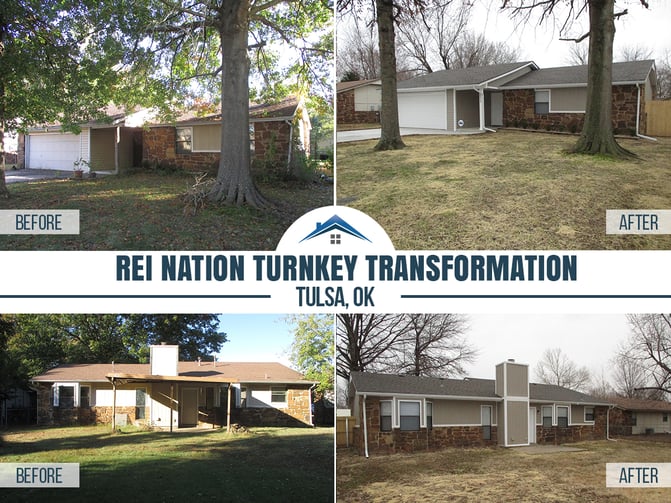 About this Transformation:
The owner of this Turnkey Transformation is located in Illinois; this is their first property that they have invested in and had managed by us. Here is additional info about the home:

- Built in 1982
- 1,204 sq. ft.
- Lot size of .21 acres
- 3 bedrooms, 1.5 bathrooms
- Installed New AC
- Installed New Furnace
- Installed New Water Heater
- Installed New Roof
- Installed New Blinds Throughout
- Installed New Light Fixtures
- Installed New Dishwasher
- Installed New Hardware on Cabinets
- Installed New Vinyl Plank Flooring Throughout
- Installed New Carpet in Bedrooms
- Replaced all damaged/rotten wood/trim/siding around house
- Painted all walls, trims, doors, closets, ceilings, and cabinets
- HVAC, Electrical and Plumbing inspected and repaired by a Licensed Professional


Let Memphis Invest transform your financial future!