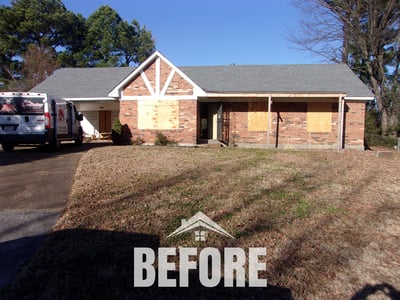 This week's Transformation Tuesday comes from the home of REI Nation: Memphis, TN. When our team first hit the ground on this property, we knew it needed some help. From boarded up windows to an abandoned construction scene inside, our team of contractors had the expertise needed to make this house a home again. To see the dramatic before and after photos, keep on scrolling!

Maximizing a budget of $52,700, we tended to the outside by providing a new roof, building a new fence, and taking care of all rotten wood and tattered sliding surrounding the house. Next, we knocked out the mess that was inside the home. We ridded the house of leftover building materials cluttering the room and structured new walls, built new cabinets, and applied modern touches to the spacious and welcoming layout.
Memphis was REI Nation's first market and it continues to shine on the map. The humble Tennessee city surges among its neighbors with its strong local economy. Real estate continues to grow, as well as a business-friendly environment implemented by local government agencies and programs. All of these factors make it prime consideration for passive investors.
Related Article: 2020 Marks a Bright New Decade for the Memphis Market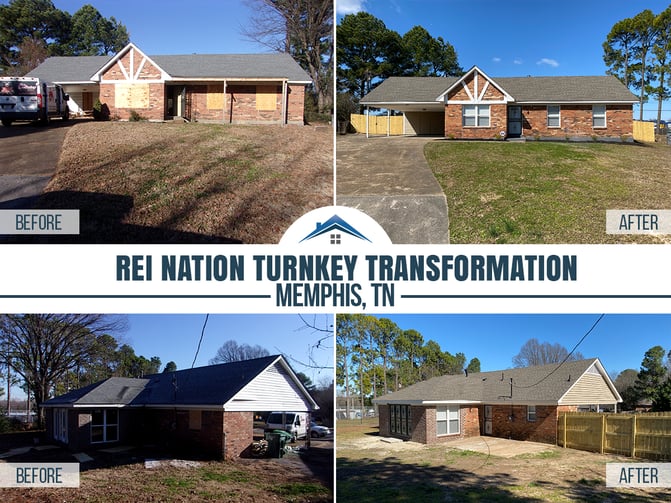 About this Transformation:
The owner of this Turnkey Transformation is located in Virginia; this is their third property that they have invested in and had managed by us. Here is additional info about the home:

- Built in 1969
- 1,308 sq. ft.
- Lot size of .29 acres
- 3 bedrooms, 2 bathrooms
- Installed New AC
- Installed New Furnace
- Installed New Water Heater
- Installed New Roof
- Installed New Fence
- Installed New Blinds Throughout
- Installed New Light Fixtures
- Installed New Dishwasher
- Installed New Countertops
- Installed New Hardware on Cabinets
- Installed New Vinyl Plank Flooring Throughout
- Installed New Carpet in Bedrooms
- Replaced all damaged/rotten wood/trim/siding around house
- Painted all walls, trims, doors, closets, ceilings, and cabinets
- HVAC, Electrical and Plumbing inspected and repaired by a Licensed Professional


Let Memphis Invest transform your financial future!