This lovely home with gigantic frog lawn ornaments is in Houston, TX and is our 'Transformation Tuesday' for this week. There's a lot to clean up with this property, both inside and out. See how our vendors and project managers were able to clear out the yard, take down the wooden boards and spruce up the interior of the home to create a beautiful living space.

Besides the oversized frogs flanking the entryway to this property, the other biggest eye soar was most likely the boarded up garage. Car storage is a huge selling point for home owners and renters alike. Garages obviously protect your car, but they also provide much needed storage for things like lawn and sports equipment. They also provide additional security for your home and your stored items. Lastly, and a little known fact, 70% of homeowners use their garage doors as the primary entry point for their home, as opposed to their front door. All that to say, adding new garage doors were a must with this renovation, and provided much needed curb appeal and function to the home.
In addition to garage doors, this property saw some great cosmetic changes as our team painted over the blood red walls with neutral grays, and also updated light fixtures and flooring. With every property we acquire and renovate, there's always a significant amount of general repairs and housekeeping. Whether its leftover furniture, garbage throughout the home, or stains and holes in the walls, our team makes sure to provide a complete renovation so that our properties are move-in ready for residents.
Those renting in Houston have probably seen a growing economy over the last few months, which is excellent news for both residents and investors alike. With increasing job growth, a growing construction market and surge in global trade, Houston is experiencing it's very own economic boom. We're expecting to see a lot of growth in the Houston market as we enter 2019, which only spells even more opportunity for real estate investors.
Related Article: Why Houston is Facing an Economic Boom Going into 2019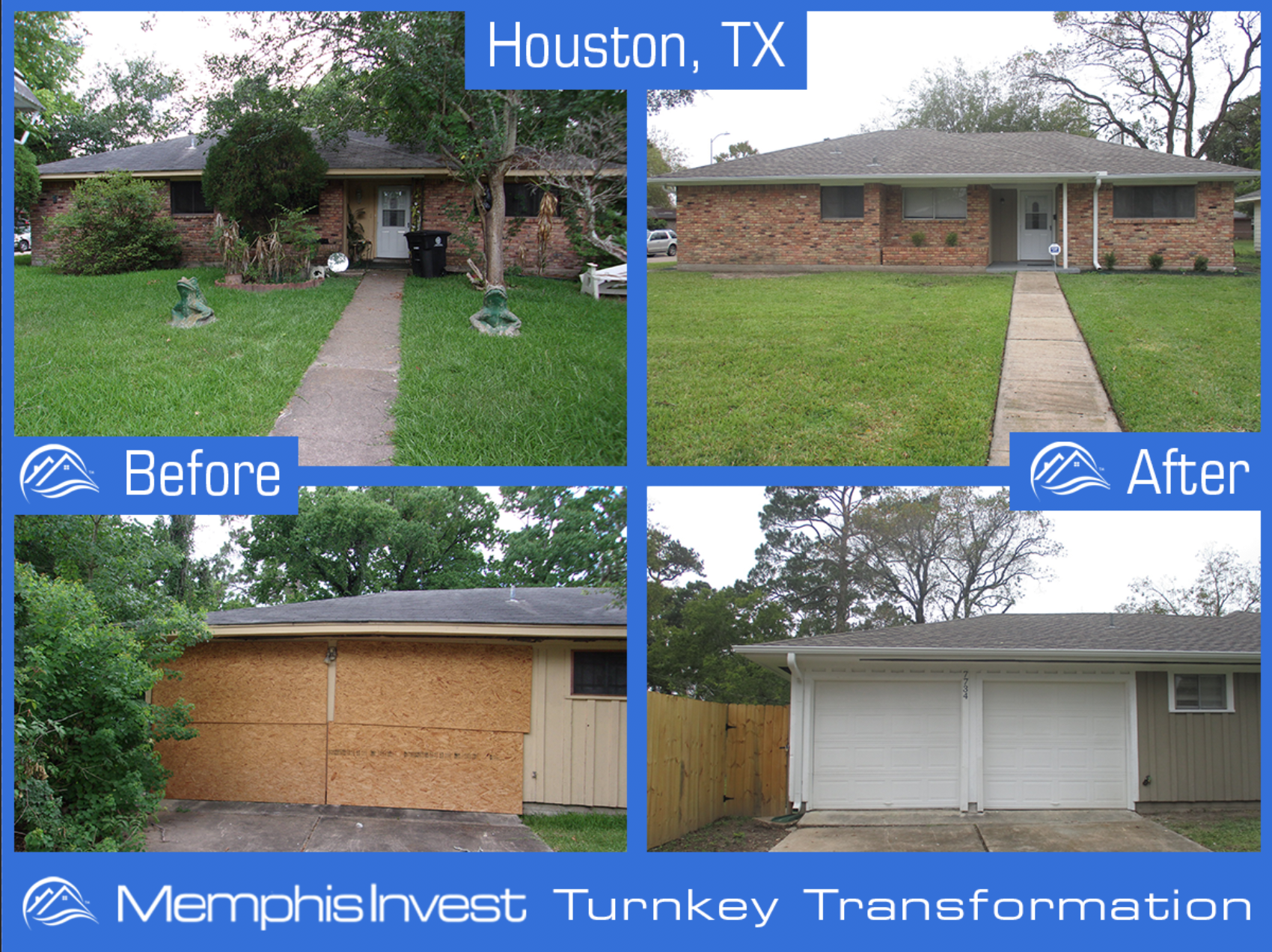 After 142 days of renovation and an almost $57,000 budget, we were able to truly transform this cluttered Houston home into a polished property for our investors. For this property, the buyers are using a self-directed IRA as their purchase method and will be closing on this home along with 2 others later this week. Using a self-directed IRA has plenty of tax benefits, so if you're unfamiliar with this home buying method, I suggest you check out a previous blog post we did here:

Related Article: The Definitive Guide: Self-Directed IRAs & Real Estate Investing
About this Transformation:
The owner of this Turnkey Transformation is from Illinois. This is the investor's first of first property with us, and they found Memphis Invest through Fortune Builders, a company that offers real estate investment coaching and training.

This property was renovated for our Memphis Invest client, here's more info about the house:
- 3 bedrooms, 2 baths
- 1,3,64 sq. ft.
- House was Built in 1962
- New Water Heater
- Updated Electrical Panel
- New Dishwasher
- New Roof
- Install 2 New Garage Doors & Motors
- HVAC, Plumbing and Electrical repairs as recommended by licensed contractors.

Let Memphis Invest transform your financial future!