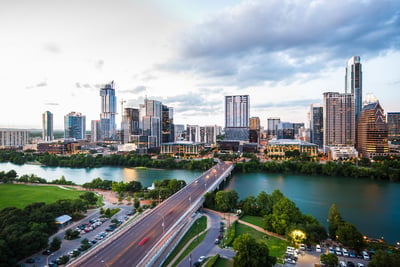 It seems like all around us there is news of economic crises. Many of us are glued to the news of stock market drops, trade wars, and impending recessions. But what we don't always see is that, on a smaller scale, there is a lot of promise happening—especially in Houston.
Houston's economy has been exploding over the past few months, which is an interesting contrast as we see, nationally, the real estate market beginning to balance out. Where is this explosive economic growth in Houston coming from? What does it mean for the real estate sector and, more importantly, for real estate investors?
Here's what you need to know about the Houston economic boom.
5 Factors to Consider in Houston's Economic Growth
Above Average Job Growth
One of the biggest positive indicators for Houston over 2018 has been job growth. Houston leads the nation in job growth with some 117,800 jobs added in the nine-county metropolitan area between October 2017 and October 2018. That's nearly a 4 percent increase year-over-year. The Greater Houston Partnership expects to see about 71,000 jobs in the metro area next year, which makes for a total of 3.2 million jobs and a net increase of 600,000 over a decade.
Jobs, ultimately, drive everything. They bring in people, drive a desire to live, provide not only a means to make a living for those people but access to goods and services that create a sustainable environment in the long-term.
In other words, people come for jobs and they stay for jobs.
A Robust Construction Sector
Part of the balancing of the real estate market has had to do with the construction industry. Houston, while leading in job growth, also leads specifically in the area of construction job growth. With over 25,000 jobs added in the last year and a 12 percent increase in growth, Houston reigned among other metro areas as bringing in the most new construction jobs.
New openings for construction-related jobs were up 55 percent and the highest they've been in almost 20 years. This is, of course, indicative of the demand in Houston: demand for housing and demand for work and office space.
Other factors have been driving this construction boom, too. For one, the city has needed more heft in their construction efforts after Hurricane Harvey. Not only that but construction projects now often carry a higher dollar value with them, which is an incentive for construction firms to increase their building activity and boost their bottom line.
Less Oil, More Global Trade
Historically, Houston's economic success has been closely linked to the health and success of the oil industry. This year hasn't been stellar for oil, but it hasn't been dragging Houston down too much. That's because Houston has become increasingly less reliant on oil and has positioned itself as a market focused on global trade.
While oil is still a massive industry in Space City, its role is more that of a barometer, or a handbrake—it can just slightly slow or accelerate the pace of the local economy, but it doesn't have the total control over it that it once did.
Sustainable Talent Pool
The small business sector, even in a city like Houston, is one of the most valuable pieces of the local economy. Small businesses in Houston had a stellar year. 86 percent of entrepreneurs and small business owners felt confident that their year-end profits would exceed last year's revenue while 81 percent felt their revenue would grow in the next 12 months.
Most felt confident in Houston's economy. One of the big advantages the city has had, and especially for these businesses, has been its access to talent. In other cities, the competition for talent to fill positions is steep, and finding quality works in order to facilitate business and revenue growth is challenging.
For Houston, however, its opportunities for jobs, an attractive lifestyle, and other opportunities have given business owners no shortage of qualified applicants.
Renting is Popular...and Costly
For real estate investors, one thing to note is the trend of renting. In Houston, renting has grown increasingly popular in comparison to buying. In fact, they lead the nation in the number of families that make the choice to rent over owning a house. When we take into account the growing renter nation on top of Houston's growing population thanks to its robust and growing economy, we naturally see prices going up.
In fact, rent costs are predicted to increase 4 to 4.5 percent next year. For real estate investors looking at the Houston market, this is good news. Not only are we looking at a more stabilized Houston real estate market in the future, but one with growing investment opportunities and economic strength.
Things are looking good for Houston moving forward, and you can take part in the excitement through turnkey real estate.
Schedule a one-to-one call with an adviser to learn how you can invest in real estate without the hassle and all the expertise through Memphis Invest.