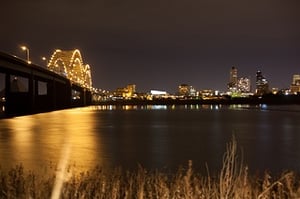 Welcome to the peak home buying season of the year! The first quarter of 2015 was sluggish in many real estate markets, Memphis included. The cold temperatures combined with lingering recession struggles and aftereffects of the market crash meant that things were slow to take off. But now, it looks like Memphis real estate is in for an upturn. One big reason...real estate investing! As more and more are turning to renting a property rather than buying, the opportunity for real estate investors continues to grow.
Don't get us wrong, the market wasn't bad in the first quarter — homes were selling and home building was on the rise in Shelby County. There just wasn't significant growth during the difficult months of February and March. By the same token, there wasn't a decline in growth, either, which has lead to much optimism for the second quarter among real estate professionals.
A Rising Demand in Recovery
Though on a smaller scale, Memphis is behaving a bit like Houston. Demand is on the upswing in Shelby county and, combined with a tightened inventory, is driving home prices up. Comparing the first quarter of 2015 to 2014 shows a 7.9% jump in median prices.
The first quarter also saw a significant decrease in bank sales. As the market recovers and buyers repair their credit and regain confidence, demand will only continues to grow for Memphis real estate.
Related Article: 4 Essential Habits for Achieving Real Estate Investing Goals
The flurry of activity in Memphis for the real estate and construction sectors is a good sign for the local economy.
What About Investors?
Don't think that a recovering market leaves no room for real estate investors? In their 2015 International Investment Atlas report, Cushman and Wakefield named Memphis as one of the best cities for millennials. Entrepreneurship and business opportunities are bringing young folks to the city, along with a lower cost of living and a good balance of work and play.
As we're well-aware, millennials make up a large portion of renters. Martin Edwards of Edwards Management Inc. Realtors reported of Memphis, "Millennials are not buying homes. They're getting married later and having children later. They want availability, they want to be where the action is, they want to be where other millennials are and they want to move quickly."
At Memphis Invest, we can attest to what Mr. Edwards had to say. We are seeing an incredible uptick in demand for our rental portfolio, especially in the brand new build category. These are more expensive properties demanding higher rents, and yet they are moving quickly to both investors and renters.
Even as we push into a higher price category and nicer homes in Memphis, demand and inventory remain relatively high. In the first quarter, Memphis Invest purchased 75 properties int he Memphis area and see no reason for that number to slow down.
Though a recovering market no doubt creates some unique challenges for investors, it's also an exciting time. People are renting by choice rather than necessity, which is a good place to be. Investors will continue to play a big role in real estate, both in Memphis and across the country.
As we move forward into the busiest home buying season of the year, we can't wait to see what comes out of Memphis.
Are you feeling optimistic about this year's prime real estate season? Tell us your thoughts in the comments.
Like More Information On How To Get Started Investing in Memphis, Dallas or Houston?
Click Below to Register for a Jump Start Information Packet...