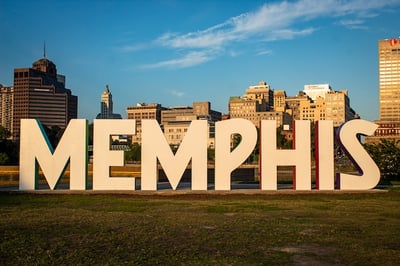 ATTOM Data is one of the forerunners in real estate data and analysis. Recently, they released a report detailing the counties in the United States with the largest increases in annual rent returns for single-family rentals.
Among the top ten of over two hundred was our own Shelby County – home to Memphis, Tennessee! But why is this the case? And what should investors do with this information?
The Rate of Rental Increases
ATTOM data also suggests that rent increases are outpacing home price growth. Over the past year, it's been common for rental rates to increase between 5 and 20%. On the other hand, home prices have been more tempered this year. Values have typically reflected a loss of up to 5% and gains of up to 5%.
These trends naturally push SFR returns upwards.
But how do you choose investment markets that will see favorable year-over-year yields? If you're looking to invest, you can't afford to wait for the data. Instead, look at these qualities found in places like Shelby County to predict rent return growth. While some are tied directly to the market, others rely on investor due diligence and quality services.
5 Factors That Determine Increasing Rental Returns
1. Overall Market Affordability
Investors must strike a balance between the price they pay for properties and the rent they charge. Understanding the local market's affordability is crucial. Setting rent rates within the range of what people can afford increases the likelihood of attracting and retaining residents.
It starts with what you pay for a property. Compare median home prices to rent costs. In July, the median home cost in Memphis was just $185,000. Put that in perspective of the national median in Q2 2023 – a whopping $416,100!
When you're paying less for real estate, you don't need to meet such a high threshold to profit. It helps you whether market fluctuations, too, with smaller debt burdens and easier diversification.
2. The Cost of Doing Business
Of course, buying the property isn't the only thing investors worry about. Renovations play a big role in raising property values – and rent. If you're operating in an area where contractors and building materials are more expensive, it will eat into your rent returns. Areas with lower costs of living are essential for this reason. It makes prices more palatable and less likely to squeeze your profit margins.
3. Population Growth and Housing Demand
Besides lowering the costs of buying and renovating houses, you must target areas with population growth and housing demand. Affordable properties don't mean much to an investor if there's no one there to rent them! Demand ensures you can charge competitive rent prices and maintain high occupancy rates.
4. Quality Renovations and Maintenance
Our last two factors are entirely within your control as an owner-investor. If you want to see momentum in both SFR rent returns and long-term property values, you must invest in quality renovations and top-tier maintenance efforts. Choose substance – durable, modern materials – over flash. Resist the temptation to cut corners in the name of cutting costs.
The same goes for maintenance!
Invest in professionals that do the job right. No putting bandaids on the problem. You will spend more initially, but you will save yourself the headache of fixing the same problem time and time again. It will preserve the value of your investment. Unexpected costs are part of this business. The best you can do is mitigate their occurrence with diligent maintenance efforts and quality, thorough solutions!
5. Diligent Property Management
Finally, investors need diligent property managers. The biggest key to maximizing your individual rent returns is reducing resident turnover. Turnover alone is costly, even if it doesn't come with an extended vacancy. Your management team ensures you get the right residents and provide the amenities and services that keep them there long-term.
It's worth the cost to hire seasoned, reputable management. Many inexperienced investors balk at this cost, but we're telling you – it makes the biggest difference in the long haul.
At the end of the day, we aren't surprised that our hometown made ATTOM's list. For investors, these insights should inform your strategies for choosing your investment markets and the properties within them. You want to be an exceptional highlight in any market you choose, regardless of performance averages.
Getting there starts with your own due diligence.


With 20 years of experience under our belt, we know how to vet investment markets.
We do the hard work so you don't have to.