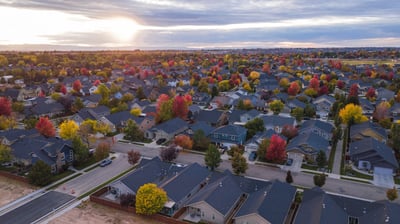 As investors, the benefits and risks of property locations are paramount to our success. We all hear location, location, location, but why does it matter so much?
You might have heard that another insurance company pulled out of Florida due to concerns about a dreadful hurricane season. Covering extreme weather damage has become too costly for these companies, prompting the decision.
Poor weather conditions are just one consideration for investors looking to acquire a property.
Take it from us: the location of an investment property matters because it can profoundly impact the property's potential for appreciation, rental income, demand, and overall investment performance.
Here are some key reasons why location is crucial in real estate investing...
9 Reasons Location Matters in Real Estate Investing
1. Property Value Appreciation
The value of real estate is heavily influenced by its location. Properties in high-demand areas with strong economic growth and development tend to experience higher appreciation rates over time. On the other hand, properties in less desirable or declining neighborhoods may not appreciate much or decrease in value.
Some experts include Tennessee and Texas as the states to invest in for wealth-building potential over the next five years. Others will tell you to avoid over-inflated West Coast markets more prone to extreme price correction!
2. Rental Income Potential
The location of an investment property directly affects its rental income potential. Properties located in areas with high demand – vibrant urban centers, college towns, or job hubs – are more likely to command higher rental rates. An attractive location can also reduce vacancy periods. Because vacancies are so costly, you want to target high-demand rental markets to keep turnover and vacancy rates low.
3. Neighborhood Amenities & Infrastructure
Proximity to essential amenities and infrastructure can significantly impact property values and desirability. Properties located near schools, parks, shopping centers, public transportation, and major highways tend to be more appealing to rental residents and potential buyers. Convenient locations will keep residents in place for longer!
4. Economic Stability & Growth
Investing in areas with a stable and growing economy can provide a more secure investment environment. Locations with diverse industries, low unemployment rates, and robust job markets are generally more attractive to real estate investors. Look for population, household income, and industry expansion.
5. Regional Weather Risks
Weather risks aren't limited to property destroyers like tornadoes, earthquakes, and hurricanes. For real estate investors, the climate can seriously impact maintenance demands. For example, weatherproofing and roof maintenance for snow and ice in Northern markets is an added cost and risk. The same applies to extreme heat, salt air, and floodplains. The environment your property is in will create different costs and risks.
Be mindful of the different challenges – and added costs – created by weather throughout the year.
6. Zoning & Regulations
Local zoning laws and regulations can significantly impact a property's potential use and development. Understanding zoning restrictions and future development plans for an area is essential in making informed investment decisions. For example, part of the expense and challenge in some California markets is due to strict zoning regulations that limit residential land availability.
By contrast, Texas real estate tends to be more affordable simply due to greater (and cheaper) land availability.
7. School Districts
The quality of nearby schools can influence property values and appeal to families with children. Properties in highly-rated school districts may be more in demand and command higher rents or selling prices. Families with children tend to rent for longer periods for the sake of stability. Pay close attention to how family-friendly the area is.
8. Demographics & Market Trends
Analyzing the demographics of an area and understanding market trends can provide insights into the future demand for housing and the overall growth potential of the location. While investors don't want to overload themselves with statistics and data, they want to investigate the historical and projected trends of any market they intend to buy in.
9. Exit Strategy
The location of an investment property can also impact the ease of selling the property if the investor decides to exit the investment down the road. A property in a desirable location is likely to attract more potential buyers, making the selling process smoother and potentially more profitable. While this doesn't seem as big a concern now, with inventory as tight as it is, it could be a point of concern in the future.
Ultimately, everything can be right about an investment property…but if it's in the wrong location, it won't perform as you hope!


We focus exclusively on guiding investors to the right property in the right market at the right time.