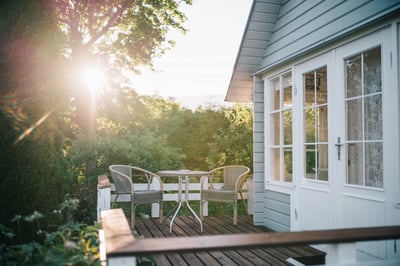 If you want to get the most out of your investment properties, there is a two-pronged approach to keep in mind. One step involves ongoing excellence in maintenance, management, and upkeep. The other begins before you start renting – and sometimes before you buy!
Real estate investors must understand that not every market, not every property, is suited for investment success. You already know the importance of preserving your property's value and increasing resident retention. So much of what we do to maximize rental property potential relies on good systems and services that are not easily quantified.
But what about the physical characteristics of the properties you own? Do they help or hurt your long-term income-earning potential?
Let's talk about it.


5 Characteristics That Can Make or Break Your Rental Property's Potential
The Current Neighborhood
You're probably tired of real estate experts harping on "location," but it doesn't diminish its importance, particularly as an investor. The area surrounding your investment property is as important as the property itself. A good property in a bad place can turn into a bad property. We're not talking about the potential for crime and vandals, either – just that the nature of the area can eat into your appreciation over time.
For example, a newly renovated property that sits beside dilapidated neighbors will have its value diminished – and may prove difficult to sell down the line. A property far away from amenities won't be as attractive to residents.
Is the neighborhood conducive to the type of residents you're trying to attract? Young families typically stay in place the longest. If that's who you're targeting, you want to prioritize neighborhoods that are walkable, kid-friendly, and in good school districts.


Development Potential
While we can't see into the future, considering market growth is essential for the real estate investor. Investigate local policy and plans for future development. Buying a property in a little-known neighborhood now can turn lucrative if a new school or upscale shopping center comes to the area. Both developed and underdeveloped areas come with risks.
An underdeveloped area has potential that can work for or against you. Sudden overdevelopment can put a damper on demand for your property, both for sale and as a rental.
Developed markets have the advantage of longer history – good for making assessments – but can fall out of favor with locals as new neighborhoods emerge.
Regardless, investors should be cognizant of current and future development projects in their market of choice.


Size & Layout
Is your investment property a good fit for residents? A property's size and layout are key considerations. While investors shouldn't get emotionally attached to their investment properties, they should evaluate it with a key question in mind: would I be happy living here?
Your investment property might not be your dream home, but being there, in the space, should feel comfortable – not frustrating. While things can change during a rehab, the bones of the structure matter. You want to aim for two to three good-sized bedrooms, ample storage space, and, ideally, two bathrooms.
When the pandemic struck, priorities for homes – both owned and rented – shifted. Value was placed less on access to bustling, busy city amenities and more on private, personal spaces. Yard space, ample square footage, and extras, like home office or schooling spaces – moved to the forefront.
As an investor, you don't want a rental property that is too large, but you also don't want to contend with small or awkwardly laid out spaces. They'll likely frustrate your residents over time and have them looking elsewhere.


Rehab Quality
One of the most easily controlled physical characteristics of a rental property is its rehab. Here, quality and attention to detail are paramount. Investors don't need to go for the highest of high-end updates, but quality, durable, and appealing changes are key. Rehab quality needs to be such that maintenance needs are reduced, and little problems are avoided. You might not think some things are a "big deal," but you're not the one living there!
Beware of wonky or unfinished finishes, small rehab errors, or poor material choices. Make sure that the people you work with are known for quality and for considering long-term maintenance demands.


The Price Tag
When you're looking to buy a property, the price is usually what comes to mind first. Don't make the rookie mistake of targeting cheap investment properties. While you might think you save on the front-end, you compromise your long-term earning (and appreciation) potential. It's one thing to target properties that are affordable relative to your local market (that's good!) but another to target properties that are dirt cheap by any standard (that's bad).
The closer you are to the median home price of the area, the better off you'll be in terms of acceptable rental rates and future resale values.
We have investing in real estate down to a fine art. Join thousands of passive real estate investors building wealth with REI Nation!