Though being acknowledged by national organizations can be a thrill, the real honor comes from being recognized by your neighbors and peers, according to REI Nation GP partner and co-owner Chris Clothier.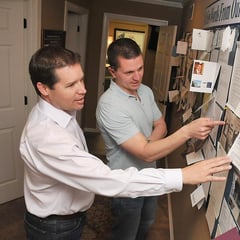 Chris Clothier and Brett Clothier at Memphis Invest, the largest bulk buyer of real estate in Shelby County
Clothier got some of that recognition with a win at Memphis Business Journal's Small Business Awards. REI Nation took home the Small Business of the Year Award in the 25-60 employee category.

"We receive a lot of attention and accolades from outside of Memphis, including being named to the Inc. 500/5000 list last year. We were even featured in a recent business book by a well-known author and business speaker," said Clothier. "But none of that really compares to other local businessmen and women recognizing your team for all the hard work they put in to build this company. That is what makes this award very special."
REI Nation has bold goals for the coming years.

Clothier and his partners plan to extend their real estate operation into two more cities soon and within five years plan to manage 5,000 single-family homes in up to four cities.

REI Nation is well on its way. In 2012, the company was the largest bulk buyer of real estate in Shelby County and one of the top 50 nationwide, according to RealtyTrac.