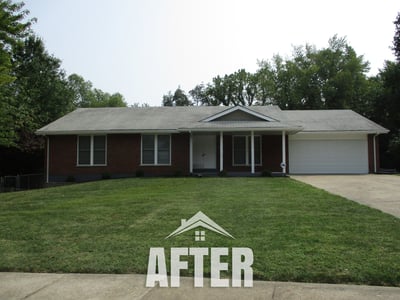 This week's Transformation Tuesday comes from St. Louis, Missouri! On the outside, this property looked to be barely standing with unbalanced columns and washed out exteriors. The inside wasn't much better. However, our expert team of contractors renovated this home to be one of our most beautiful properties to date. Be sure not to miss the new backyard in the photos below!
Maximizing a budget of $56,000, our team began by repairing the outside. From a brand new garage door and motor to a complete overhaul of the backyard, the house adorns a fresh, like-new feel. On the inside, we cleaned out the mountains of trash left behind, installed new appliances, and made the hardwood floors come back to life with a thorough refinishing. The results are a bright, spacious home perfect for a single-family.
St. Louis has remained a strong market for our investors at REI Nation. With its job market growth and diversity, paired with its steadily increasing population, the "Gateway to the West" checks the marks for the qualities desired in one's portfolio. As the city continues to embrace innovation and revitalization, there are no signs of St. Louis coming off our radar.
Related Article: REI Nation Brings Turnkey Investors New Opportunities in St. Louis, Missouri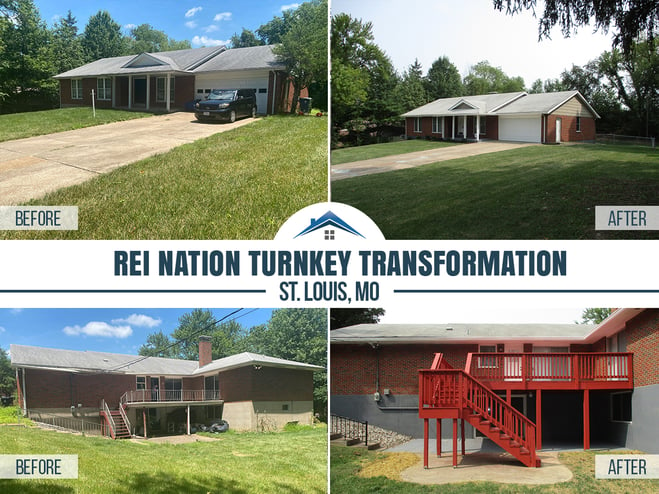 About this Transformation:
The owner of this Turnkey Transformation is located in California; this is the first property that they have invested in and had managed by us. Here is additional info about the home:

- Built in 1965
- 2,153 sq. ft.
- 4 bedrooms, 2 bathrooms
- Lot size of .51 acres
- Installed New AC
- Installed New Furnace
- Installed New Water Heater
- Installed New Countertops
- Installed New Hardware of Cabinets
- Installed New Dishwasher
- Installed New Blinds Throughout
- Installed New Light Fixtures
- Installed New Vinyl Plank Flooring
- Refinish All Hardwoods
- Replaced all damaged/rotten wood/trim/siding around house
- Painted all walls, trims, doors, closets, ceilings, and cabinets
- HVAC, Electrical and Plumbing inspected and repaired by a Licensed Professional


Let REI Nation transform your financial future!