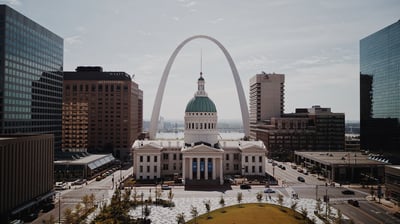 When we first began this company fifteen years ago, Memphis Invest provided turnkey real estate investors with investment opportunities in our namesake town of Memphis, Tennessee. Over the years, we have carefully and meticulously analyzed market trends to expand those offerings in new investment markets.
We brought teams to Dallas and Houston. We expanded to Little Rock and Oklahoma City.
This all happens when our experts painstakingly observe the rising trends and long-held patterns of particular markets and determine that they are a fit candidate to offer long-term, prosperous opportunities for our turnkey investors. Once we make the decision to bring a new market into the Memphis Invest family, it's because we know it's a good market for our investors.
What exactly does a good market look like for turnkey real estate investing, though?
Our Criteria for Real Estate Investment Markets
There is a great deal of nuance and analysis involved in the decision-making process when bringing a new investment market into the fold for our turnkey investors. Primarily, however, these are the basic factors we consider and why they matter to your investments in the long-term.
Job Market Growth and Diversity
The health of a real estate market is intrinsically tied to the health of its job market. That includes factors like new jobs created, industry diversity within the market, the climate for doing business created by local government for both workers and employers, and how job opportunities create wage and population growth. A healthy job market creates a healthy real estate market.
Population Growth
There is a chain reaction between job growth, population growth, and real estate market health. When considering the upward trajectory of a market, we have to look at population growth. If the population is growing at a steady pace (likely due to job opportunities), the demand for housing will increase in kind. Conversely, if there is a drain in population due to migration elsewhere for job opportunities or due to negative conditions in the market (such as lack of opportunity, crime, poor living conditions, unaffordability), demand in the real estate market decreases and it becomes increasingly more difficult for real estate investors to see returns.
Steady & Stable Upward Trends
There are some less tangible factors to consider when looking at the viability of a market for investment. When considering a market, particularly for buy and hold investing, one wants to prioritize markets that demonstrate stability and steady growth. When looking to a market like Houston or Dallas, for example, though their growth has been explosive in terms of population and real estate value, their diverse job market and economic strength have made for an incredibly resilient market that has weathered both oil crises and natural disasters.
While few markets will contend with such challenges, we look for markets that have these qualities: a steadiness in growth that is ideal for turnkey investing and a resilience (stability) to withstand shifting market conditions.
This is something that can not be easily predicted, but observing patterns over time and knowing how markets tend to react is helpful.
So if these are some of the qualities we look for when evaluating a real estate market before adding them to the Memphis Invest family, here's the big question: why is St. Louis the next city in our sights?
Why We Believe in St. Louis Real Estate
The Background
St. Louis, the "Gateway to the West," is Missouri's most renowned port city at a population of 308,626 and a greater metropolitan area of nearly 3 million people. The Greater St. Louis Metropolitan Area is the largest in the state and the 19th largest in the nation.
The St. Louis metro area is home to many major corporations, including Express Scripts, Purina, Panera, Energizer, Emerson, Boeing Defense, Centene, Anheuser-Busch, Enterprise, Edward Jones, Go Jet, Monsanto, Peabody Energy, Sigma-Aldrich, and Post Holdings.
Of the ten Fortune 500 companies based in Missouri, nine make their home in the St. Louis metropolitan area.
In St. Louis' early days, the future was bright and energy boundless. The city hosted both a world's fair and Summer Olympics in 1904, which gave St. Louis turn-of-the-century bravado. Unfortunately, this energy didn't last. Times weren't kind to St. Louis in the latter parts of the 20th century, as the population largely migrated to the Sun Belt.
In the last decade, however, St. Louis has been making a distinct turnaround. By embracing innovation and their own local assets, St. Louis is revitalizing and reinventing itself in the post-recession era.
Like many areas, St. Louis' real estate market suffered from a post-recession property price softness. Generally speaking, St. Louis has been a balanced market overall with steadily decreasing unemployment. Between 2014 and 2015, the unemployment rate dropped to 5.5% from 6.6% despite a decrease in job growth according to the Comprehensive Housing Market Analysis from the U.S. Department of Housing and Urban Development. As of May 2018, the unemployment rate in St. Louis was even lower at 3.8%.
As a whole, the unemployment rate has been on a steady downward trajectory since its peak in 2009 at the height of the housing market crash, demonstrating economic recovery.
The report presented by the U.S. Department of Housing and Urban Development in 2015, just three years ago, painted the picture of a balanced real estate market. The housing prices sat at an average of $193,400. There were only a 1.7% vacancy rate and modest demand keeping housing prices in check.
The rental market at the time was somewhat soft with a decreasing vacancy rate but overall it was well-balanced.
In 2018, the headlines are reading something a little bit different from what we saw in the 2015 reports of a modest, soft, somewhat unremarkable real estate market. St. Louis real estate is hot.
This is a distinctly different image from the St. Louis of the late 20th century. Today's St. Louis is bustling with energy, innovation, and new horizons.
Positive Indicators for the St. Louis Real Estate Market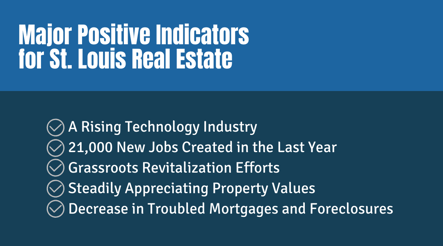 If we jump to the present, we're seeing plenty of positive indicators in the St. Louis market as a whole that point to ideal turnkey investment conditions.
Rising Revitalization
Expanding Tech Opportunities
St. Louis has, just in the last decade or so, seen vast revitalization efforts. One of the ways in which the city has done this has been quietly happening over the years—and that's the push to bring technology jobs to the city. As companies like Boeing, Unisys and Hudson's Bay Company expanded their technology operations to St. Louis, the city quietly grew to become one of the tech hubs of the Midwest.
In our economic climate, jobs in the technology sector are particularly valuable to young millennials and the generations to follow. Capitalizing on these employment opportunities when they did by attracting and recruiting these employers set the stage for the current revitalization we're seeing in St. Louis.
Grassroots Efforts
Beyond economic opportunities springing up in St. Louis, the city has seen dramatic efforts over the years to better the conditions of the city. Everywhere you look, you will find residents who are investing in improving St. Louis and what it's like to live, work, and play in the city.
These efforts have made an impact in tourism, recreation, shopping, and in the economy as a whole. The technology sector isn't the only one that is thriving in St. Louis. If you work in the city, you'll find a distinctly collaborative spirit across craftsmen, entrepreneurs, city aldermen, small business owners, brewers, and more. You have "disruptors" in the industries of innovation as much as you have the artisans and entrepreneurs looking to fulfill their dreams in St. Louis.
It all comes together when they want to see the city shine. Efforts like Better Family Life's Clean Sweep andClean Sweep 2018 sought to spend their summer cleaning up trash and dilapidated buildings in downtown St. Louis. As a private-public partnership spanning both volunteers and over a dozen construction companies, the project involved both cleaning up and removing trash and decayed buildings and then actually constructing new properties in their place.
Returning Tourism
One of the largest efforts in recent years has been to leverage the city's waterfront in efforts to increase tourism and greenspace. The St. Louis Gateway Arch is by far it's most iconic landmark since its completion and unveiling in 1967. It was constructed as a testament to western expansion.
The arch is surrounded by a national park that was founded in 1935 as the Jefferson National Expansion Memorial. It is both the park, the arch, and its museums that have been the center of a $380 million renovation project for the past five years.

On July 3, 2018, the park, renamed the Gateway Arch National Park earlier in February, reopened after its extensive renovations. The Gateway Arch Park Foundation oversaw the project, whose aim was to better connect the park and the arch to downtown, making the area more accessible to both residents and tourists.
For many years up until now, one of the most attractive features of the Gateway Arch—the ability to ride to the top—has been inaccessible. With the completion of renovations, tourists and locals alike can pay a $13 fee and get a one-of-a-kind view of St. Louis.
Renovations were not limited to the arch itself. There was extensive landscaping, an 11-acre addition, a 30-inch raising of the riverfront to prevent flooding, renovations to the Gateway Arch visitors' center and the Museum of Westward Expansion, as well as general improvements to accessibility. One of the biggest renovation projects was the addition of a grassy pedestrian land bridge that connects the park to downtown over the highway that once created a major barrier.
So what does this major improvement project really say about St. Louis?
It says that St. Louisans are proud of their city. With roughly $7 billion poured into renovation projects and new construction across the city, now is the time to shine a light on the city's resurgence. Nothing makes that more evident than the completion of the Gateway Arch National Park.
St. Louis is not only working hard to make improvements, it is a city that is proud, growing, and striving for a brighter future. As they step into a new era, we are glad to join them.
Relative Affordability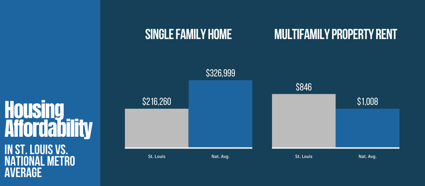 One of the biggest advantages of the St. Louis market relative to other metropolitan areas in the nation is its affordability. Like Memphis, St. Louis boasts an affordable market not just in terms of the property sale prices, but when weighing household incomes against mortgages. This is valuable when you're considering a market's long-term stability and potential for attracting migrants. Affordability and a manageable cost of living is often a factor in attracting a growing population, particularly as the rest of the nation continues to wrestle with issues of unaffordability.
When we look at the Council for Community and Economic Research ACCRA Cost of Living Index, we can see that St. Louis has a lower relative cost of living compared to other U.S. metropolitan areas. In the 100% composite index, St. Louis ranks a 90. We see, however, that they rank 71.3 in housing affordability—100 being the benchmark average for the U.S. That's significantly more affordable than the rest of the nation.
The factor for determining housing affordability weighed the cost of a new 2,400 square foot 4-bedroom, 2-bathroom home with an attached 2-car garage in St. Louis against the U.S. metro average in the same period. In St. Louis, the cost was $216,260, while the national metro average was $326,999.
Rental affordability was also a factor in the index. For a newly built 950 square foot, 2-bedroom, 1.5 to 2-bath apartment in St. Louis, one would pay an average of $846, while the U.S. metro average in the same period was $1008.
Combined with St. Louis' revitalization efforts and its resurgence as a technological and cultural hub, this affordability is not simply a symptom of a city past its prime. It is a massive benefit in an up-and-coming market that is teeming with potential. Already we're seeing that it has a strong draw for millennials and young job seekers alike.
A Look at Rapid Real Estate Market Recovery in St. Louis
Though in the past several years St. Louis has struggled to truly recover from the lingering effects of the housing bust of 2009, we've seen just in the past few years a sudden and rapid recovery. The city just a few years ago had a big problem with foreclosures, underwater mortgages, and property vacancies.
We're seeing all of these shift in the other direction.
Falling Foreclosure Rates
First, we'll talk about foreclosures. In the United States, foreclosures peaked at a rate of 2.23% (or 2,871,891 properties in some stage of foreclosure) in 2010. That rate dropped significantly to 1.45% by the next year and, in 2017, sat at 0.51% and 676,535 properties nationwide.
In St. Louis in 2012, recovery was lagging. The foreclosure rate in the metro area was 1.4%. Now, however, the foreclosure rate in St. Louis is lower than it has ever been. As of April 2018, according to ATTOM Data Solutions, only 1 in 1,768 properties in St. Louis are in some level of foreclosure, which is down 22.82% from last year and down 9.68% from just two months prior.
When we look back at news reports from 2012, it sinks in just how dramatically St. Louis' foreclosure problem has improved. Back then, at the height of the recession, some 10,079 homes were foreclosed upon (or 1 in 43).
The shift was sudden, and not just in regards to foreclosures. The number of households underwater on their mortgages is falling, too. In the last quarter of 2017, 13.8% of households in St. Louis owed 125% or more on their mortgages. While that number may still seem high, it's an improvement considering it was twice as high just four years ago.
This improvement is indicative of a few things. One: improving home values. Last year, reappraisals indicated such a sudden shift of rising values that some property owners actually wanted to contest the findings of the appraisers. They couldn't believe that prices had improved so rapidly in just a few years. Homes that had been worth $35,000 were suddenly worth $84,000.
Despite some skepticism, however, it ultimately led to a strong conclusion from many of the country appraisers: the dark shroud left behind by the recession was finally lifting. Housing prices are stabilizing and recovering, and recovering quickly.
"This is the most consistent appreciation in property values since I became the county assessor in 2011." was the statement from St. Louis County Assessor Jake Zimmerman. Average values were up 7% in the county of St. Louis and up 12% in the city itself as of last summer.
While the assessments aren't set in stone, they do point to near pre-recession values for many. For St. Louis, that indicates a positive turn.
The Inventory Squeeze
With the shift of property values and the rise of revitalized businesses and opportunities, there are certainly challenges that come with it. Opportunities always attract new people to a market, and with that comes demand.
In St. Louis, it's led to an inventory squeeze that has helped drive property values up. Some have even described St. Louis' real estate market as "red hot" as a result of the intensity of the market over the last several months.
Namely, those looking to buy in the housing market are going to contend with all of the signs of a hot housing market—multiple offers, quick bids, and prices that rocket high above the asking price. It's a good time to be a seller in the St. Louis real estate market, but buyers are finding a lot of frustrations as the squeezed inventory struggles to offer enough to go around.
In 2012, St. Louis had a near 14-month supply of houses. Now, the city has somewhere between 3 and 6 months to spare.
What's causing all of this demand? Beyond the factors in the city itself, like the affordability, improving conditions, opportunities, and the like, it's just a good time for real estate. Lending standards aren't so strict right now, interests rates are reasonably low, and many households, particularly millennials, are finally in a place where they're able to consider homeownership.
High Rental Demand
In line with many other midwestern metropolitan hubs, St. Louis' transformation into a center of technology and innovation has brought with it high demand not only for office space to cater to a new wave of startups and entrepreneurs but for rental properties, too. Both the single-family and multi-family sectors have seen an increase in demand in St. Louis, something that has largely benefited from the economic resurgence as well as the housing inventory crunch.
Last year, St. Louis brought in 21,000 new jobs, 70% of which were in high-paying sectors. A rise in job opportunities, especially high-skill, high-paying jobs, will continue to draw talent into the city and raise demand for rentals and real estate alike.
Turnkey Real Estate Opportunities in St. Louis
While some real estate investors are facing a slowdown—for example, flipping has slowed in the area due to the reduction of foreclosed properties and tight inventory—turnkey real estate investors have much to gain in a market like St. Louis.
What we're seeing are all indicators that point towards a new chapter of prosperity and growth for St. Louis. With the bouncing back of property values, the emergence of economic opportunities and new businesses, as well as the attraction of high-paying jobs in the technology and healthcare sectors, we see the makings of a reinvigorated economy and a revitalized city.
Turnkey real estate investors also have the benefit of not having to contend with the inventory squeeze. When partnering with a turnkey real estate company, they can rest easy knowing that their turnkey partner will find the opportunities for them without the headache or hassle of navigating a hot on-the-rise real estate market.
Want to learn about turnkey investing and diversifying your portfolio? Talk to one of our licensed, real estate portfolio advisors today!