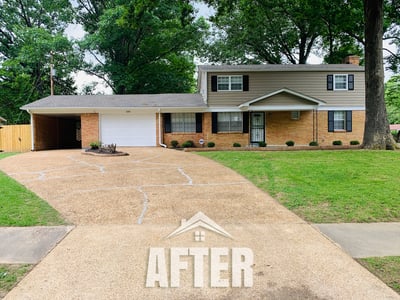 This week's Transformation Tuesday comes from our hometown of Memphis, Tennessee. This fashionable, throwback property needed a modern refresh. New floors, bright lights, and a whole lot of love. We had our work cut out for us on this one. To see how we succeeded with the transformation, keep on reading!
Maximizing a budget of $54,000, our team's work made the dream work. We started by appreciating, repairing, and refinishing the rich hardwood flooring. Interior wall color choices, while bold, didn't fit into modern designs families prefer. So, we primed and painted the walls right into the 21st century. The home needed a new roof, fencing, and lighting. We found some rotten wood but quickly and effectively replaced it.
Families need healthy, sturdy homes. And that's exactly what REI provides. You'll never struggle to find happy, healthy families to move into your property; over 53% of the Memphis population are renters. Residents enjoy a rich, engaging culture, a surging job market, and an affordable cost of living. Plus, single-family renters, or SFRs, are the hottest real estate commodity. The opportunity to buy properties at low-interest rates in a high-demand atmosphere makes the single-family rental tough to ignore.
Related Article: SFRs are the Hot Real Estate Commodity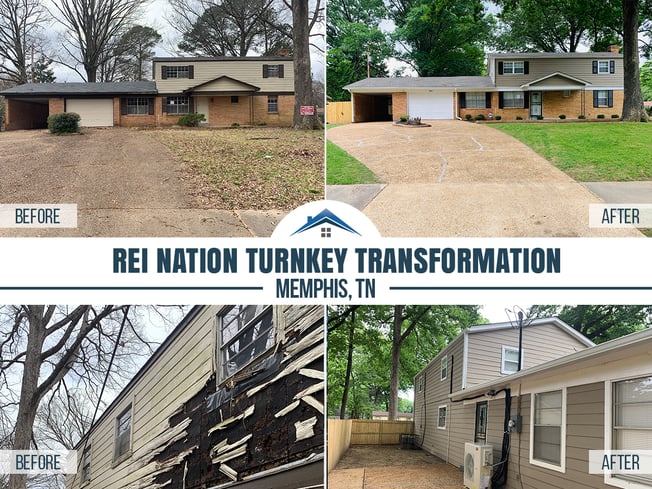 About this Transformation:
The owner of this Turnkey Transformation is located in California. This is their first property that they have invested in and had managed by us. Here is additional info about the home:

- Built in 1961
- 1,995 sq. ft.
- 3 bedrooms, 2 bathrooms
- Lot size of .24 acres
- Installed New Roof
- Installed New AC
- Installed New Furnace
- Installed New Water Heater
- Installed New Dishwasher
- Installed New Blinds Throughout
- Installed New Light Fixtures
- Installed New Carpet
- Installed New Vinyl Plank Flooring
- Replaced all Damaged and Rotten Wood, Trim, and Siding Around the House
- Painted all Walls, Trims, Doors, Closets, Ceilings, and Cabinets
- HVAC, Electrical and Plumbing Inspected and Repaired by a Licensed Professional


Let REI Nation transform your financial future!