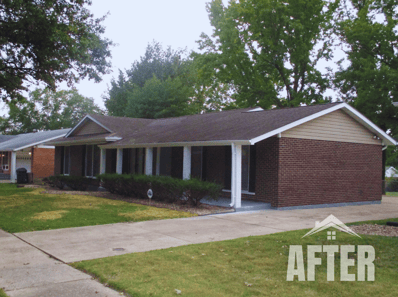 This week's Transformation Tuesday is from St. Louis, Missouri.
We could see a lot of potential in this brick home! Located in a great, family-friendly environment, with promising living spaces inside and out, this 70's-built house was a solid investment. What it needed was a freshening up, with an eye toward functionality and consistency. No more patchy floors. No more greens, blues, and dated wallpaper. With a little elbow grease, this property's potential was easy to unearth.
Our team of renovators and local contractors employed a budget of $52,000 for this transformation. In addition to the front's new curb appeal, the backyard was refreshed with updated landscaping and a cleaned-up garage. Inside, we said goodbye to the wallpaper and colors of yore, and hello to a clean, neutral color palette. Stained, uneven floors and cabinetry were replaced with contemporary surfaces, making this property resident-ready!
This property is owned by a member of our WOW Group, and is one of TEN managed by Premier Property Management Group!
St. Louis has seen a surge of grassroots efforts to bring more and more life to its city. What this has created is an environment that encourages innovators—from city officials and students to small business owners and investors like you! Take part in the market revitalization in the Gateway to the West, and give us a call today.
About this Transformation:
Built in 1973

1,664 sq. ft.

3 Bedrooms, 2 Bathrooms

Installed:

New Roof

New Doors

New Vinyl Flooring

New Light Fixtures

New Blinds throughout

New AC

New Water Heater

New

Furnace
Inside: Painted All Walls, Trims, Doors, Closets, Ceilings, and Cabinets

Outside: Updated Siding and Landscaping around the House

HVAC, Electrical and Plumbing Upgraded by a Licensed

Professional




Let REI Nation transform your financial future!