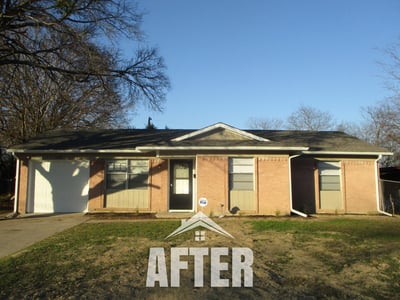 This week's Transformation Tuesday comes from the Dallas-Ft. Worth metroplex! This five-bedroom single-family home was full of potential, yet needed an expert team to maximize it. From its neglected exterior to its outdated interiors, we worked our way from top to bottom restoring this property into rent-ready conditions. Keep on scrolling to see the before and after pictures and learn more about how we prepared this home for its future family.
Maximizing a budget of $67,000, our team began by fixing the exterior. Installing a new roof, restoring the wood and foundation of the property, and repairing the gate and fence around the home were all part of the process. On the inside, we gutted the kitchen and installed brand new cabinet hardware, a dishwasher, and repainted the off-putting blue bathroom.
There was a time when investors and economic experts alike were concerned that the success or failure of Dallas as a whole—whether it was its real estate market or job market—was contingent upon the health of the oil industry. We're seeing that that just isn't the case, and that's because Dallas-Ft. Worth has one of the fastest growing job markets in the nation, making it a viable market for real estate investors.
Related Article: A Deeper Look Into Dallas Ft. Worth for Real Estate Investors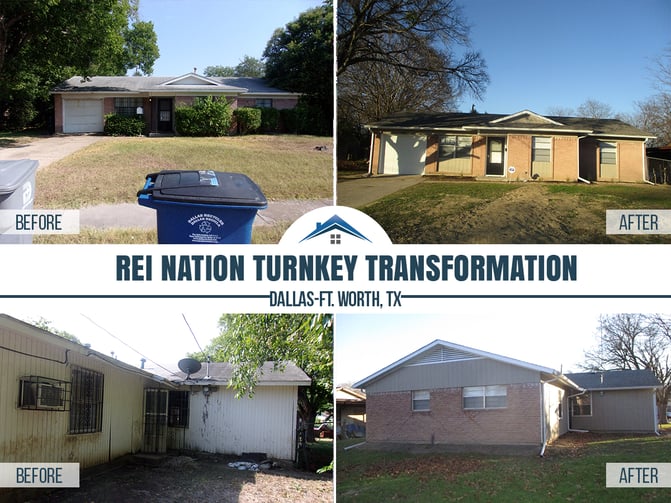 About this Transformation:
The owner of this Turnkey Transformation is located in California; this is their fourth property that they have invested in and had managed by us. Here is additional info about the home:

- Built in 1961
- 1,833 sq. ft.
- Lot size of .21 acres
- 5 bedrooms, 3 bathrooms
- Installed New Roof
- Installed New AC
- Installed New Furnace
- Installed New Dishwasher
- Installed New Blinds Throughout
- Installed New Light Fixtures
- Installed New Hardware on Cabinets
- Installed New Carpet
- Installed New Vinyl Plank Flooring
- Repair Fence and Gate
- Repair Foundation
- Replaced all damaged/rotten wood/trim/siding around house
- Painted all walls, trims, doors, closets, ceilings, and cabinets
- HVAC, Electrical and Plumbing inspected and repaired by a Licensed Professional


Let REI Nation transform your financial future!