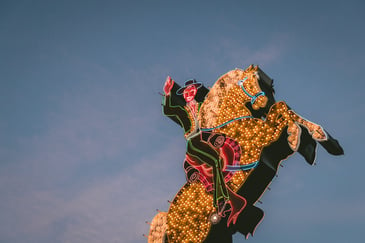 One of the key components to real estate investment success is a deep understanding of your investment markets. This comes not solely with the analysis of dry statistics and market trends, but in getting down and dirty with the reality of what it's like to live and work in that market. This is why so many investors tend to stick to the markets in which they happen to live—because nothing gives a better advantage than firsthand experience.
For turnkey real estate investors, you have the distinct advantage of your turnkey real estate company. They are firmly planted in your market and you can leverage their experience and on-the-ground intel. There's no need to be in the midst of your market in order to succeed.
However, there's a lot of value in getting to know your market on a personal level. Investing in your market more intimately allows you to better understand its trajectory and more accurately and intelligently discuss your investments with the people who matter. You can be a more confident investor the more familiar you are with your markets.
The bigger and more expansive the market, however, the more difficult it can be to understand. And it's tough to get much bigger or more expansive than the Dallas-Ft. Worth market.
Here are a few key things you need to know to understand what it's like to live, work, and play in Dallas—and why people are attracted to this popular job and real estate market.
5 Things Investors Must Know About Living & Working in Dallas
Dallas Ft. Worth has one of the fastest growing job markets in the nation.
There was a time when investors and economic experts alike were concerned that the success or failure of Dallas as a whole—whether it was its real estate market or job market—was contingent upon the health of the oil industry. We're seeing that that just isn't the case, and that's because Dallas-Ft. Worth has one of the fastest growing job markets in the nation.
Not only has the market been consistently named one of the best places for businesses, but it is consistently ranked among the highest for job opportunities. From November 2016 to November of 2017, Dallas saw over 100,000 jobs added. With a rising median household income of some $62,000, a competitive and diverse job market, there are few better places to find opportunity as a young professional.
Dallas is big. Really, really big.
Grasping the scale of Dallas isn't always easy. With 343 square miles in total, it is over one hundred square miles larger than Chicago. Its airport is larger in square mileage than Manhattan. And when we consider that some 7.4 million people live in Dallas and that that number is only growing, we can begin to grasp that sense of scale.
For the real estate investor, the size of Dallas can carry many consequences. But primarily, we have to understand this: Dallas is so huge that it is filled with many counties, cities, and communities within its metroplex. There are many diverse neighborhoods and Dallas itself is not a monolith. If you want to get to know your market, investigating individual neighborhoods and communities is key.
Related Article: Why DFW is the Fastest Growing Metroplex in the Nation (And What It Means for Investors)
Telecommuting is trending.
In any large city, traffic is an inevitable part of life. Studies show that North Texans spent 54 hours stuck in traffic last year, and, as a result, more and more of the workforce are turning to telecommuting. In other words, they're seeking out positions that allow them to skip the commute altogether and permit them to work from home.
For real estate investors, this could mean a few things: one, investing in properties that allow for mixed-use spaces and home offices to accommodate this growing trend may be a smart move, and two, looking both to properties that are outside of the hustle and bustle of the city and properties that are right in the middle of it all—both options that eliminate the need for commuting—may be wise.
Neither provides perfect solutions, but in a big city, more and more workers look not just to salary, but to the overall quality of life that their occupation will offer.
It is on the cutting edge of arts and culture.
Between Dallas, Houston, and Austin, Dallas is the city most invested in arts and culture. While each and every one of these Texas cities has more than their fair share of artisans, fine dining destinations, and cultural experiences, it is Dallas that stands above the rest. They're hiring world-renowned architects, attracting world-class culinary talents, and crafting a rich cultural center.
Dallas' residents are young and diverse.
With the massive population in Dallas that is both larger and explosive, we'd be amiss not to mention the trends apparent within the population. Population is always an important and valuable factor in real estate investment, particularly when we're predicting the needs of prospective tenants.
In Dallas, we see a primarily young population.
Of its 7.4 million residents, 50.8% are under the age of 34. The median age of the population, in fact, is 34.5. That skews that population quite young—it's largely a millennial town.
The population is also incredibly diverse, with 17.8% being foreign-born. As the population grows (projections put the population at over 10 million by 2040), Dallas' rich culture will only continue to grow with it.
For real estate investors, it's valuable to keep ears to the ground—and even visit when possible—to truly get a feel for the heartbeat and rhythm of their market. People continue to move to and fall in love with the city of Dallas. And for us, that's a good sign.
Interested in seeing what Dallas has to offer for turnkey real estate investors? Schedule your call today!