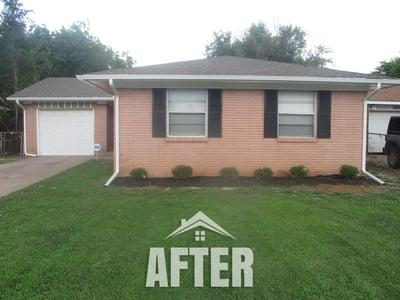 This week's Transformation Tuesday comes from Oklahoma City, Oklahoma! This single-family home from the '60s was hidden behind massive bushes and an unkempt yard. Inside, the interiors were just as chaotic; leftover belongings and unmaintained rooms required much effort from our expert team. To see how we revealed the true beauty of this home, keep on reading!
Maximizing a budget of $47,000, our team began transforming this property into rent-ready conditions. On the outside, we installed a new roof and did a complete overhaul of the yard, removing the overgrown bushes and other foliage. Next, we patched up the damaged walls and cabinets tarnishing each room. We installed new appliances, flooring, and lighting, allowing the property to finally show its potential for new residents.
While Oklahoma City might fly under most people's radar, the city is an abundant opportunity for real estate investors. In most recent years, the city has seen a surge in prosperity from millennials. Their diverse job market paired with its low cost of living are an attractive attribute that poises the city to continue growing.
Related Article: How Oklahoma City Attracts Millennials with Affordability & Opportunity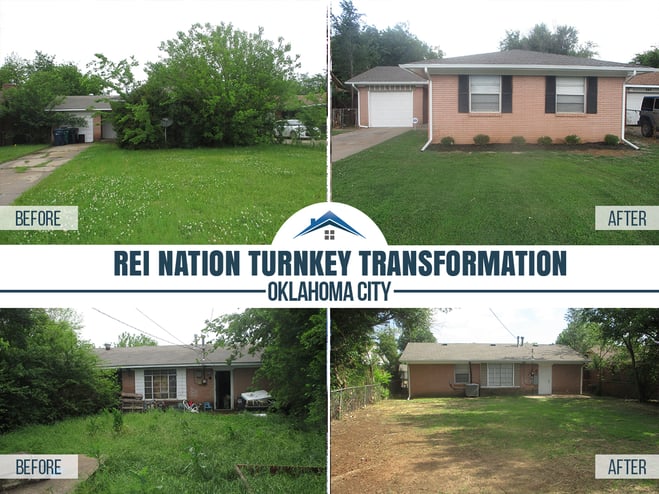 About this Transformation:
The owner of this Turnkey Transformation is located in Washington; this is the tenth property that they have invested in and had managed by us. Here is additional info about the home:

- Built in 1961
- 958 sq. ft.
- 3 bedrooms, 2 bathrooms
- Lot size of .16 acres
- Installed New Roof
- Installed New AC
- Installed New Furnace
- Installed New Water Heater
- Installed New Dishwasher
- Installed New Blinds Throughout
- Installed New Light Fixtures
- Installed New Countertops
- Installed New Hardware on Cabinets
- Installed New Carpet
- Installed New Vinyl Plank Flooring
- Replaced all damaged/rotten wood/trim/siding around house
- Painted all walls, trims, doors, closets, ceilings, and cabinets
- HVAC, Electrical and Plumbing inspected and repaired by a Licensed Professional


Let REI Nation transform your financial future!