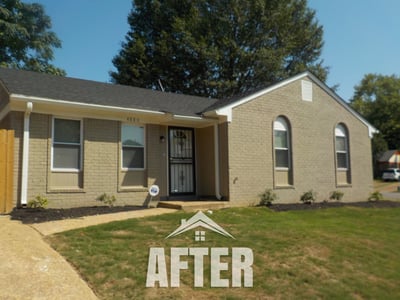 This week's Transformation Tuesday comes from Memphis, Tennessee! This single-family property had seen better days with its boarded windows, overgrown yards, and deteriorating walls. To see how our expert team of contractors transformed this property from dull to dynamic, check out the before and after pictures below!
Maximizing a budget of $53,000, our team began transforming this property into rent-ready conditions. On the outside, we installed a new roof, a new fence, and took care of any rotting wood along the foundation. Next, we patched up the damaged walls and cabinets. We installed new appliances, flooring, and lighting, giving the house a second chance to be a perfect home for its future residents.
REI Nation began in Memphis; it's a market we know like the back of our hand. In the past years, we've watched the city follow an upward trend that favors investors. With an expanding commercial sector, growing technology industries, and multitude of health fields, the local government bodies are dedicated to improving the city with each new year.
Related Article: 2020 Marks a Bright New Decade for the Memphis Market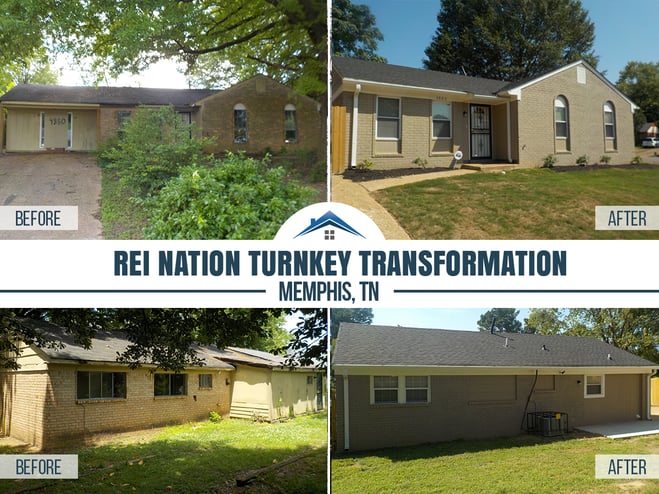 About this Transformation:
The owner of this Turnkey Transformation is located in Wisconsin; this is fifth second property that they have invested in and had managed by us. Here is additional info about the home:

- Built in 1971
- 1,200 sq. ft.
- 3 bedrooms, 2 bathrooms
- Lot size of .20 acres
- Installed New Roof
- Installed New Fence
- Installed New AC
- Installed New Furnace
- Installed New Water Heater
- Installed New Dishwasher
- Installed New Blinds Throughout
- Installed New Light Fixtures
- Installed New Countertops
- Installed New Hardware on Cabinets
- Installed New Carpet
- Installed New Vinyl Plank Flooring
- Replaced all damaged/rotten wood/trim/siding around house
- Painted all walls, trims, doors, closets, ceilings, and cabinets
- HVAC, Electrical and Plumbing inspected and repaired by a Licensed Professional


Let REI Nation transform your financial future!