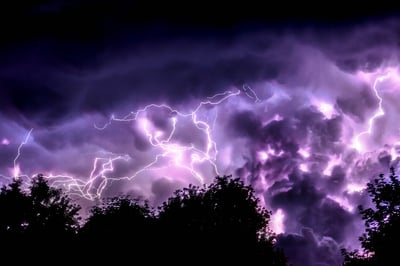 On the 16th anniversary of Hurricane Katrina, Hurricane Ida – a category 4 storm – made landfall on the Louisiana and Mississippi coasts. Hurricane season is in full swing, bringing environmental hazards top-of-mind for homeowners and real estate investors alike.
While Hurricane Ida will not significantly impact any of our markets at REI Nation, we know what it feels like when natural disaster strikes. Just a few years ago, Hurricane Harvey devastated Houston, Texas, and the communities nearby.
For real estate investors, these unpredictable and unstoppable threats can be a source of anxiety and fear. While there is nothing you can do to control or divert the weather, investors can take steps to protect their assets and mitigate these kinds of risks.


5 Ways to Mitigate Weather-Related Real Estate Investment Risks
Do your research.
While it's impossible to eliminate the chance of extreme weather conditions, you can, as an investor, choose to invest in markets and specific properties that are less susceptible to the repercussions. When looking to purchase a property, look for any history of flooding, its location within a flood plain or other low-lying areas, and what steps have been done (or could be done) to prevent future flooding. See what has been done to maintain and improve local infrastructure, too.
Because investors are often out-of-area, we sometimes lack a grasp of the terrain we're dealing with (particularly if it differs significantly from our local market).
While flooding is not the only risk to a property in extreme weather, it is the primary weather-related reason that investors lose their assets.
Take climate into account, too. Markets situated towards the north, where snow and ice are common, have greater winter maintenance needs, costs, and associated risks. (Personally, that's why all our current markets are in warmer climates!)


Investigate insurance.
Do you know what your insurance policy really covers? Double and triple-check your coverage. Depending on your market and its exposure to weather-related risks, like flooding, tornadoes, and hurricanes, you may need to beef up your policy. Extra coverage can help mitigate the cost of repairs. After a storm, these costs tend to go up, too! A replacement policy or extra liability coverage can make all the difference in the world.


Find top-notch management.
Your property management team is your first line of defense, period. This includes day-to-day issues, resident problems, and unstoppable natural disasters. The right property management team keeps you aware of issues and knows how to move quickly and efficiently to mitigate damages and costs. While they can't stop the problem, they can prevent it from becoming dire – whether it's a burst pipe in the winter or the threat of flooding in the spring.


Focus on preventative maintenance.
Property upkeep involves more than working appliances, curb appeal, and a fresh coat of paint. Preventative maintenance is essential when faced with the threat of natural disasters. It's not something you can leave until last minute, either. From the very beginning, you need a maintenance team that helps prepare and protect your property from bad weather.
Keep trees trimmed back, loose branches removed, and weatherproofing up-to-date. Roof maintenance, waterproof sealing on windows and doors, drainage systems, and the insulation of the property (and pipes!) are key.
If your area is particularly vulnerable to weather threats, there's more you can do. Storm shutters, for example, offer extra security. You can invest in a reusable flood barrier, too, that can be set up before a storm to prevent waters from entering the property.


Make a plan.
Real estate investors shouldn't be solely concerned with their property in the instance of bad weather. You need a plan for the safety of your residents, too. After all, the last thing you want is for your residents to be injured, killed, or displaced because of a natural disaster. Part of protecting your investment property is protecting the people who live in it.
Make sure that you or your management team give your residents access to evacuation plans, community safe areas and shelters, and procedure for dealing with weather-related issues. What should they do if the home begins to flood? What is the proper way to use a generator? How can they prevent electrocution when water and wires mix? What measures should they take to keep their home and their families safe in a storm?
Equip your residents with the resources they need to make smart, informed decisions that safeguard your property and their lives.
Invest with the team that has seen it all and come out on top.
Join thousands of REI Nation investors today!