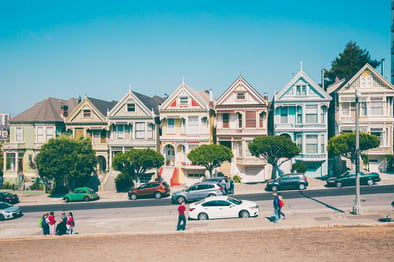 Every investment property purchase comes with different factors to consider. Usually, real estate investors will ponder things like condition and location when it comes to gauging potential for cash flow. But what if it's already earning income?
Sometimes you'll run across a property being sold that already has tenants living in it. It's occupied, and generating cash flow.
Whoa, hey. That sounds pretty nice!
You don't have to look for tenants. But wait—we're not talking about working with a turnkey real estate company here. We're talking about inheriting someone else's tenants. Just because you see that a property is tenant occupied doesn't mean you're about to save yourself a lot of trouble.
Weighing the Risks and Rewards of Buying Occupied Properties
Risk #1 — You're Locked Into the Old Lease
When you buy an occupied property, you're not just inheriting the tenants, you're also inheriting the old lease. The tenants are bound to their lease. You can't alter it without their approval, and you can't defy the terms of their lease. That can get tricky, because their lease might not be the kind of lease you would want. You might not be able to get your hands on the lease to know the terms! (Though that should be one of your requirements before you close on the property).
More than the terms, you're locked into the lease regardless for its duration unless there's a mutual agreement otherwise to break the lease—and the tenants are already going to be skeptical about change.
Risk #2 — They Might Be Problem Tenants
You have to ask yourself—why would a seller want to be getting rid of a property that's generating positive cash flow? Well, maybe that's the issue. They might not be generating positive cash flow. It's very possible the tenants haven't been paying the rent or are causing other issues that have prompted the previous owner to want to get out.
While that may not be the case, it's certainly a possibility. Before you buy, review the property's income and expense reports and try to identify if there have been issues with tenants paying rent. It's going to take more scrutinizing to determine if the tenants are going to be a problem, and honestly, it's something you might not be able to tell until you already own it.
Risk #3 — You Can't Immediately Make Improvements
When a property is occupied, you also can't swoop in a overhaul the property instantly. If the condition is fine, that might be okay—but there might be things you want and need to change and update. The wait is, at the very least, irksome.
Plus…
Tenants might be skittish about having a new owner. You'll likely be bringing a new property manager along, too. Change is scary. They'll worry about getting evicted, or being forced to leave when their lease is up. They might act out in fear.
Just be sensitive that the existing tenants might be concerned about their home changing hands. If you can, get out there and meet them. Provide a welcome package of some kind explaining what's going on, who you are, and putting their mind at ease and assuring them that their lease agreement is still the same and that they're not about to get kicked to the curb.
The Reward
That said, there is great potential in buying an occupied property. In many cases, they're sold on the market at a discount. And if you're fortunate enough to have good tenants, that saves you the trouble of finding a tenant, and you're immediately walking into a situation where you're earning positive cash flow.
That said, there's a better way.
Sure, you could buy those one-off investment properties that are tenant occupied and focus the rest of your time on vacant properties, which are much more common. But it's far more efficient to work with a turnkey investment company, where they find tenants for you to ensure that you can start earning positive cash flow as quickly as possible.
Sometimes, they already have tenants when you buy! The difference here is that you're not changing hands with another owner and stepping into an unknown situation with tenants that might be bad—instead, you have significantly reduced risk.
The turnkey real estate company and their property managers have already thoroughly vetted and approved their tenants, so you can rest easy knowing you are getting a cash flow positive property.
Get started today in turnkey real estate and start earning passive income today.