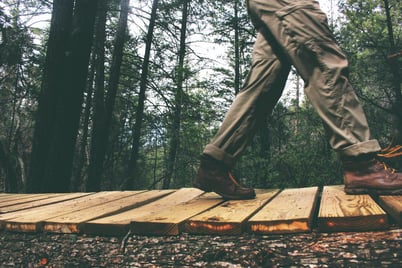 If we're honest with ourselves, most of us are guilty of having some unrealistic expectations in life. Whether it's thinking we can still squeeze into a pair of pants that fit us 20 pounds ago, or believing that we really can get rich overnight, there's a point where healthy optimism turns into a dangerous pipedream.
We'll be honest here: we totally, 100% absolutely believe that real estate investment is the best path to financial freedom. Whether you want to build the capital to fund your retirement, quit your job, or travel the world, it's the best avenue you can take to be fiscally independent.
Still, there are a lot of people out there who will preach that real estate investment is an easy win. That it's no work, that you'll get rich quick and that the money...
will pour in starting on day one and you won't have to lift a finger. We don't know what kind of properties they've been investing in, but we'll tell you this: financial freedom doesn't happen overnight. Even the most passive rental properties demand your effort, input, and work.
The path to wealth through real estate investment with rental properties takes time, knowledge, hard work and a heap of good decisionmaking.
The Path to Wealth in Real Estate Investment, Explained
A significant increase in your net worth can't be achieved by simply waiting for your own home to appreciate. While this is the strategy of many homeowners—hoping that their home is a good investment, and that one day, it will appreciate enough in value to provide sizable returns—it is not a sure strategy. In fact, it can be rather risky.
For the buy-and-hold real estate investor, appreciation is not what you're hanging your hat on. It combines with many other factors to make your net worth: things like buying below market value, passive income earned from rental properties, tax advantages, and equity paid down. And if you want financial freedom, you can't sit around waiting for it to come to you. Even passive investors are proactive in making it happen.
You raise your net worth and secure your financial future through scaling. No real estate investor can hit hundred of thousands of dollars—or millions—in net worth without scaling.
Building Wealth & Scaling in Real Estate Investment
As a real estate investor, you want to maximize the value of your investment properties. You're already buying undervalue (or you should be) and from there, you work to repair and improve your property to increase value. Say you buy an investment property for $100,000 with the typical 20% down.
You then put $15,000 in repairs into the property and increase its value by $50,000. You've already increased your return on investment drastically. You've spent a total of $35,000 on the property and you have a $80,000 mortgage with a property that's worth $150,000. That's a pretty good spot to be in, and that's not even factoring in the money you make monthly on rental payments.
If you're saving money, buying rentals that generate cash flow, buying below market value, and working to scale, you will achieve financial freedom. Is that the picture-perfect story of every transaction? Of course not.
There's nuance: not every real estate investor is working with a lot of capital to begin with. They're likely making more mistakes, they don't have all the connections, and they might not be able to scale as quickly as some of the long-term industry pros. But here's the thing: you don't have to.
Mark Ferguson over at InvestFourMore explains it this way:
"Even if you don't have a lot of cash to invest, you can buy real estate. You can buy houses with little money down as an owner occupant, and with many other strategies. You could turn owner occupied houses into rentals or sell them, collect tax-free profits, and re-invest it into more properties.

You may not be able to buy as many rentals as I did as fast, but you can definitely start building wealth."
While Mark had a million dollar net worth in four years, the story isn't the same for a lot of real estate investors. What's important is that you're moving forward at the pace that makes sense for you. Scaling before you're ready can cause serious issues for the rest of your investments. Focus on what you have and making the most of it. Not everyone has the incredible knowledge, network, and resources that Mark has! And that's okay.
So How Do I Achieve Financial Freedom?
It's easy to get wrapped up in the stories of investors who struck it the richest of the richest. You want to be that guy and you want to be him now. But patience truly is a virtue. In real estate investment, success comes to those who scale when the time is right and use their resources wisely.
Financial freedom is more than just working hard on your investments, too. It's almost being smart about what you already have. Work on:
Increasing what you save.

Eliminating debts.

Living within your means.

Identifying any weaknesses with money.
If you don't have a solid financial discipline, no amount of cash flow or net worth will give you financial freedom. You have to create it for yourself, starting with your own will to achieve it.
For any a new real estate investor, the best thing you can do for yourself is start with building knowledge and gaining support. You need to equip yourself to make wise decisions from the get-go, and surround yourself with the people who can advise and support you along the way.
At Memphis Invest, we can be that support! We don't just have properties for investors to buy—we're invested in your success, too. In fact, we have portfolio advisors ready to help you get on the right path: