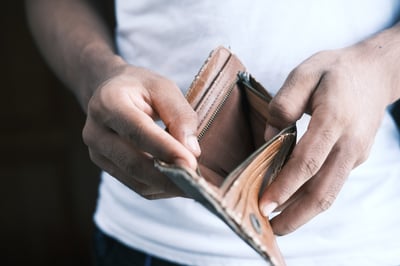 There's a wide variety of ways to invest in real estate. And we can tell you from experience that not all those ways are equal. Nothing has made that more apparent than the comparison between buy-and-hold rental investors and house-flippers in today's economic landscape.
Though rental properties are thriving, the same can't be said for the seemingly glamorous flipping industry. It may be the most visible and popular method according to HGTV, but successful house flips are getting tougher and tougher to pull off.
Even though there are more flippers out in the world, profits just aren't there. According to The New York Times, the ROI for flippers shrank by over a quarter at 25.8%.
Flippers are watching their profits dwindle. But why?
#1) Tight Inventory
The inventory squeeze impacts everyone trying to buy a house for any reason. A lack of inventory not only means fewer options, but it means that the options out there are more expensive. Flippers adhere to very tight criteria to create their profit margins. Finding great deals on properties is nigh impossible these days. While flippers are willing to pull off big renovations, only the most experienced among them are willing to take on a transformation from the ground up. And these "scrap it and start over" properties are just about the only ones left on the market at cheap prices!
#2) Lower Foreclosure Activity
Government intervention and post-Great Recession changes in the mortgage industry have greatly reduced the number of foreclosures on the market. There was a time in the 2010s when foreclosures were an investor's bread and butter! With lower foreclosures, however, there are fewer such deals to take advantage of in an already strapped market.
#3) Higher Mortgage Rates
While flippers themselves may deal mostly in all-cash offers, their prospective buyers do not. Part of what is keeping inventory tight and buyer demand restrained are mortgage rates. Plenty of buyers locked in lower rates around the 3% mark and are reluctant to trade it in for double that rate for the sake of buying a new home. This not only shrinks the potential buyer pool, but it means flippers must keep their asking prices more reasonable.
#4) Uncertain Market Conditions
Market volatility impacts flippers far more than buy-and-hold investors. While the latter doesn't have to concern themselves so much with timing the market, flippers do. Not only are high home prices making it tough for flippers, but with no end in sight, inflation and supply chain issues raising the cost of renovations and rapidly changing consumer priorities make getting ahead of the next thing more of a challenge.
Buy-and-Hold works where flipping falls short. Here's how.
#1) Disrupting Barriers to Homeownership
With bloated asking prices and higher mortgage rates plaguing potential homebuyers, fewer and fewer people can afford to buy their own home. This is particularly true of first-time homebuyers who do not have any equity built up in a property and face a distinct lack of starter homes on the market. Buy-and-hold investors, however, meet these households where they are.
While fewer and fewer people can afford to buy a luxurious flip, there will always be a need and a demand for quality rental properties. By providing this service – eliminating the barrier to homeownership through single-family rentals – investors prove themselves as integral to the real estate ecosystem.
#2) Consistent Cash Flow
Though cash flow isn't the only benefit of buy-and-hold real estate investment, it's one of the bigger advantages of the model. Flippers only see a return on their investment if their property sells – and sells for the right price. Buy-and-hold investors aren't concerned with making the right sale in the right market at the right time. Instead, they benefit from the long game: earning equity over time while earning consistent passive income.
#3) Transcending Market Conditions
Though current market conditions can be challenging for any investor, those who buy-and-hold rise above the market cycle. You're not trying to time things just right. And while investing at certain times may be a bit easier, it won't make or break your ROI to start. In fact, you do more harm to your wealth by putting off your investments! Because buy-and-hold investments thrive on time, you escape the pressure to pick the right when.
#4) Long-Term Benefits
A flipper buys a house, rehabs it, and sells it. Then they move on and do it all over again. It's a very active form of real estate investment, even if the investor isn't getting their hands dirty with paint and sanders. Buy-and-hold investing is passive by comparison, and it's never going to be something you must stop doing because you're too busy or too old. The benefits aren't in one-and-done transactions: they roll in and compound over time.
Choose the real estate investment that stands strong through economic fluctuations.