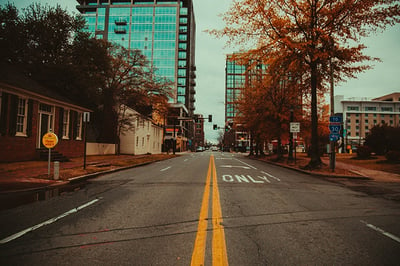 Over the years, REI Nation has expanded into a handful of hand-picked, carefully vetted investment markets. From our beginnings in Memphis, Tennessee to a total of some seven investment markets for the past few years, we are again expanding the opportunities that we offer to our investors. Naturally, every market is selected with our investors in mind — for the longevity and quality of their investments, as well as our ability to offer the quality and attention to detail that you know REI Nation for.

With several new markets on the horizon, it's high time we made proper introductions for the newest members of the REI Nation market family: starting with San Antonio, Texas.



A Snapshot of San Antonio
As we already offer investment opportunities in Dallas and Houston, it's only natural that Texas real estate markets would have our attention. San Antonio is a south-central city that forms a triangle with Dallas and Houston. San Antonio is also the state's oldest municipality, having celebrated its 300th anniversary in 2018.
Of course, unlike many cities with a lot of history, San Antonio has experienced relatively steady growth in its 300 years. Where other cities became ghost towns or suffered economic collapse, San Antonio boasts a strong and diverse economy that has long attracted a younger demographic. With a median age of 32 for San Antonians, the majority of the population includes young professionals.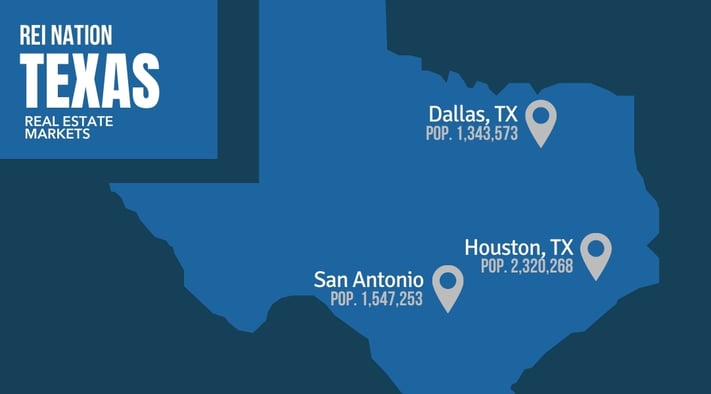 The Vibrant San Antonio Economy
Part of what makes San Antonio an attractive city for residents is its tax rates. With an income tax of 0 percent and the lowering of property tax rates in 2009. Property taxes are composed of both Maintenance & Operations and Debt Service components. Together, they create a rate of 55.827 cents per $100 of taxable home values.

Of course, the tax rates are only a small part of attracting residents to San Antonio. A diverse and growing economy plays an arguably larger role!

The major industries in San Antonio include:

City Incentives
San Antonio would not be home to so many thriving businesses in so many industries if not for the city's efforts to maximize incentives. Tax rebates and abatements, fee waivers, development funds, and workforce training initiatives all serve to bring in new businesses while retaining the city's staples. A local government that truly invests in growing in industry and diversity is good for real estate, as it attracts businesses, job opportunities, and people to the region.
Prime for Relocation
The affordability of office space in San Antonio along with geographic assets means that the city is prime real estate for new businesses and startups. Not only that, but the city has partnered with the San Antonio Economic Development Foundation (SAEDF) in a private-public alliance dedicated to recruiting and retaining businesses.
Like many Texas cities, San Antonio boasts an attractive cost of living and cost of business — along with regional and national hubs that poise businesses for success. In fact, we've recently seen Tesla and SpaceX CEO Elon Musk make his California exodus and move to Texas, along with other ex-Silicon Valley employees.
San Antonio Real Estate Trends
The link between local economic strength and real estate investment is undeniable. For real estate investors, the economy is one of the primary factors to pay attention to. Not only should an investor note things like population growth, wages, and housing costs, but also factors like economic diversity.
Naturally, we want to spend some time on San Antonio's real estate statistics. While the economy and the real estate market are intrinsically tied, we've seen this year that the market doesn't always conform to these expectations. 2020 has shown us a remarkable real estate market despite a recession and record-high unemployment.

Here are some quick stats about the San Antonio market according to the San Antonio Board of Realtors as of October 2020.
Median Sale Price: $260,100 ( +11% year-over-year )

Homes Sold: 3,463 ( +20% year-over-year )

Median Days on Market: 29 ( -40.8% year-over-year )
For the year-to-date up to October 2020, San Antonio has seen:
Median Sale Price: $248,200 ( +6% year-over-year )
Homes Sold: 31,836 ( +9% year-over-year)
Residential rentals in San Antonio are also seeing an upward swing:
Average Rent Price: $1,545 ( +6% year-over-year )
Properties Sold: 1,228 ( +9% year-over-year )
Of course, it's easy to look at year-over-year numbers with a dose of skepticism. After all, we're living in an unprecedented year. Things aren't normal and we can't expect the real estate market this year to be indicative of lasting trends unless the past backs them up. And in San Antonio's case, they do!

According to the Department of Numbers, a company that reviews and contextualizes public data, San Antonio has been on the upswing in real estate since 2005.

For 2019, we saw these numbers for rent prices:
San Antonio Median Gross Rent: $1,057
Texas Median Gross Rent: $1,091
U.S. Median Gross Rent: $1,097
For San Antonio, that's a growth of 3.63 percent year-over-year and a 5.81 percent increase over the last three years.

When we compare San Antonio's growth rate with that of Texas and the United States as a whole, we see a more even-tempered approach to rent growth. For example, the United States increase in median gross rent year-over-year was 1.86 percent. Over three years, it was 6.82 percent.

What this tells us is that rent growth in San Antonio has been more steady and more predictable, at least in the past few years. For real estate investors, this predictability is advantageous for buy-and-hold properties. Not only that, but the median rent in San Antonio has been growing with a good measure of consistency since 2005.
The Who's Who of San Antonio Neighborhoods
Because San Antonio is home to 174 different neighborhoods, we certainly don't have time to cover them all. Of course, broader neighborhood regions stand out from the pack, particularly for real estate investors:
Alamo Heights
This affluent incorporated city within the heart of San Antonio is just five miles north of downtown. This area sees a median household income of $77,257, significantly higher than that of San Antonio as a whole. Despite being a more affluent area, it boasts more reasonable property prices than that of other, similar San Antonio neighborhoods. The median home price here is a whopping $420,000!
Downtown & Riverwalk
Downtown is a popular tourist destination with attractions like the Alamo, Riverwalk, Alamodome, Market Square, and plenty of opportunities for historical enrichment, dining, and shopping alike. Naturally, most of the real estate you'll find here are high-rise condos and apartment buildings.
Dignowity
Just east of downtown is this historically Black neighborhood, rich with culture and vibrant dining and entertainment opportunities. Though on the lower side of the city's income, the housing here saw a 138% increase in median single-family home values between 2011 and 2016, up to $120,648.
Far West
According to San Antonio Magazine, real estate is booming in the Far West neighborhoods of San Antonio. With employment opportunities and a wealth of new homes, it's an attractive area for new residents. The median home price here is $236,383 and homes are on the market for an average of 78 days.
Far North
In San Antonio, you'll find northern districts have more affluence than their central and southern counterparts. This area is known for its walkability as well as its attractive amenities. Because homes here are more expensive than the city median at $338,750, homes tend to stay on the market for longer at an average of 98 days.
Helotes
Close to Government Canyon, Iron Horse Canyon Natural Area, and other outdoor hiking, biking, and recreational attractions, the Helotes area is a relaxing region perfect for the outdoorsy-types. While you will find some older homes here, many have been built within the last 20 years. The median home price here is a bit higher at $306,500.
Northeast
Buyers will find a variety of homes here for affordable prices — typically below $250,000 and even below $200,000. This is a convenient neighborhood with the feeling of a tight-knit community. The median home price here is $196,600 and they tend to go faster at an average of 54 days on the market.
Castle Hills
Because the public and city have invested in downtown San Antonio, it's no surprise that many renters and buyers find themselves wanting to stay "close to the action." Castle Hills feels more small-town than downtown and is conveniently located near the city's medical center. Median home prices here are also reasonable for such a prime location — the median is just $235,875.
Woodlawn Heights
Attractive for working families thanks to a short downtown commute, Woodlawn Heights boasts character homes, dog parks, and eateries. Like the Northeast neighborhoods, Woodlawn Heights has typically affordable pricing at a median of just $150,000.
Southtown
Southtown, directly south of downtown, is the city's arts district. With plenty of space for walkability and recreation, this area is known for its art galleries and restaurants. Properties here sell for a median price of $191,250.
Positive Indicators for San Antonio Real Estate
The Affordability Factor
As we know, affordability, particularly when it comes to housing, has been a major point of contention for at least a decade. When residents are over-burdened by rent or mortgage costs, they find themselves less able to pay for other essentials, like healthcare, transportation, and food. When a market grows increasingly unaffordable, it tends to push the population out, limiting the pool of potential homeowners and residents: particularly in the long-term.

Rent costs tend to outpace average monthly mortgage payments. When housing costs exceed 30 percent of one's income, it is considered unaffordable. Anything below 30 percent is considered affordable.

In San Antonio, again, according to the Department of Numbers, the median gross rent takes a 20.34 percent share of the median household income. In the United States as a whole, that median is 20.03 percent as of 2019.

While rent takes up a slightly larger chunk of income in San Antonio by comparative household income, the amount is nominal and still well within the 30 percent limit. For real estate investors, this encourages longer-term residents, as the cost of renting is not significantly burdensome for most residents. This rate has been fairly consistent over the years, too, even as median rent grows. In 2005, annual rent took an 18.25 percent share of annual income. This displays rates that are not pushing too far beyond wage growth — a good sign for market stability in the future.

Further evidence of market stability can be found when we look at its Redfin Complete Score, which ranks San Antonio at 64 (Somewhat Competitive). Competition in a market can be a good thing, but too much competition can push sales prices up to unsustainable, unsubstantiated levels. San Antonio's market is taking a more moderate approach with some homes receiving multiple offers and typically selling for 1% below their list prices. Hot homes may go for 1% above list price, but this is far from an unreasonable increase.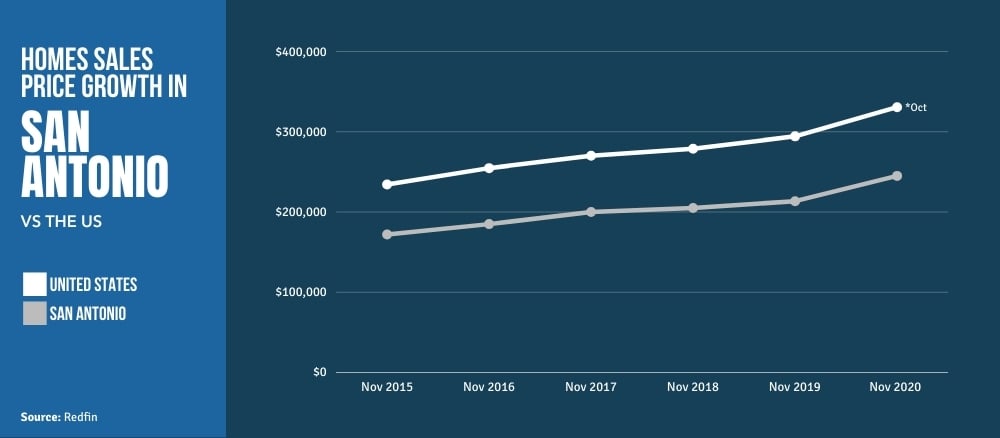 Rising Rental & Housing Demands
When we look at a report from the San Antonio Neighborhood and Housing Service Department, we see a few key trends and statistics. First and foremost:
The population is increasing — Between 2000 and 2016, the city of San Antonio grew in population by 26 percent. Additionally, some 88,000 more residents are expected by 2022. This steady population growth is a key driving force behind increasing housing demand, including that of rentals.
Appreciation trends are strong — Between 2011 and 2016, the appreciation of single-family homes saw a median rate of 39 percent, with the highest rates of appreciation occurring within the city center (primarily due to public investment in the area).
Of course, as the report points out, despite the relative affordability, households that fall below the median annual income of $48,143 (2016) face significant worries in terms of housing affordability. This is the case in much of the nation, where the cost of living outpaces wage growth.

The fraction of renters in San Antonio has fluctuated over the years but remains higher than the national share of renters (37.35% in 2019 compared to 35.89%).
2020 Real Estate Update & COVID-19 Impact
San Antonio, as with every city across the United States, has felt its fair share of impact due to the COVID-19 pandemic. Most notably, unemployment rose. Pre-pandemic, in June 2019, San Antonio boasted a 3.3 percent unemployment rate (compared to the national rate of 3.8 percent). The gap has grown in the year since — unemployment grew to 8.4 by June 2020 (though the numbers peaked in earlier months) compared to the U.S. rate of 11.2 percent. In both cases, San Antonio demonstrated a lower unemployment rate than that of Texas overall.

Of course, these economic challenges are hardly unique. What is unique is how the San Antonio real estate market has shifted over the past year.
Supply and Demand
San Antonio is poised to have a record-breaking year despite the pandemic impact. The city shows a 9 percent increase in home sales this year. The statistics we've already shown demonstrate increased demand, as prices go up, the population grows, and days on market go down. With that said, the supply and demand in San Antonio appears distinctly more in balance than some of the hotter real estate markets in the nation. Competition exists, but it is not overwhelming, and homes tend not to be pushed far beyond their real worth.

At the same time, Bexar County (where San Antonio is located) saw a 21.9% increase in year-over-year home sales in 2020. That outpaces Travis County (Austin) as well as Dallas County. The only Texas county that outpaced Bexar was Houston's Harris County at 27.4%.
Price Growth
As we've mentioned, home values in San Antonio are on the upswing — but still affordable. U.S. median home prices as of October 2020, according to Realtor.com, were $350,000. That's up 12% year-over-year. San Antonio's market sits at a more reasonable median of $300,000 — a more modest 4% year-over-year increase.
What About Risk?
Every real estate market comes with its fair share of risks. The 2020 unemployment rate as of September 2020, for example, edges out the national rate (7.8% compared to 7.7%). Despite the strength lent by San Antonio's diverse economic base, unemployment rates are nothing to sneeze at. At the same time, this is a current risk that you will find heightened nationwide.

The other real question is that of affordability — again, something that plagues much of the nation. These are not exclusive or unique problems. If anything, San Antonio fares better than other cities of comparable size in terms of affordability. Texas as a whole, even with its hot markets in Dallas, Houston, and Austin, sees relative affordability in comparison to like markets.
Why Invest in Turnkey Real Estate in San Antonio?
REI Nation chooses markets very intentionally. We look at the numbers, the trends and trajectories, and weigh a market's potential for lasting buy-and-hold investment success. You'll find that our markets share many qualities in common, even as they have their own distinct identities and opportunities.

Of course, that's not all that goes into our reasoning.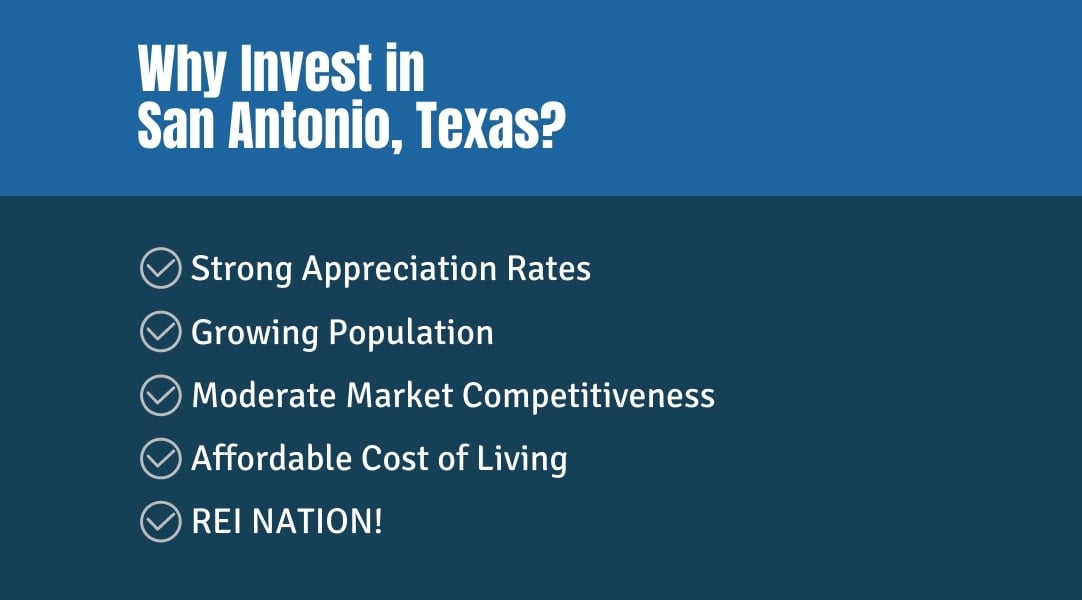 The real advantage here is not in the market itself, but in our model as a turnkey company. We invest where our investors want us to be and where we can maintain and exceed our standards of quality and service.

Real estate investors do not succeed solely based on the markets they invest in. Success comes with experience, and few are more experienced or more dedicated to perfecting a turnkey real estate investment model than REI Nation.

San Antonio positions itself as an ideal market for buy-and-hold investing. It's tempered but growing prices, projections for population growth, and diverse industries are a recipe for long-term strength and stability. While we're not likely to see extreme appreciation or once-in-a-lifetime deals here, San Antonio will certainly offer those solid, reliable real estate investments that form the foundation of a lasting, growing real estate portfolio.

Invest with the best at REI Nation. With over fifteen years of experience and success in our fair share of ever-growing markets, there are opportunities for investors at every age and stage of the game. Our experience speaks for itself, reflected in the unmatched quality of our teams, services, and diligent attention to detail.

If you want to invest in turnkey properties in San Antonio, REI Nation is how you get it done!
Want to learn more?
Our portfolio advisers can help you plan your next steps.
Let us invest in your success.