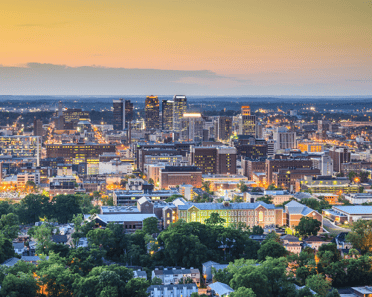 Over our nearly twenty years as leaders in turnkey investment excellence, we have steadily expanded opportunities for our thousands of investors. From our humble home of Memphis, Tennessee to big and bustling Texas real estate markets, REI Nation is dedicated to bringing investors the best opportunities for building a world-class real estate investment portfolio.
In 2020, we expanded our reach even further. Despite the challenges of the year, we grew into several new key markets: San Antonio, Texas, and three Alabama cities: Huntsville, Tuscaloosa, and Birmingham.
REI Nation, as ever, is committed to bringing you the highest in quality — from our services and properties to our management and each relationship we build with investors, residents, vendors, and associates. With these standards of utmost priority, we are proud to bring you new opportunities in hand-selected, carefully analyzed markets.
With that said, let's talk about Birmingham!


An Overview of Birmingham, Alabama
Birmingham has long been a historical and economic fixture in the southern United States. From its economic surge between 1881 and 1920, earning it the nickname "The Magic City," to its role as an iconic setting for the Civil Rights Movement, Birmingham persists as one of the South's key business centers.
Birmingham is situated in the north-central region of Alabama and boasts a population of 209,403 as of 2019 — making it the most populous city in the state. The full metropolitan area of Birmingham (Birmingham-Hoover-Talladega) has a population of 1,151,801, ranking 49th in the country among metro areas in size.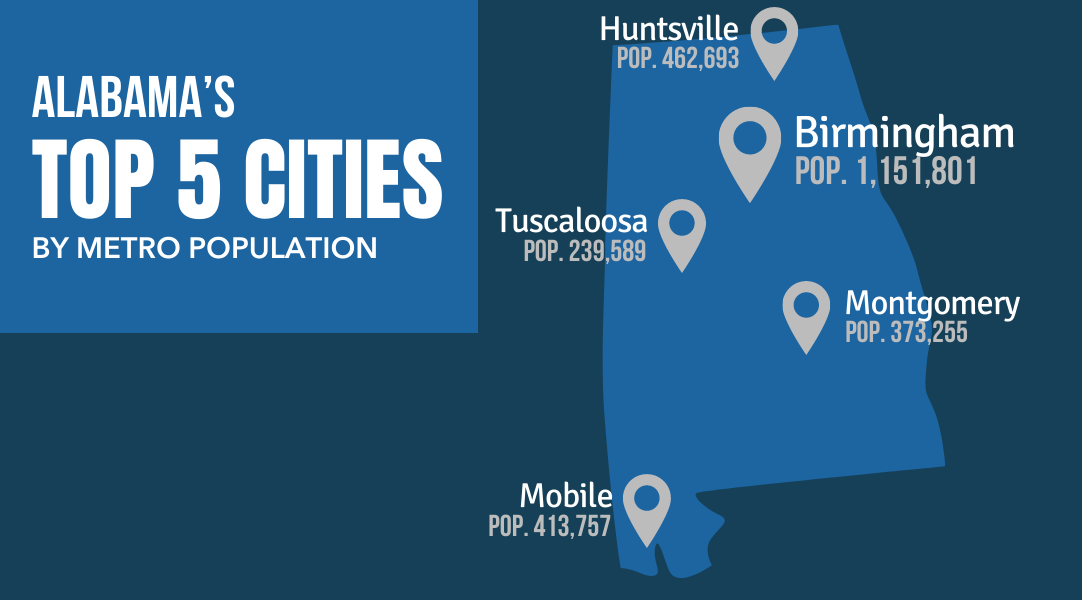 A Picture of Birmingham's Economy
At its founding, Birmingham was a merger between three farming towns. As the city grew, it became an industrial rail hub that earned it the nickname "Pittsburgh of the South." As we move into the modern age, Birmingham's current diverse economy emerged.
Rather than steel, the city now boasts large banking, healthcare, telecommunications, and education industries. Even if its industrial roots play a smaller role in today's Birmingham economy, some of the major employers in the area are manufacturing power-players.
The top ten employers in the metro area include:
The University of Alabama at Birmingham (23,000)
Regions Financial Corporation (9,000)
St. Vincent's Health System (5,100)
Children's of Alabama (5,000)
AT&T (4,517)
Honda Manufacturing of Alabama (4,500)
Brookwood Baptist Health (4,459)
Jefferson County Board of Education (4,400)
City of Birmingham (4,200)
Mercedes-Benz U.S. International, Inc. (3,600)
Economic Resurgence
Despite 2020's troubles brought on by the coronavirus pandemic, Birmingham experienced many positive indicators. Throughout the year, the city and its metropolitan area saw over $500 million in capital investment according to the Birmingham Business Alliance. In addition to capital investment, thirty-five projects were announced, providing an additional 1,240 job opportunities.
Of those projects, nine represented new companies in the region. Throughout the year, many large projects were announced from the likes of Amazon, FedEx, Lowe's, Mobis, Buffalo Rock, Motion Industries, and others.
2020 even saw more capital investment than 2019, where the city saw $492 million in capital investment.
Of course, to point solely to 2020 activity would be a mistake. While the strength of a city's economy during such a trying year is notable and worth analysis, it does not give us the full picture. When we look back to pre-pandemic times, Birmingham was on the upswing.
In fact, the city was named third in economic growth potential among mid-sized U.S. cities in a report by Business Facilities, a national publication on economic development. Birmingham was also included in the "Top 10 Mid-Sized American Cities of the Future" by fDi Magazine.
It should be noted that only four U.S. cities appear on the list — as "American" refers to all of North America and South America in this context. Birmingham, even when stacked up against national and continental competition, makes the cut.
In 2019, Indeed also ranked Birmingham fourth among the "Best Cities for Jobseekers."
As an aside, several of REI Nation's investment markets appeared on this list. Memphis, San Antonio, Oklahoma City, and St. Louis were all included in the top 25.
Despite its relatively low median income of $37,375 according to the U.S. Census Bureau, Birmingham ranked at the top for adjusted salary by Indeed. This is due to the city's low cost of living and affordable housing prices. Still, wages are growing in Birmingham — rising by 4.67 percent between 2017 and 2018.
As an established healthcare hub, employers would have no trouble tapping into a skilled workforce. Birmingham is home to the nation's largest healthcare contractors, Brasfield & Gorrie and Robins & Morton. Brasfield & Gorrie topped the list with $969 million in dollar volume.
Not only that, but Birmingham is home to one of the nation's top hospitals according to Becker's Hospital Review. The University of Alabama at Birmingham Hospital is a top ocular trauma center and is recognized as a top-performer in cardiac surgery and rheumatology.
All of these achievements are pre-pandemic.
Signs, however, point to an economy only reignited by the challenges — and opportunities — posed by 2020.


Birmingham Poised for 2021 Growth
Throughout 2020, the topic of suburban migration has been at the forefront of real estate market discussions. This migration has been two-fold. Not only are many residents trading densely-packed apartments in densely-packed cities for suburban living, but many are moving to different regions entirely.
Alabama is part of the Sun Belt, a U.S. region that extends along the south from coast-to-coast. Just as some markets displayed resiliency during the Great Recession, some markets demonstrated that same strength throughout 2020. The vast majority of these cities were in the Sun Belt. The cities that struggled most, by contrast, were those in the north and primary coastal markets like New York City and Los Angeles.
Sun Belt cities dominated statistics for the fewest job losses in 2020. Birmingham made the list, as did REI Nation markets San Antonio, Dallas, Houston, Tulsa, and Oklahoma City.
Sun Belt migration is not a new development, either. The share of the U.S. population has been growing consistently for at least the last decade. As of 2019, the South boasted a total population of over 125 million, accounting for 38.3 percent of the total U.S. population. This population growth is fueled by several factors that only became more important to Americans in 2020:
Reduced population density
Warmer, more favorable climates
Lower cost of living
Outdoor spaces and better air quality
As we have stated in the past, the COVID-19 pandemic did not create new trends. It merely accelerated those that already existed. Birmingham makes for an attractive option for this migration surge. Not only is the city increasingly considered one of the best for job opportunities, but it hits all of the right notes for post-pandemic market priorities.
An abundance of green space, favorable climate, low population density, low traffic congestion, and affordability all fall in Birmingham's favor — even when compared to some of the region's most popular cities, like Atlanta and Nashville.
Even beyond these qualities, multiple trends are converging to aid in Alabama's economic recovery and growth:
A Hiring Wave — AIDT, Alabama's primary workforce development agency, has seen more activity in 2020 than in any other year in its entire 50-year history. With over 130 projects in the works, AIDT is working with companies hiring across 40 Alabama counties. These companies offer above-average pay for their area, an alluring factor for job-seekers.
Auto Industry Growth — As we noted previously, both Honda and Mercedes-Benz are top employers in Birmingham. There is also Mazda Toyota Manufacturing in Huntsville, among other auto industry players across the state. Alabama's automakers adopted new pandemic safety guidelines and resumed production. This positions the auto industry as an essential employer and economic driver in the Alabama economy overall.
Distribution & Logistics Surge — Among other projects, Amazon plans to build a pair of delivery centers in the Birmingham area. They will complement the fulfillment center built in Bessemer last year and bring hundreds of jobs to the Birmingham metro area. Amazon isn't the only player in distribution sector growth. Overall, the state saw projects representing $500 million in capital investment and the creation of 1,700 new jobs. Many of these projects are in and around Birmingham.
Tech Acceleration — Alabama's economic development team continues to focus on recruiting high-tech jobs across the state, further diversifying the economy in Birmingham and beyond. Not only this, but the pandemic demonstrated that tech companies, in particular, do not have to be tied to a single major hub market to succeed. These places are often costly to the point of burden, which makes less traditional, more affordable markets like Birmingham that much more attractive to companies and workers looking to reduce costs.
Unemployment Rates
While many of these trends and upcoming projects point to future potential for Birmingham's economy (and, consequently, its real estate market), there are also indicators of past and current growth that should ease some concerns.
One of the biggest indicators of growth and strength we see is reflected in the Birmingham metro unemployment rate.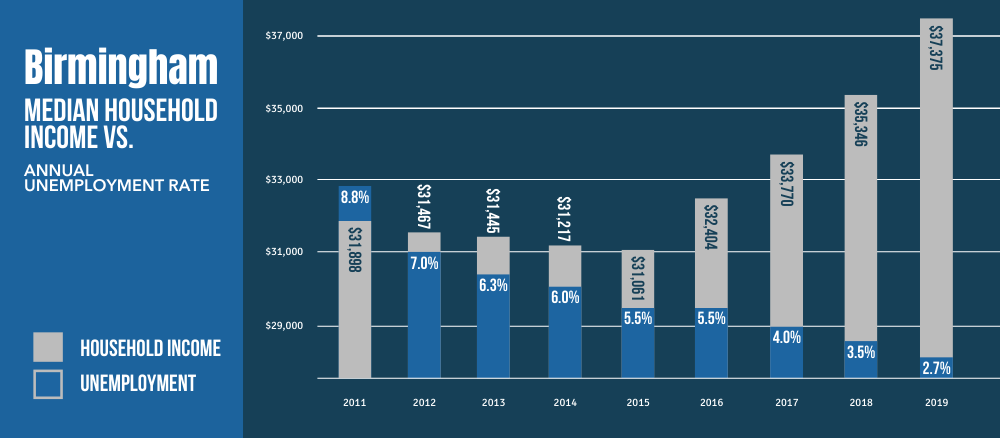 (Source: U.S. Census Bureau & U.S. Bureau of Labor Statistics)
Since 2010, in the wake of the Great Recession, unemployment has declined steadily in the region. From a high of 11.2 percent in January 2010 to a low of 2.2 in January 2019, the rate here has been lower than that of the national rate on almost every count.
April 2020 brought us high unemployment with the beginning of the pandemic crisis. The national unemployment rate peaked at 14.8 percent that month. The Birmingham metro area, by contrast, peaked in that same month at a considerably lower 11.9 percent. By December 2020, the Birmingham metro unemployment rate was back down to 3.5 percent compared to the national rate of 6.7 percent.
Between favorable unemployment rates, growth in capital investment and economic diversification, and accelerating migration trends — and the priorities that inform them — Birmingham is poised to emerge as an economic powerhouse in the South in the years to come.
The Population Equation
At first glance, an investor may find themselves concerned over Birmingham's population trends. After all, population growth is one of the key indicators in evaluating market health and investment potential. Therefore, it might seem alarmed to see that Birmingham's population has either been stagnant or declining for years.
However, we see that the Birmingham metro has grown steadily over the past several decades. While this growth has been moderate (roughly 30,000 in the last decade, from 2010 to 2019), it leads us to believe that the out-migration from Birmingham proper has more to do with emerging suburban trends than anything else. Some 90,000 workers commute to Birmingham each day, pointing to the spread of population just outside of the city limits.
After all, the seven-county Birmingham metropolitan area is the largest in the state. Just south of Birmingham, small Shelby county cities have grown steadily over the past several years and are among the fastest-growing in the state.
For us, this reflects the trends of suburban migration that have increasingly defined real estate markets. Still, Birmingham officials point to the ongoing revitalization efforts that have been underway for over a decade. As a result, more businesses are moving downtown, including attractive new eateries and modern accommodations.
Despite what could be seen as "troubling" population trends in Birmingham proper, American City Business Journals foresees growth for the city over the next 25 years. A growth rate of 4 percent is expected to bring nearly 50,000 new residents to the city by 2040.
The city's efforts to reinvigorate neighborhoods and focus on workforce development will no doubt maintain Birmingham as one of the state's most valuable economic and social centers.


Breaking Down Birmingham, AL Real Estate
For real estate investors, the economic backdrop of an investment market is key in its assessment and long-term potential. Now that we have discussed an overview of Birmingham's economic makeup, it's time to talk about real estate!
First, let's tackle the essential statistics.
A Birmingham Real Estate Overview
According to Realtor.com, the median list price of Birmingham homes is $160,000 while the median sales price was $175,000. This represents 6.7% year-over-year price growth. It's currently a seller's market — as is the case in much of the nation — due to a lack of inventory comparative to those looking to buy a property.
The Culverhouse College of Business reports even higher median prices for the full Birmingham metro area: $235,000 as of January 2021. Both 2020 and 2021 exceed the five-year average of $205,000.
Redfin ranks the market as "somewhat competitive" in that some homes receive multiple offers with most homes selling close to the list price. On average, they will sell for 2 percent under list price after 50 days average while more "hot" homes sell for 1 percent over list price within 32 days.
According to the U.S. Census Bureau, the owner-occupied housing rate in Birmingham between 2015 and 2019 was 44.9 percent. This means that over half of Birmingham's population rents rather than owns. Overall, homeownership in Birmingham has been on the decline. At the same time, housing demand has been rising!
The vast majority of housing in Birmingham (over 60%) are single-family detached homes.
Pent-Up Pre-Pandemic Demand
How was the Birmingham market performing before the COVID-19 pandemic? According to ARC Realty, an Alabama-based company, Birmingham saw a record number of closing in January and February of 2020. Even March started strong. With just 2.7 months worth of inventory on the market before the pandemic, home prices at every level were on the rise. In the year since that hasn't changed.
While some real estate agents saw plummeting volumes — by as much as 81 percent — Birmingham fared well. State and local officials deemed real estate and construction "essential" and, as a result, the market was not hit nearly as hard as many others during the initial dip in Spring 2020.
Closings dropped during those first few pandemic months. The Birmingham Association of Realtors reported a 31.1 percent drop in sales across Central Alabama by May 2020.
Of course, this lack of activity did not indicate a lack of demand. Between Birmingham's increasingly diverse economy and attractive home prices, a slew of pre-approved buyers found themselves in search of big backyards, extra bedrooms and bathrooms, and space to accommodate a work-from-home lifestyle.
Year-over-year price growth only emphasizes the effects of persisting real estate demand in Birmingham.


The Birmingham Construction Sector
Across the United States, homebuilding efforts have been lacking. Because there has been a labor shortage and supply-chain disruptions on top of the blows dealt by the Great Recession, the construction sector has struggled to keep up with the demand for years. The pandemic only exacerbated the issue.
Still, the Birmingham metro area saw a 29% year-over-year increase in housing starts (based on construction permits) in 2020.
At the same time, only 10% of homes in Birmingham were constructed in 2000 or later. The lion's share of Birmingham homes (43.5%) were built between 1940 and 1969. For our purposes, this means there are opportunities to renovate older, more affordable homes to fill in the gaps in demand for newer inventory. These properties can then be marketed to rental residents seeking modern, clean single-family homes.


Why Invest in Birmingham, AL Real Estate?
Housing Affordability
One of the most attractive features of the Birmingham market is its home prices. With properties selling for a median significantly under the national rate, investors from more expensive markets will get more bang for their buck in Alabama. This makes it easier to acquire properties and diversify your portfolio as the capital needed to purchase properties is reduced.
This is also important when we consider Alabama residents. Because the cost of living is more affordable and job opportunities are on the rise, people are more likely to put down roots and stay in one place — one rental property — for a long time. This is particularly true when these properties are well kept and managed!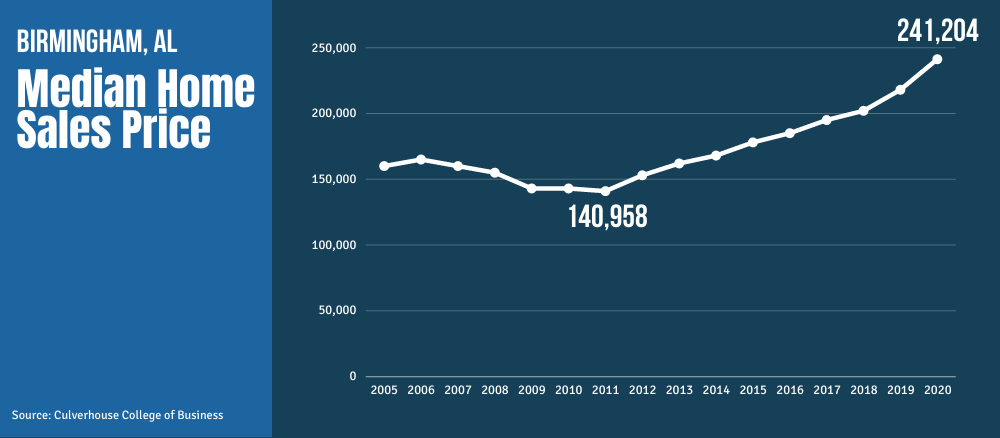 Long-Term Potential
As buy-and-hold investors, we look to long-term potential over short-term gains. Since 2000, Birmingham has seen total property appreciation go up by 64.95%, with an average annual appreciation of 2.44% according to Neighborhood Scout. The fastest-appreciating neighborhoods in Birmingham radiate out from the City Center towards the East. The highest appreciating neighborhoods include:
City Center
Shannon / Lacey's Chapel
Woodlawn Heights
Avondale
Martin Luther King Jr. Drive / 3rd Avenue SW
Favorable Tax Rates
For real estate investors, tax considerations are among the most important for building wealth in real estate. Alabama ranks second in the nation for low property taxes (0.48%) and has an effective tax rate of 4.14%. For real estate investors, this can save hundreds of dollars in tax payments compared to other states.
Steady Growth
Birmingham offers two things for investors: steady growth and lasting stability. Not only are home values appreciating, but so are rental rates. In the past three years, the gross median rental rate in Birmingham has increased by 5.18% according to the Department of Numbers. Increasing property demand means that single-family rentals are attractive. The fact that most there are far more single-family homes than apartments or other types of rental properties means that single-family rentals are the most accessible and the most desirable!
Beyond increasing rental rates and property appreciation, Birmingham also has a pattern of wage growth. The average household income rose to 4.67% between 2017 and 2018.
This is a powerful combination: wage growth, economic diversification and job creation, property appreciation, and housing demand. For Birmingham, these combined to create a market that is ripe with investment opportunities.
The market's steady growth makes it an ideal market for real estate investors, particularly passive ones. This is because the market is unlikely to take a volatile or unexpected turn. You won't see wild swings here, but that's a benefit — especially for new or inexperienced investors. You can expect steady rental income and appreciation here without too much deviation from established patterns and projections.


The Bottom Line on Birmingham, Alabama
All-in-all, Birmingham, AL emerges as one of the best options for passive real estate investors. 2020 demonstrated the power in secondary and tertiary markets like Birmingham. Their attractive cost of living, economic opportunities, climate, and real estate market all point to growth potential both now and in the future.
Southern markets are some of the best in the nation for turnkey real estate investing. If you're in the market for reliable, lasting investments, REI Nation is the place to go! Your personal advisor will help you build the wealth-generating real estate portfolio that matches your ambition.
Ready to get started? Take the first step today.