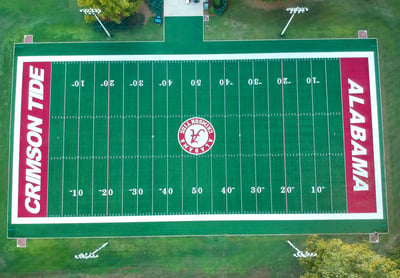 What makes a market worthy of an investor's attention? While numerous factors are involved in determining a worthwhile investment market, one of the tell-tale signs can be found by browsing the headlines.
While there are no doubt perils in pursuing the most talked-about markets, when a market is frequently featured in positive reports, lists, and projections, we would all do well to pay attention.
Over the past year, real estate has been wild. That much we know. A renewed sense of opportunity is driving investors to look for the next big thing. And believe it or not, Alabama is contending for the top spot!
Here's what you need to know.


The Buzz Around Alabama Real Estate
Alabama Realtors took to Yellowhammer News to express their excitement over the national attention multiple Alabama markets have received over the past year. Among the headlines were our markets of Tuscaloosa, Birmingham, and Huntsville. But what exactly were the headlines saying?
Huntsville, the Emerging Market
Mashadvisor named Huntsville as one of five emerging markets to invest in. What exactly is an emerging market? By studying key trends, emerging markets are those up-and-coming areas with elevated investment potential. These markets are defined by:
Growth in job opportunities and high-than-average employment rates
A population that is growing and expected to continue to grow
Future and current real estate development plans
Relative affordability
Favorable absorption rate
Together, these trends point to a strong and growing rental market. This is key for success as a buy-and-hold investor. Together, these markets not only provide steady cash flow but reliable equity growth.
Huntsville, Alabama fits the bill for several reasons. First and foremost, it is the fastest-growing city in the state. As the second most populous metro area in Alabama, this city is poised to become the largest in just a matter of years, overtaking Birmingham. Huntsville has been a powerhouse of economic recovery and growth. Low unemployment rates and a higher median income than the rest of the state point to economic opportunities.
We're not surprised to see Huntsville on this list. Investors would do well to explore opportunities in the area!


Birmingham, the Investing Hotspot
Even though Huntsville is set to surpass Birmingham in population, Magic City still has a lot to offer. Birmingham has been featured across multiple lists and reports:
Not only do people here have a rental rate of 53% — encouraging for those of us investing in rental properties — but the city is among the most affordable. Its affordability is part of the allure, particularly in what has been an economically trying year. Property values grew by 10 percent in the last year and rent prices are also on the upswing. With the city's revitalization efforts well underway and its consistently high ranking among the best places to work and live, Birmingham is ready to fight for a top spot among investment markets in 2021 and beyond.
Despite tight inventory across the state, Birmingham saw a 22.3% year-over-year increase in home sales in January 2021.


Tuscaloosa, the Destination City
Tuscaloosa is home to the University of Alabama and fan-favorite in the SEC, the Crimson Tide. Of course, Tuscaloosa has more to offer than the thrill of college football and higher education. Fortune Builders named Tuscaloosa as one of the best cities to invest in short-term rentals — even in the off-season. Tourism has been on the rise for years, but it would be a mistake to think that Tuscaloosa is only good for short-term rental properties.
According to Patch News, home sales in Tuscaloosa jumped by 31.2% year-over-year. Not only does Tuscaloosa have the advantage of drawing in college students and sports fans, but its affordability and many amenities have made it a top spot to live — not just visit.
By and large, Alabama has had an enormously resilient housing market across the board, despite the economic challenges of the COVID-19 pandemic. Between factors of affordability and market growth, investors can't ignore the opportunities waiting in the Yellowhammer state.
Interested in investing in Alabama real estate? REI Nation can help.